Sales Have Ended
Ticket sales have ended
Congrats! You're done!
Sales Have Ended
Ticket sales have ended
Congrats! You're done!
Description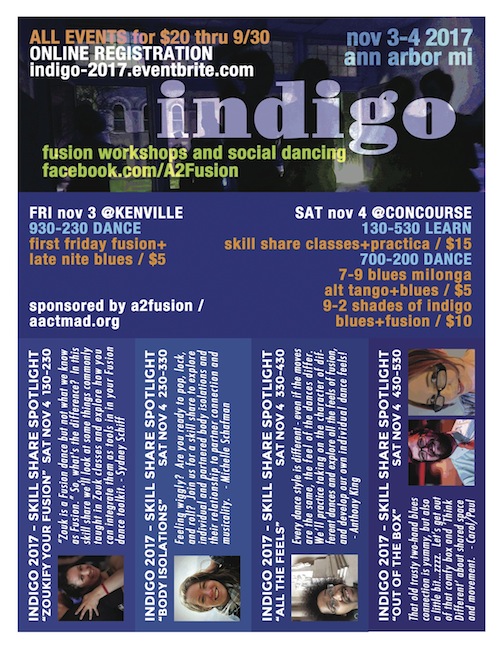 INDIGO 2017 • NOV 3-4 2017
ANN ARBOR, MI

FRIDAY - KENVILLE STUDIO
323 E HOOVER ST ANN ARBOR
930-230 FIRST FRIDAY FUSION + LATE NIGHT BLUES

SATURDAY - CONCOURSE HALL
4531 CONCOURSE DR ANN ARBOR
130-530 SKILL SHARE CLASSES
700-900 BLUES MILONGA
900-200 SHADES OF INDIGO - BLUES DANCE + FUSION LATE NIGHT
w BLUES & FUSION "MIX AND MATCH" COMP
BOTH DAYS $20 THRU 9/30
BOTH DAYS $30 9/30-11/1
GUEST HOUSING CLOSES FRIDAY 10/27/17
VOLUNTEERING
help make this event happen - email a2fusiondance@gmail.com to get involved - we need you!

NOTE - Indigo 2017 is a very low cost, all-volunteer event on a budget and we need to make sure we cover the rent - here are the modified volunteer roles and benefits for this event:
Instructor/Guest DJ: FREE PASS for you
Publicity: FREE PASS for you
Super Volunteer: FREE PASS for you
Photographer: FREE PASS for you
Host for traveling Dancers: 25% rebate off online registration
Volunteer at Event: Our eternal gratitude - thank you!!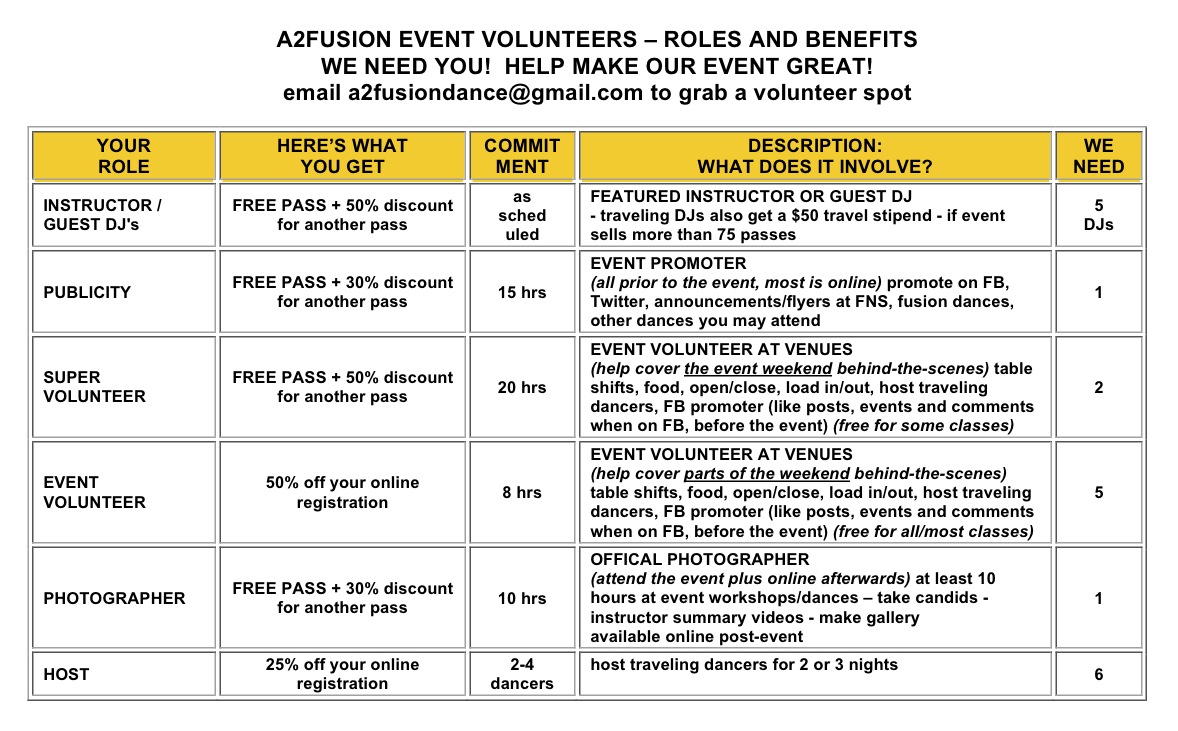 A2FUSION'S 2017 SCHEDULE OF EVENTS ON FACEBOOK:
FUSE 2017 • fusion & blues workshops and dancing • Feb 3-5
https://www.facebook.com/events/1251583318233297/
TMTB 2017 • tango & blues fusion weekend • Jun 2-4
https://www.facebook.com/events/233416690404285/
TURQUOISE 2017 • blues & fusion summer hangout • Aug 4-5
https://www.facebook.com/events/382517532085609/
INIDGO 2017 • fusion & blues workshops and dancing • Nov 3-4
https://www.facebook.com/events/571515766392774/
Organizer of INDIGO 2017 - blues/fusion classes and social dancing - Nov 3 & 4 2017
A2Fusion is a volunteer community of social dancers hosting regular dances, special events and workshops featuring partnered fusion dancing. Interrested in exploring the world of social dance? Check out the activities of our parent organization AACTMAD (Ann Arbor Council for Traditional Music and Dance): http://aactmad.org/