Location
ICC Sydney
14 Darling Drive
Sydney, NSW 2000
Australia
Refund policy
Refunds up to 30 days before event
Accelerating action for a net zero, nature positive future.
About this event
Synopsis
Businesses, investors, cities and regions across Australia and the world have stepped up with increasingly ambitious targets and plans to achieve net zero emissions by 2050 or sooner.
Still these commitments fall short and at least $3 trillion of investment annually will be needed if we are to get to net zero in time. Decarbonisation technologies will need to scale further and faster than any other technologies have before.
Reducing emissions alone however will not be enough. According to the World Economic Forum nearly half of the world's GDP - $44 trillion - is moderately or highly dependent on nature.
Climate change and biodiversity loss are deeply interconnected challenges and achieving net zero will only be possible with an integrated 'net zero, nature positive' approach.
To address this, the 2nd Impact X Summit Sydney will present an expanded three-day agenda of dialogue, workshops, and events, designed to accelerate action for a net zero, climate positive future. The agenda is developed with input from national expert advisory groups and five industry streams will produce an outcome statement of ideas, recommendations, and commitments.
The world's most promising and exciting innovations will be centre stage, to connect with the investors, buyers, and partners needed to scale.
Join leaders from business, government, finance, and NGOs in Sydney this November and drive bold, inclusive action for future generations and our planet!
Who should attend the Impact X Summit?
With a shared interest in accelerating an integrated 'net zero, nature positive' approach, attending the 2nd annual Impact X Summit and Exhibition will benefit anyone involved in developing, commercialising, investing in or implementing solutions that achieve this goal.
Who am I likely to meet at IX 2022?
Attracting 1,500+ delegates, 200 speakers, over 500 Impact Tech Founders & 60+ exhibitors from across Australia, and internationally. The IX Summit & Exhibition will assemble participants in five key industry streams: Industry streams:
1. Energy
2. Transport & Infrastructure
3. Industry & Manufacturing
4. Built Environment
5. Agriculture & Land use
Some of the job roles within these sectors:
Corporate
Sustainability VP's / managers
Corporate affairs executives
ESG leaders
Consultants
Engineers
Procurement Managers
Energy/Waste/Resource Managers
Circularity experts
Procurement Managers
Energy/Waste/Resource Managers
Circularity experts
Government
Large infrastructure project management
Policy & planning managers
Sustainability managers
Economic development managers
Procurement managers
Energy transition managers
Local Governments / Councils
Technology Community
Incubators
Accelerators
Founders / Entrepreneurs
Startup employees
Consultants
Scaleups & advanced Cleantech companies
Investor community
Venture capitalist / FO's / PE
Institutional investors
Super funds
Finance managers
Sustainability finance
Green Investors
Superannuation funds
Summary
• Live in-person and virtual hybrid sessions
• Pre-summit national side events
• Live, high-level updates from UNFCCC COP27 in Egypt
• 200+ speakers from businesses, governments, investors, and innovation agencies
• 2000+ participants
• 500+ impact and climate tech startup founders
• 60+ solution exhibitors
• Plenary and parallel sessions, roundtable discussions and workshops
• Indigenous economists, entrepreneurs, innovators, and solutions
• Asia Pacific regional trade and business meetings
• Delegations from New Zealand, Singapore, Indonesia, Thailand, Japan, South Korea, and China
• Investor lounge
• Shift! – Finals of regional impact tech startup challenge
• Impact tech startup pitch theatre
• Evening networking and social events
Download the draft Agenda
2021 Speaker lineup below. For 2022 Speaker please see IX Sydney 2022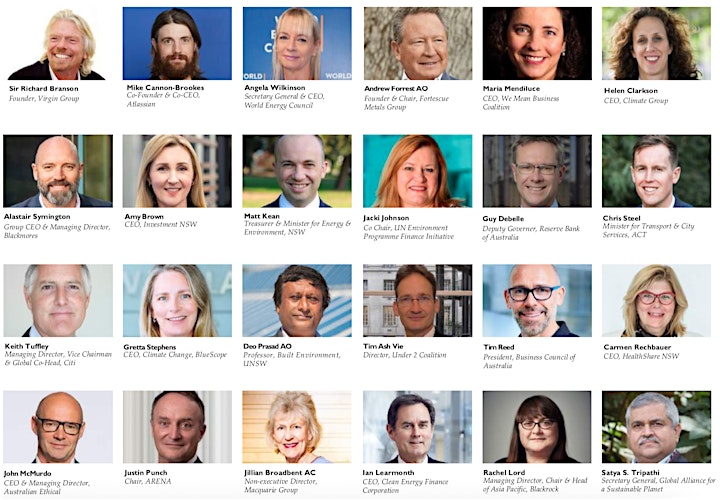 Supported and organised in collaboration with the Government of NSW and a coalition of national and international partners.