Location
Pullman Brisbane King George Square
Cnr Ann and Roma Streets
Brisbane, QLD 4000
Australia
Description
QAO is pleased to confirm we have relocated the conference to a new venue to accommodate more delegates. We do expect it to sell out again soon!
Details on the new venue are below.
---
The Australasian Council of Auditors-General and Queensland Audit Office are proud to host Australia's inaugural performance auditing conference.
IMPACT brings together Auditors-General, leaders, practitioners, industry experts and academics from across the globe to discuss the future of performance auditing in the public sector, share experiences and question current practices.
Program
IMPACT offers delegates a dynamic and fresh program based on new ideas.
Day 1: 8am - 5pm, 15 March 2016
The tone of Day 1 is questioning. Speakers will provide an insight into the external factors or new ideas affecting performance auditing. We will also explore opportunities for improvement or change and hear the views of some of our key stakeholders.
What does the future hold? Global issues and trends.

Developments in the shape and size of the public sector and how this will impact performance auditing.

The role of the Auditor-General as part of the integrity system.

A reflection of how far performance auditing has come from its roots in the 1970s to where we are today and where we are heading.

A public sector client perspective.

The emergence of integrated reporting.
Day 2: 830am - 5pm, 16 March 2016
Day 2 is collaborative with concurrent sessions for delegates to choose from. These sessions will focus on the contemporary methods and tools for performance auditing.
The progress of the review of the performance auditing assurance standard ASAE 3500.

The 'follow the dollar' mandate.

Leveraging the Australian Bureau of Statistics data and services.

Strategic audit planning: topic selection and prioritisation

Leveraging data - data analysis in evidence gathering and 'dashboard' analysis methodologies.

Results of the Queensland University of Technology's Future of Performance Auditing research project.

Case studies from audit offices and other guests.
Delegates will also access a performance audit network for long-term professional exchange.
Our Speakers
More to come!
Dr Keith Suter, Economic and social commentator

Professor Gary Banks, Chief Executive and Dean ANZSOG

Dr Patricia Strong, Lecturer and Researcher University of New South Wales

Grant Hehir, Auditor-General for Australia

Professor. A.J. Brown, Professor of Public Policy and Law Griffith University

Penny Armytage, National Sector Leader Justice and Security KPMG Australia

Colin Murphy, Auditor General for Western Australia

Dr Len Gainsford, Professional Fellow Swinburne University

Professor Suresh Cuganesan, University of Sydney Business School

Philip Gould, Program Manager, Public Sector Data Branch, Australian Bureau of Statistics

Daniele Bird, Head of Performance Audit, Queensland Audit Office

Mike Scott, Assistant Auditor-General, Office of the Auditor-General New Zealand

Jason Beeley, Assistant Auditor General, Office of the Auditor General Western Australia

Anthony Close, Deputy-Auditor General, Queensland Audit Office

Ben Jiang, Director Data Analytics, Queensland Audit Office

Charles Strickland, Director Performance Audit, Queensland Audit Office

Conor McGarrity, Director, Strategic Audit Planning, Queensland Audit Office

Richard Sargeant, Queensland University of Technology

Darren Isenberg, IMPACT's Master of Ceremonies
Venue
IMPACT Conference: 15-16 March
Connaught Room, Pullman King Georges Square, Cnr Ann and Roma Streets, Brisbane QLD.
This contemporary hotel is located in Brisbane's central business district close to city icons, cafes, shopping and hotels.
http://www.pullmanhotels.com/gb/hotel-8784-pullman-brisbane-king-george-square/index.shtml
IMPACT Delegates Dinner: 15 March
River Room, Stamford Plaza Brisbane, 39 Edward Street, Brisbane QLD.
We are pleased to invite IMPACT delegates to a formal dinner at the Stamford Plaza's River Room on the evening of Tuesday 15 March 2016.
Tickets are included in the registration cost and invitations will be sent to registered delegates in February 2016.
Transport between the Stamford Hotel and Pullman King Georges Square
Walk: 15 minutes through Brisbane CBD. Delegates will be provided an escort to lead the way and a map.
Bus: Brisbane's free City Loop bus will take you from the Stamford to close by the Pullman King Georges Square. Delegates will be provided an escort to lead the way and a bus timetable.
Accommodation
Both the Stamford Plaza (delegates dinner location) and the Pullman King Georges Square (conference location) are offering great discount rates for IMPACT delegates.
Once you register for the conference you will be sent unique web links to book your accommodation. Summer is a beautiful and busy time for Queensland so we encourage you to secure your accommodation ASAP.
Stamford Plaza rate: Superior River View Rooms — $270 per room per night.
Pullman King Georges Square rate: At the Mecure Tower Superior Room — $210 per night.
All rates are on the basis of:
per room per night

Quoted in Australian Dollars and inclusive of the Australian government imposed 10% Goods and Services Tax (GST)

subject to Group Terms and Conditions, which include deposit requirements on accommodation blocks

subject to availability

rooms include unlimited internet access.
Registrations
Closing 12 February 2016!
IMPACT is open to all professionals who are interested in the performance audit arena and networking across both public and private sectors.
Please select your relevant ticket type above and follow the completion steps.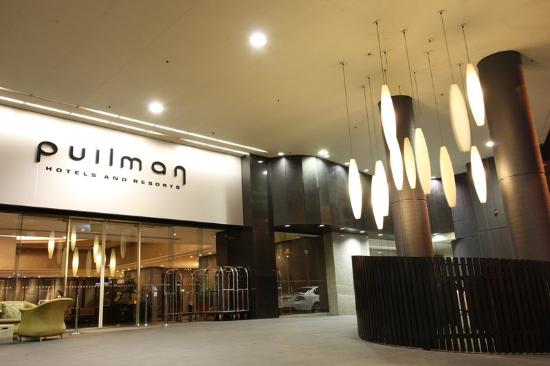 About Brisbane
As Queensland's capital, Brisbane is located on the east coast of Australia in the heart of one of the country's fastest growing regions.
Queensland is well known for its natural beauty and world-class tourism attractions. From foodie to art lover to outdoor adventurer there is something for everyone.
Brisbane's prime location and excellent transport infrastructure makes it the ideal launch pad for day-trips to some of the country's most loved tourist attractions such as the Gold Coast, Sunshine Coast, large regional towns and beyond.
Transport from the airport
If you require transfers to/from the airport or any other destinations around South-East Queensland, Brunel Chauffeur Drive offers a range of vehicles and services. To book, contact the concierge team at the Stamford Plaza on 07 3221 1999 or via email.
Coachtrans or Con-x-ion Coaches offer regular transfers to and from the Brisbane domestic, Brisbane international and Sunshine Coast Airports. To book, contact Coachtrans directly on 07 5556 9888 or via the website.
The Airtrain provides transfer options from the Brisbane domestic and international airports to the Stamford Plaza. The Airtrain drops guests at Central Station in Brisbane. From Central Station it is an easy 10 minute walk or five minute taxi ride to the Stamford Plaza
A taxi rank is available at the Brisbane domestic terminal in front of the terminal. The taxi rank at the Brisbane international terminal is located at the northern end of arrivals on level 2. For more information contact Black & White Cabs 13 32 22 or Yellow Cabs 13 19 24.A Brisbane Airport access fee of $3.50 applies to all pick-ups originating from an airport taxi rankA Brisbane Airport access fee of $3.50 applies to all pick-ups originating from an airport taxi rankA Brisbane Airport access fee of $3.50 applies to all pick-ups originating from an airport taxi rankA Brisbane Airport access fee of $3.50 applies to all pick-ups originating from an airport taxi rankA Brisbane Airport access fee of $3.50 applies to all pick-ups originating from an airport taxi rankA aagg
About Queensland
Pristine beaches, tropical islands, lush rainforests, vibrant cities and the authentic Australian outback, Queensland is the ultimate destination for visitors.
Exploring Brisbane's surrounds
Venture into the Gold Coast's endless playground. Whether you spend your days at a theme park, on the golf course, shopping, learning to surf, dining al fresco or just soaking up the sunshine, one thing's for sure: life has never been so much fun.
Providing the green behind the gold, the Gold Coast Hinterland is full of unspoilt National Parks and charming mountain villages, filled with antiques, artisan galleries and decadent caramel fudge worth the drive.
On the Sunshine Coast, the only thing more refreshing than the water is the lifestyle. With its endless beaches, lush rainforests and easy smiles, it's a place where you will feel like a local from the moment you arrive.
Other accommodation options
Alternative accommodation options are listedOther accommodation options are available below. They are within walking distance from the Stamford Plaza. The prices below are indicative only and may change each season. Please confirm the room rates when you make your booking.
---
Oaks Festival Towers
108 Albert Street, Brisbane QLD 4000
1 bedroom apartment
$246 per night room only
2 bedroom apartment
$318 per night room only
---
Capri by Fraser
80 Albert Street, Brisbane QLD 4000
Studio deluxe
$299 per night room only
One bedroom executive
$389 per night room only
---
Four Points by Sheraton Brisbane
99 Mary Street, Brisbane QLD 4000
Comfort Queen room
$204 per night room only
Deluxe river view King room
$294 per night room only
---
Ibis Brisbane
27-35 Turbot Street, Brisbane QLD 4000
Standard Queen room
$179 per night room only
iBusiness Queen room
$199 per night room only
---
Contact
Any further questions please contact ACAGIMPACT@qao.qld.gov.au