I'm With The Banned: SPOOKTACULAR edition! Live band, burlesque, circus, drag, sideshow and MORE!
About this event
This SELL OUT show is back at The Royale Theatre, following our incredible grand opening event in August - and it's bigger and better than ever! Rigging has been installed in our ceiling, so this time you're getting AERIAL performance too!
FEATURING: The Beehives Gogo Dancers, Serenity Von Varda, Bettie Bombshell, Taylor Jade, Veronica Jean Jones, Georgy, Karl Kayoss, Lotta L'amour, Matthew Pope, Tootsy Roll, and special guests Sun-Mi Clyburn and Frankie Fatale!
BANNED /ban/
verb / bænd /
__________________
I'm with the BANNED
Welcome to our jungle... They call it the house of the rising sun. Like the great mother said, I don't give a damn 'bout my bad reputation, so come and be a rock star for the night, and maybe the next morning...
We're serving you late night rock & roll , wrapped in cabaret chaos. Expect sparkly burlesque dancers, bendy circus stars, sideshow freaks, & drag performers shaking you all night long! Catch them at and on the bar, where drinks are stiff, the music is loud, and the only way in is by saying "I'm with the BANNED."
We are the people that can find whatever you may need, and we're gonna rock and roll all night, and party every day.
So why don't you walk this way, because we've got what you want, and one way or another, we're gonna get ya, get ya, get ya, get ya.
_____________________________________
EXTREMELY LIMITED TICKETS - THIS WILL SELL OUT
Theatre Seat $35 + BF
VIP Booth (seats 4, includes bubbly) $200 + BF
VVIP Booth (seats 6, includes bubbly) $340 + BF
Bar Standing - Mezzanine $25 + BF
(BF = Booking Fee)
9pm doors | 9.30pm - 11pm show
Signature cocktails, drink specials, secrets in exchange for shots, guaranteed nudity.
This event is an inclusive, safe, queer space. So if you're planning on bringing your Nikki Sixx attitude to the party, you best stay home.
Feel free to arrive early and enjoy Planet Royale ahead of the show - grab some tasty food from Pulp Kitchen, give some old school arcade games a whirl in Barcadia, and imbibe a naughty cocktail or three in Major Tom's.
Photo & Design by KTB.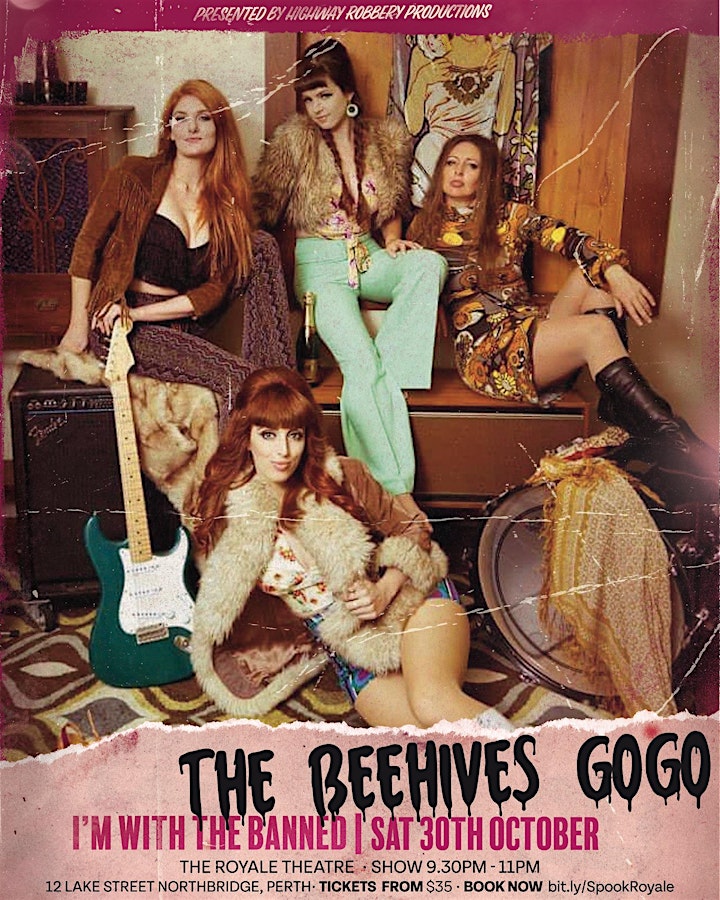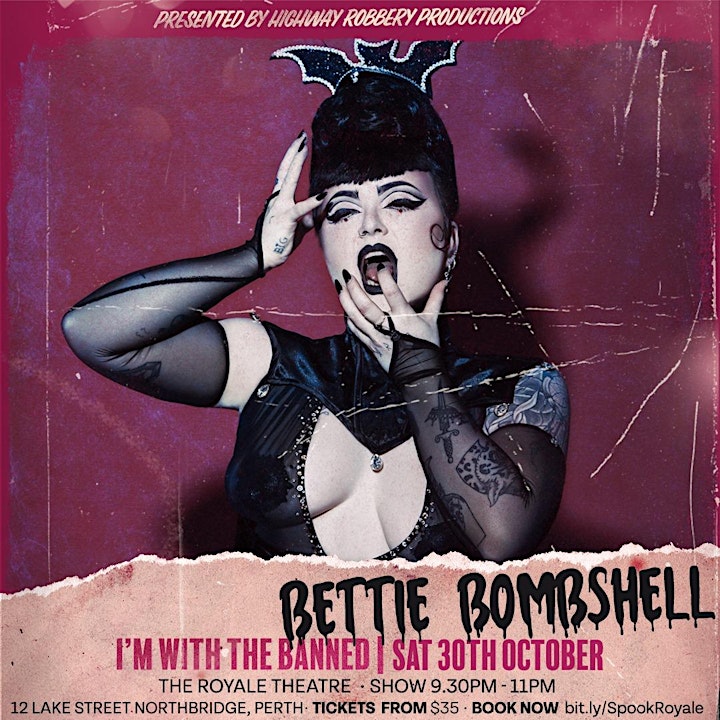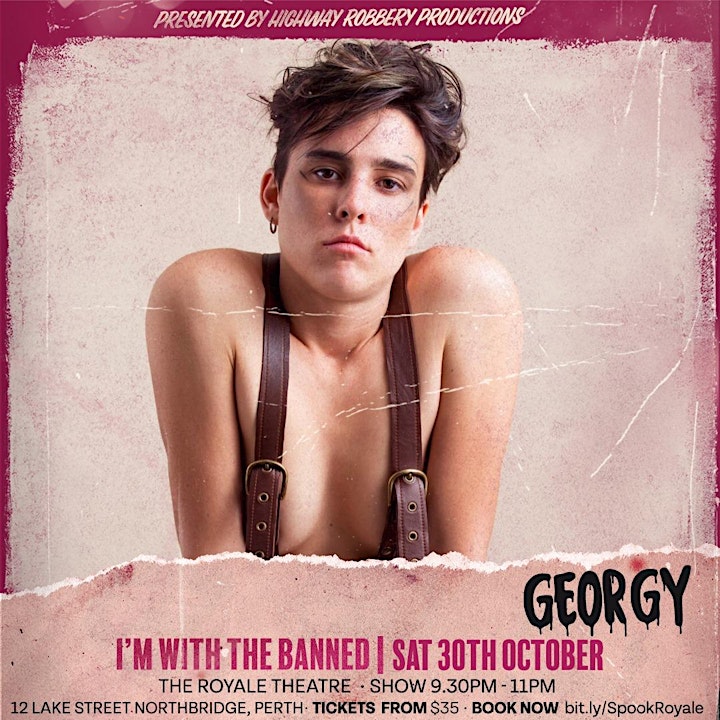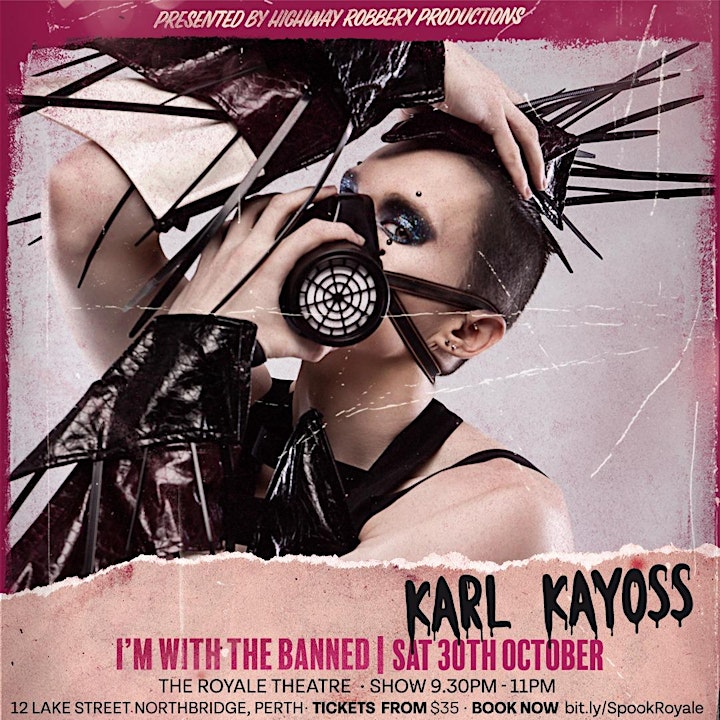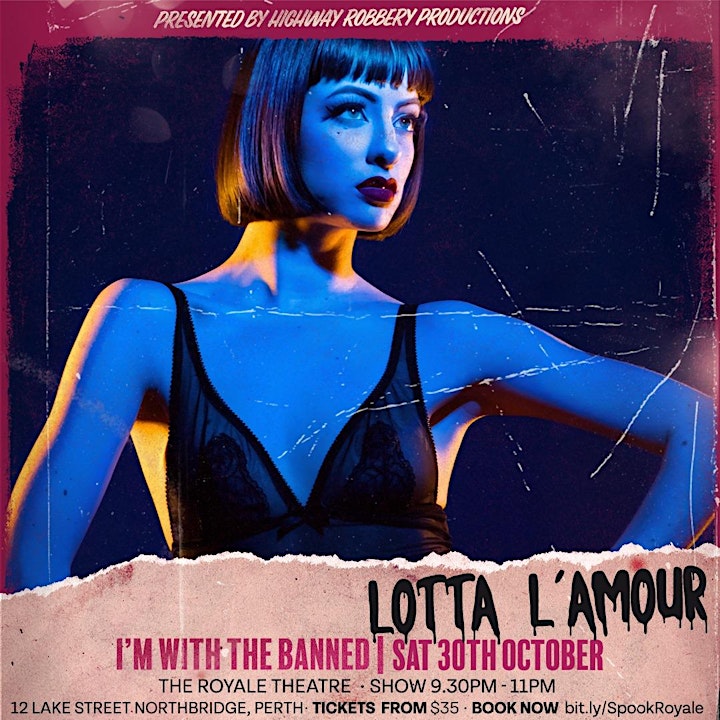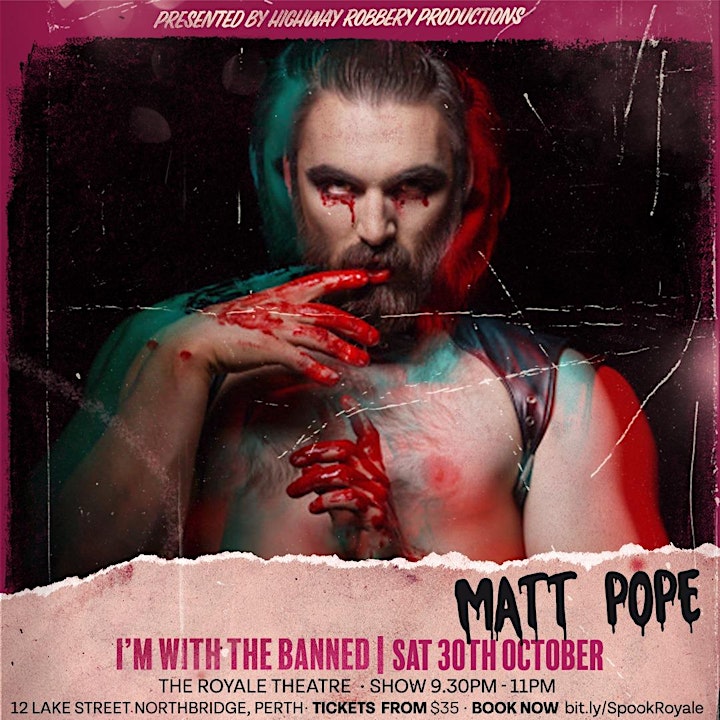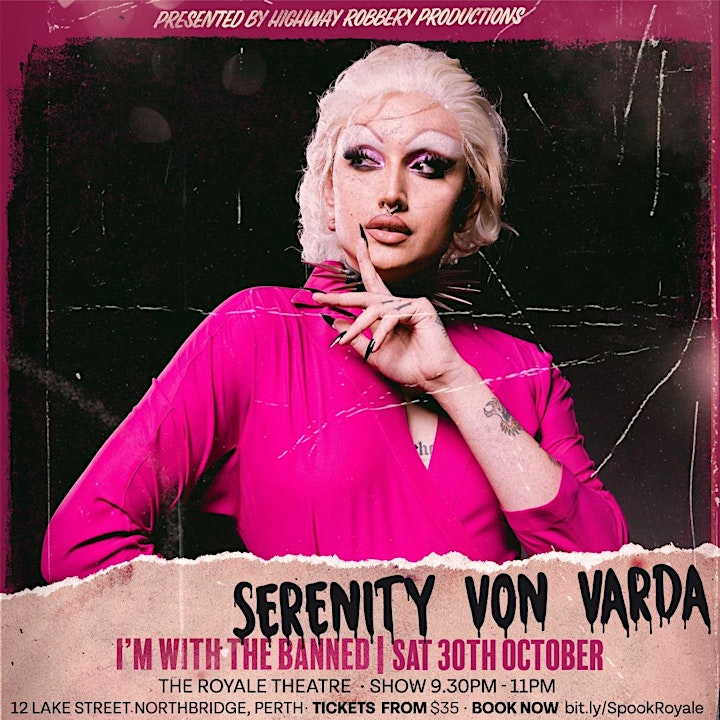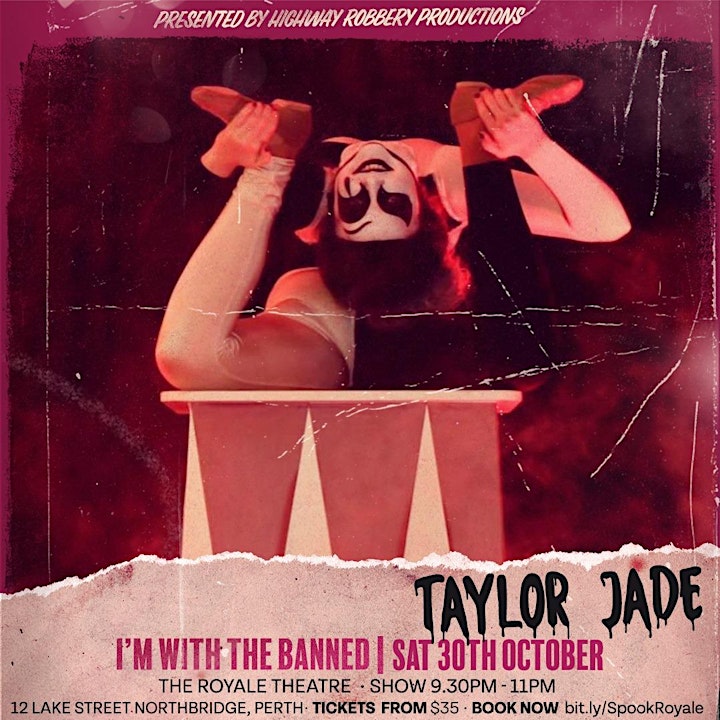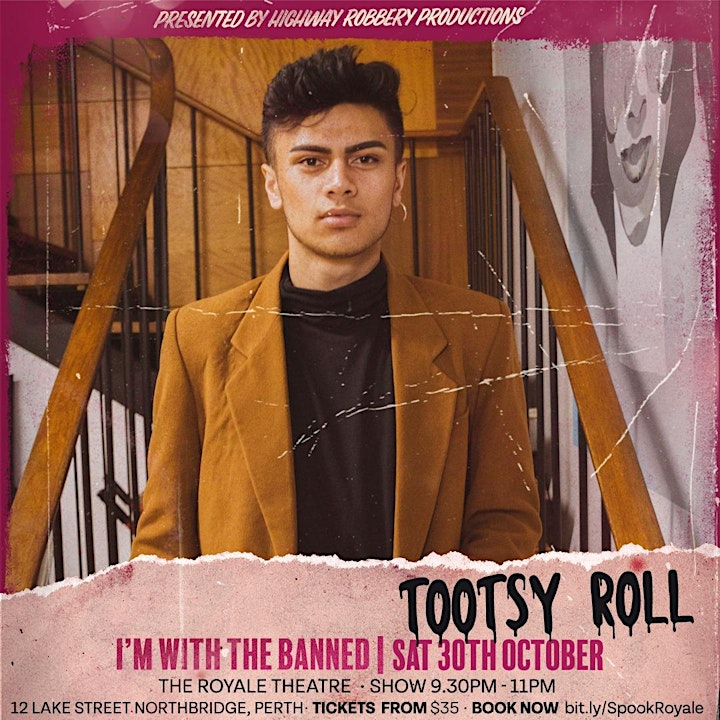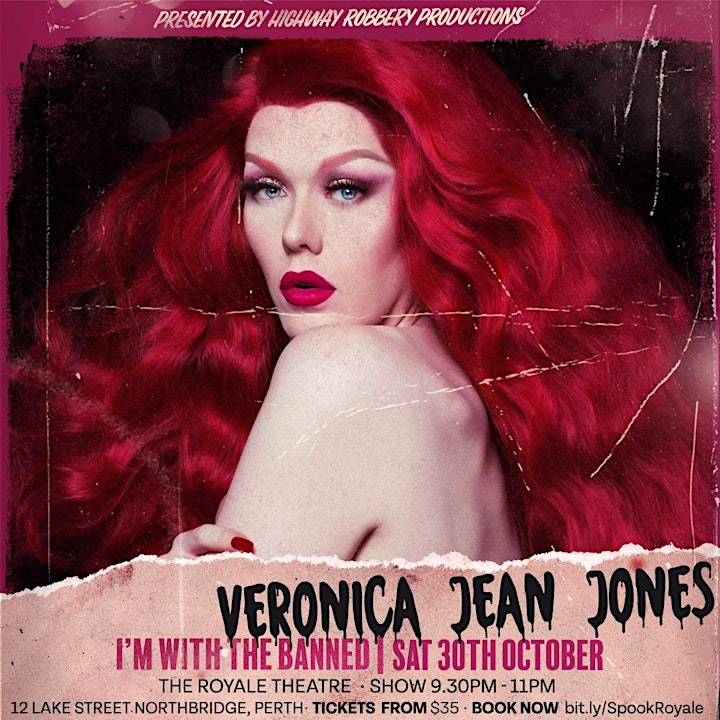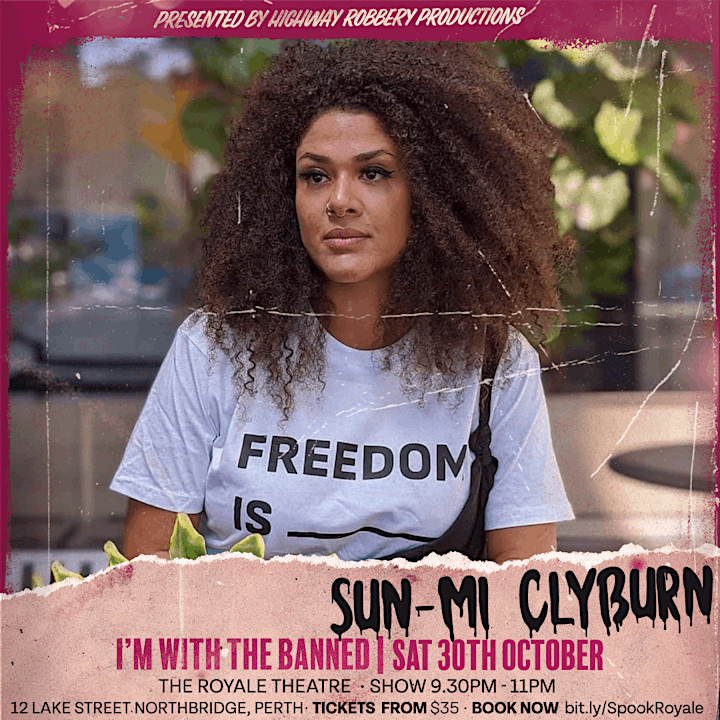 Organizer of I'm With The Banned: Spooktacular
A once purpose-built IMAX theatre, the Royale Theatre is now home to live entertainment, and boasts incredible sound and visuals, the most comfortable seats in Perth, and an in-theatre bar. The Royale Theatre is part of Planet Royale, where you can eat, drink, play and enjoy live entertainment all under one roof. Button mash with your mates on our vast array of retro arcades and marvel at arguably the GREATEST public collection of pinball machines in the whole of Australia. Re-spawn your soul and your stomach at Pulp Kitchen, where you'll find an epic food offering that would have even Vincent Vega drooling. Level up (quite literally) and indulge in a bespoke cocktail at Major Tom's, our cocktail lounge that oozes good vibes and good tunes, before catching a show in The Royale Theatre. Situated in the heart of Northbridge, Planet really is a one-stop entertainment destination! You are welcome to arrive early before your show to enjoy Planet Royale, or stay on after the show!
NOTE ABOUT VIP BOOTHS: For VIP Booths, you only need to purchase 1 ticket to buy a booth. VIP Booths seat 4 people per ticket, VVIP Booths seat 6 people per ticket.
NOTE ABOUT TICKET RESALES: Please note our tickets are only available for resale through TIXEL. Please do not accept ticket resales on any platform except Tixel, and please do not send anyone you don't know money for tickets, as they are most likely to be a scammer selling fake tickets.