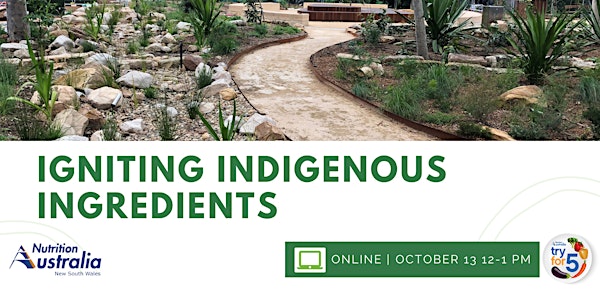 Igniting Indigenous Ingredients: Yerrabingin Virtual Tour & Cooking Class
Embrace Australian native ingredients with this virtual tour of Yerrabingin Cultural Landscape Garden and Native Foods Cooking Class
About this event
The use of native Australian ingredients by chefs and cooking shows is on the rise, but what about in Australian households?
Wattleseed, bush tomato, Davidson plums and lemon myrtle are just some of the earthy, flavour-packed foods we have at our fingertips – and they are bursting at the seams with essential nutrients.
Join Nutrition Australia NSW as we take a virtual tour of Yerrabingin Cultural Landscape Garden – showcasing native plant species of cultural significance to Indigenous Australians in the Redfern area of Sydney, and NSW in general. Together with a fresh & flavour-packed Native Foods Cooking Class with Dietitian Tracy Hardy from Wattleseed Nutrition - a 100% Indigenous owned and operated business - this special event is sure to ignite your passion for Indigenous ingredients.
National Nutrition Week 2020 takes place from 11-17 October. Nutrition Australia NSW is encouraging us to #Tryfor5 serves of vegetables a day by filling our plates with sustainably grown vegetables and nutritious foods, especially through embracing Indigenous heritage and flavours. NSW's theme, My Plate, My Planet, dives into how eating sustainably can improve our health and the planet.
For more information about My Plate, My Plate and how you or your organisation can get involved, click here.
Check out our range of FREE online events throughout National Nutrition Week by visiting our profile.