Description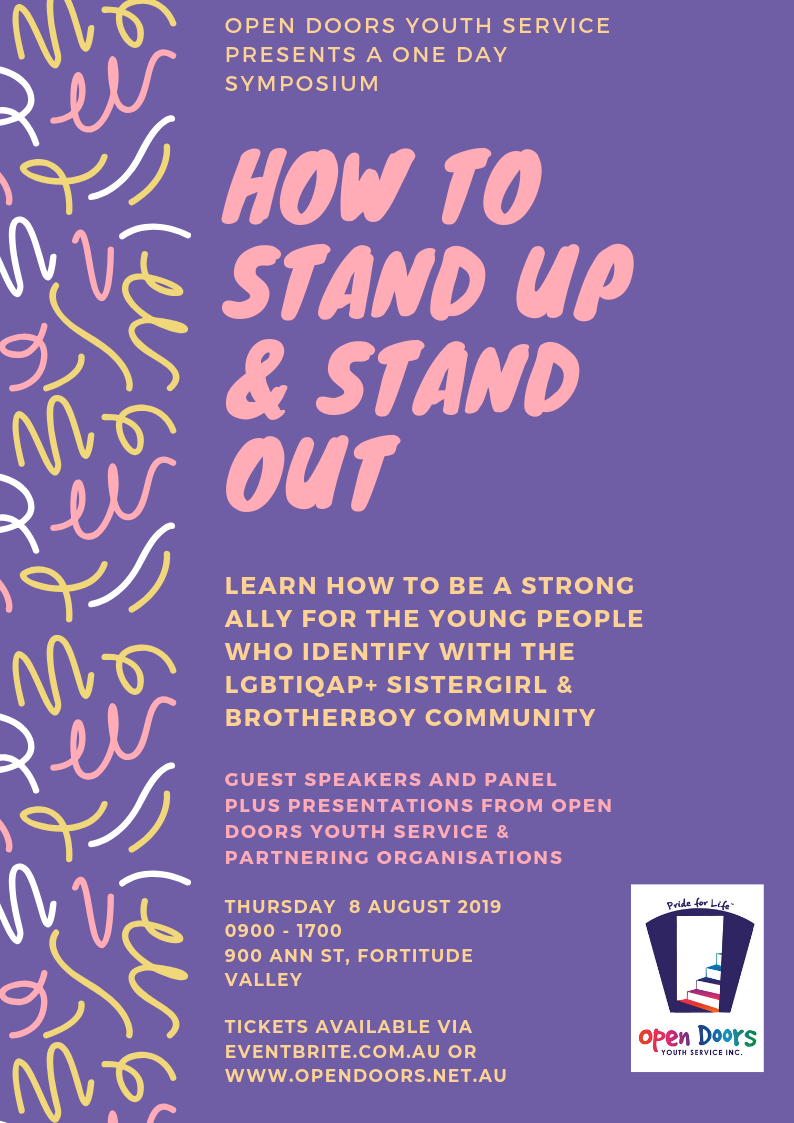 Wear it Purple Day 2019 is on Friday 30 August 2019; an annual event promoting the acceptance and support of rainbow young people in the community.

Open Doors Youth Service are asked to attend many events in the lead up to Wear It Purple Day and whilst we do our best - we can't get along to every event. In light of this, we have decided to host our own event in the lead up to Wear it Purple Day. Open Doors Youth Service presents a one day Symposium which will provide you with an introduction to key knowledge and skills that will assist you to be become a supportive, effective, inclusive Ally for young LGBTIQAP+ Sistergirl and Brotherboy folk.
You will leave feeling more confident and empowered with your increased learnings to be able to host your own Wear it Purple Day event. Furthermore, you will enjoy feeling more confident in supporting LGBTIQAP+ Sistergirl and Brotherboy young people on a day-to-day basis.
This one day workshop will cover several topics and include guest speakers from Open Doors Youth Service, partnering organisations such as 2Spirits and the Children's Gender Service and the wider community, a panel discussion and Key Note Speaker, Sally Morris!
Discussions will look at gender, sex and sexuality, minority stress and intersectionalities, 'what being an ally is' and how to do this effectively, systemic change and how to navigate this.


This workshop is counted towards CPD hours for professionals and catering is provided. Please email opendoors@opendoors.net.au with dietary requirements once you have purchased your ticket or if you have any further questions!
Please arrive at 0830am for a prompt 9am start.


All funds raised from ticket sales go towards supporting LGBTIQAP+ Sistergirl & Brotherboy young people who access Open Doors Youth Service.