About this Event
Join us at the June Virtual Public Speaking Practice Event and Workshop, which will give you a chance to build your confidence in both presenting to, delivering and marketing your events (virtual and live). MINUS the pressure of having to achieve a specific outcome in a business networking environment or high-end Business, Corporate Leadership or Training setting.
This month, will also give you a chance to clarify your main message, as we deepen your connection to your WHY, the greater purpose behind all that you do in your work and explore a few key decisions necessary for you to connect more deeply with your target audience and take your business to the next level. We have a wonderful Motivational Speaker or two lined up to help with this.
The event also provides an opportunity to have your public speaking questions answered live, in regards to things like business and sales strategy for your own live events, content creation, mindset, preparation, and on what you can do to improve your public speaking skills and better connect with your audience.
Who is the event for?
Entrepreneurs/Business Owners, Organisational Leaders, Team Leaders, Managers, or people in occupations that entail an element of public engagement and or Leadership, who may have experienced some recent significant setbacks, personally and professionally and are presently reconsidering their direction and or feeling stuck as to what is their next best step. 
Both aspiring Speakers and Existing Speakers who are wanting to overcome their fear of public speaking, build their confidence in their public speaking skillset (via video and webinar), deepen their clarity in their message and their skill in crafting their messaging are welcome. It will also well suit those interested in running their own online events and or interested in mastering the art of authentic, heart-centred marketing and sales.
Benefits of attending:
-Build your online public speaking confidence through getting up and giving it a go in the online space
-Master your online presentation skills and ability to connect meaningfully and effectively with an online audience
-Deepen your connection to your bigger WHY behind your work
-Clarify your branding message, so that your message more deeply attracts and resonates with the market of your choosing
-Ask for feedback from industry professionals and a group of supportive peers
-Build your network and support tribe of other liked-valued professionals
Format of the Event:
9:00AM sharp: Welcome and settle in
9:02-9:20AM Group Intro- a chance for all attendees to tell the group a little about you and what you do, in a minute or two
9:20-10:05AM Guest Motivational Speaker- Matthew Ode  "Survivor to Superhero" Topic: Overcoming Adversity
Throughout this rollercoaster journey Matt, will be sharing his story and lessons he has learned as a Stage 3C Testicular Cancer Survivor, helping his audiences turn their setbacks into their superpowers and use their setbacks to create a new perspective and story in life that they can share to the world and become a better version of themselves along the way. 
From Cancer to Coma, at the age of 24 Matt Ode was diagnosed with stage 3C Testicular cancer. After chemotherapy and a very complicated surgery to remove the remaining cancer from his body, Matt encountered various complications. He was under the watch and care of the ICU for over 40 days and in the Cleveland Clinic for 53 days where he was met with a number of near-death experiences including 5 major surgeries causing a large open wound on his stomach. For two weeks, he laid non-responsive in a coma, met with complete kidney and liver failure, and went into cardiac arrest where nurses performed 8 minutes of CPR to bring him back to life. Doctors didn't know if and when he would awake, informing his family and girlfriend he would likely be on dialysis the rest of his life having to relearn everyday tasks like eating and walking again.Prior to the diagnosis and subsequent treatment, Matt was a healthy personal trainer weighing in at 185 lb. But this disease wreaked havoc on his body and in a matter of 8 months he dwindled down to a mere 110 lbs . Fast forward 3 years later after hard work and deep internal discovery, Matt Ode is as vibrant, enthusiastic, and energetic as ever helping individuals transform their mind, body, and spirt, as a Purpose Coach and highly sought after Keynote Inspirational Speaker. Allow your audience the privilege of hearing Matt's roller coaster of a story and be encouraged beyond measures. From resilience to heartbreak to the unbreakable bond with his girlfriend, Matt's story will inspire you and your entire audience.
More about Matt:
10:05-10:20AM The expression session: Didn't put your hand up for a Speaking Spot and feeling the last minute FOMO? Or are you feeling like some feedback? Prepare a 1-3 minute piece (networking event style) in advance, bring it online to deliver, with a view to (not mandatory) getting some audience feedback (the meetup will also be recorded, so you can request a copy after.)
10:20-10:55AM  Guest Speaker: Prasanna Diana Manuela:
Activate Your Femme Fortune
ARCHETYPAL ABUNDANCE, WELLNESS AND FEMININE BUSINESS FLOW
Stop feeling unfulfilled, empty, listless, and stuck in your life and start listening to the whispers of your soul. Transform from being a woman who scatters her time, energy, and money to claiming your Amazon nature and purposefully creating the life you know you're meant to live.
 "Elemental Woman is a call to action for women to claim their innate power, rise, and make their valuable contribution in our troubled world."
Katina Jones, Founder and CEO of the Equals Group
Prasanna works with conscious and creative female entrepreneurs who want to awaken their heart's calling, lead with wisdom and leave a legacy. When it comes to creating a business that is 100% aligned to purpose, Prasanna is exceptional. She offers life changing events virtually and in person, and travels regularly to share her passion to Awaken a New Generation of Wise Woman Leaders.
Elemental Woman® experiences gift you the ancient knowing you seek to ignite vitality in life and business.
Prasanna's 2018 book "Elemental Woman" is an International #1 Bestseller and #1 New Release on Amazon.
10:55-11:00AM AM PUBLIC SPEAKING Q & A- Your additional preparation and public speaking questions answered, live. (Feel free to email us any questions in advance, or bring them on the evening.) Each Speaker above will address your questions related to their topic at the end of their presentation. AND, if you have any additional questions about things like: how to improve your speaking skills, stress less when you speak, build your online business or public speaking offerings or craft your message and offerings in ways that better attract and speak directly to your clients, or if you'd like some feedback on something you've been working on, this section is for you.
11:00-11:30AM EDUCATION SESSION with Nat Ferrier "Your Big Why and Their Big Why- How to marry to together your story and your clients needs and aspirations for greater online business and public speaking success"
So our amazing Speakers today have helped you reconnect a little more deeply with YOUR big WHY and the reason behind all that you do. And helped you reflect upon what stories and message you therefore have to share. Now, after you've clarified that important part that you want to Speak about, what would you like your audience to do next? After you've shared your message, or your story, what will this lead into? Put another way, what offering/s of yours do you want this to lead into? Can you explain to your clients why they would benefit from coming to do this next step with you? What's in it for them? What benefits? And how will it help them achieve their aspirations?
Lots of Coaches, Consultants, Practitioners, Speakers and Trainers are exceptionally good at sharing their story and exceptionally talented at knowing exactly WHAT their clients can now do to solve their problems. But, when we ask you either WHY your clients should do your programs, or what benefits are in it for them, very often they draw a blank. Yet, being able to make an invitation to your clients and explain to them why they should do it and what's in it for them is absolutely VITAL to the success of all you do in your business.
If you're not sure how to do that or what the answers are to these questions for your clients, no problem, come workshop it with us in real time. Let's help you get THEIR WHY crystal clear too.
11:30AM A chance to online chat and exchange any details you'd like to until close
If you have any questions or to express your interest in speaking at or sponsoring future events, please contact Nat Ferrier on:
+61 427 449 005
connect@natalieferrier.com.au
We appreciate your support and look forward to seeing you there.
Nat Ferrier
Founder and Facilitator
Sydney Leaders and Public Speakers Meetup Group &
Shine When You Speak Program
Online Business and Public Speaking Coach, Mentor, Speaker and Trainer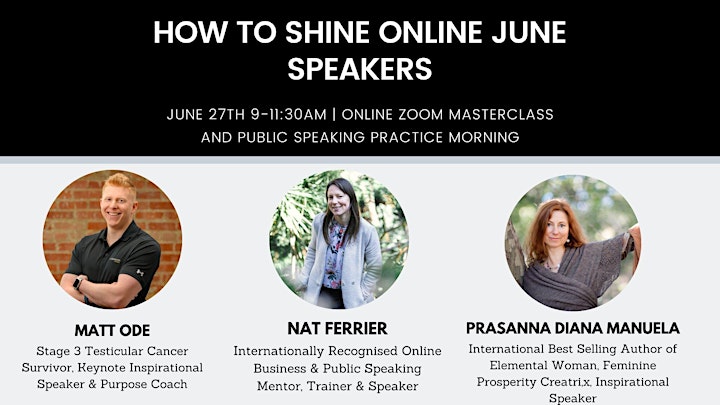 Date and Time
Location
Refund Policy