How to Create a Literature Map- Research Skills Webinar
Sales Have Ended
Ticket sales have ended
Thank you for purchasing a ticket We look forward to you attending.
Sales Have Ended
Ticket sales have ended
Thank you for purchasing a ticket We look forward to you attending.
Literature maps help writers and researchers find key points of reader interest, a true audience and points of key strategic impact.
About this event
Our new Research Skills Webinar Series by Dr Jonathan Drane OSCR (Optimum Search City Research Centre):
'The webinars are for writers, researchers, students, interns, historians, biographers and geneologists who are trying to find a place for their topic in the reader sphere'. Dr Jonathan Drane
Key areas covered in the online live webinar:
Get to know OSCR (Optimum Search City Research) and our Research Skills Programme starting with 'How to Create a Literature Map' - a vital tool for budding or seasoned writers and researchers.
We also introduce our exciting flexible Gig Internship Programme which you can stop and start along your career path and carry a CV Badge with you. Here is the agenda:
Agenda
-Learn about Optimum Search City Research and its initiatives including its 'Research Skills Webinar Series' and its research themes including 'Dangerous Building Defects' and 'Night Economy'.
-Learn about our new portable 'Gig Internship' and how our internship programmes work; registration in webinar for those interested.
-Literature review and its importance to academic and industry research
-Literature review and its importance to writing and genre.
-Literature mapping- the basics
-Examples of literature mapping tools and apps
-Dr Drane's 'Cards on Desktop' method used in his doctorate
-Practical uses of the literature map outside the academic arena; business strategy.
About Literature Maps
Literature maps help researchers review literature for gaps and points of impact.
They are useful in both academic and industry related research projects to help gain traction and strategic market positions.
They are also useful to writers who need to research their topic area in novels, biographies,geneologies and historical novels.
Research projects usually start with a Literature Review which involves using tools such as search engines ( e.g. google scholar) and document management and reference systems (e.g. Endnote and Mandalay).
Literature Mapping uses graphical methods to plot your literature in a graphical format.
About Dr Jonathan Drane
Dr Jonathan Drane is the founder of OSCR which was established in 1993 and has maintained a research and advisory capacity for clients across industry, government, academic and legal spheres. He is also a recognised expert in social research methods applied to the built environment.
One of the key skills he employs is literature mapping and other content analysis methods that he has used in both academic and industry research as well as legal cases.
Whether you are a student or a seasoned researcher, there is much to learn from this method.
For more information go to:
Learn about our internships and register:
https://www.jondrane.net/research-internships-available/
Learn more about Literature Mapping:
https://www.jondrane.net/research-mentor-coach-private-2/literature-maps/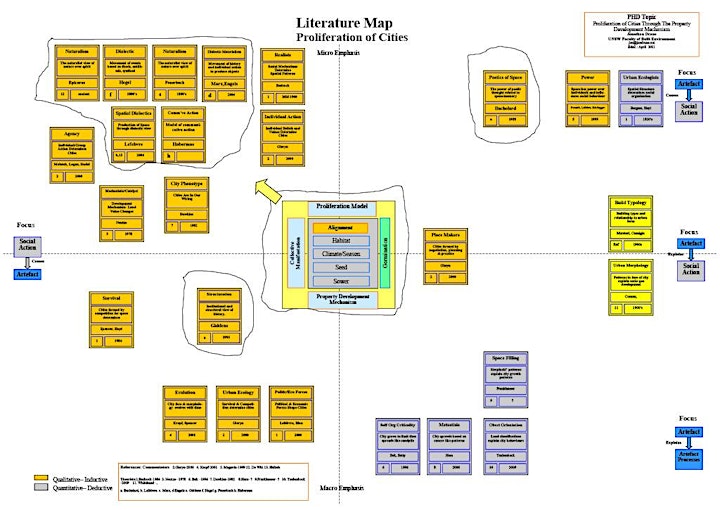 Above is an example of Dr Drane's literature map for his doctorate on city growth dynamics.
'In our method we prefer to use a 'cards on desktop' graphical logic. It uses cards (like the icons on your desktop) and allocates identifiers to the cards including different colours as well as other key information points. Think of each card as if it was a library card which is also linked back to the actual publication it refers to'. Dr Jonathan Drane
Date and time
Location
Refund policy
Organiser of How to Create a Literature Map- Research Skills Webinar
Dr Jonathan Drane is an independent researcher and advisor to government, corporate, legal  and academic sectors. He applies research methods to solve complex problems through project analysis in the commercial construction and development sector.
Jonathan is a recognised expert in city precinct development with an emphasis on activation of dormant cityscapes. Jonathan's doctoral research project (2011 to 2014) studied dormant cityscapes in several Australian regional cities  and how they were bought to life.
Jonathan is also a recognised award winning author in the non-fiction and historical genre winning an award for his first book on the Camino de Santiago (The Way of a Thousand Arrows) in 2007 with the NSW Writers Centre.