Sales Have Ended
Registrations are closed
The event is now over but you can stay in touch with my FREE 12-month newsletter is created to help you gain the insight you need in order to rise to the occasion and act as a transformational leader who can enact real change. During this experience, you can expect to learn all about building confidence, taking risks, establishing goals, developing an all-star team, finding your voice, and so much more! Sign up here! https://chloelim.leadingthebest.com/JMTN0001
Sales Have Ended
Registrations are closed
The event is now over but you can stay in touch with my FREE 12-month newsletter is created to help you gain the insight you need in order to rise to the occasion and act as a transformational leader who can enact real change. During this experience, you can expect to learn all about building confidence, taking risks, establishing goals, developing an all-star team, finding your voice, and so much more! Sign up here! https://chloelim.leadingthebest.com/JMTN0001
Learn how to make every communication an opportunity for a connection!
About this event
Do you want to learn how you can connect with others better?
Connecting increases your influence in every situation.
If you can connect with others - one-on-one, in groups, and with an audience:
Your sense of community improves
Your ability to create team work increases
Your influence skyrockets
People who connect with others have:
better relationships
experience less conflict
get more things done
than those who cannot connect.
Leaders who learned the art of connection are able to:
communicate their ideas persuasively
establish buy-in
attract followers
Only one thing stands between you and success.
It isn't experience; it isn't talent.
If you want to succeed, you must learn how to connect with people. And while it may seem like some people are just born with it, the fact is anyone can learn how to make every communication an opportunity for a powerful connection.
Learn how you can connect with influence in this webinar on "How to Connect Effectively With Others" based on the book "Everyone Communicates, Few Connect" by one of the top leadership experts in the world, John Maxwell.
In this free 45 minute presentation hosted by Spendless Academy, you will learn how connecting increases your influence in every situation and what you can do straightaway to improve your ability to connect with others.
🎯 You will be awarded USD 10 credit in your user account, upon attending.
(Please ensure you rate the trainer, via your back end after the webinar to claim the credit)
WHAT YOU WILL LEARN FROM THIS WEBINAR?
✅ Learn how to listen to, identify, and communicate with others
✅ Learn to develop your communication influence
✅ Get action steps to practice better communication straight away
Register in the link below now to save your seat!
https://spendlessacademy.com/webinar/how-to-connect-effectively-with-others/
IMPORTANT NOTE: Please register in the Spendless Academy website to get the access link for the webinar on the day.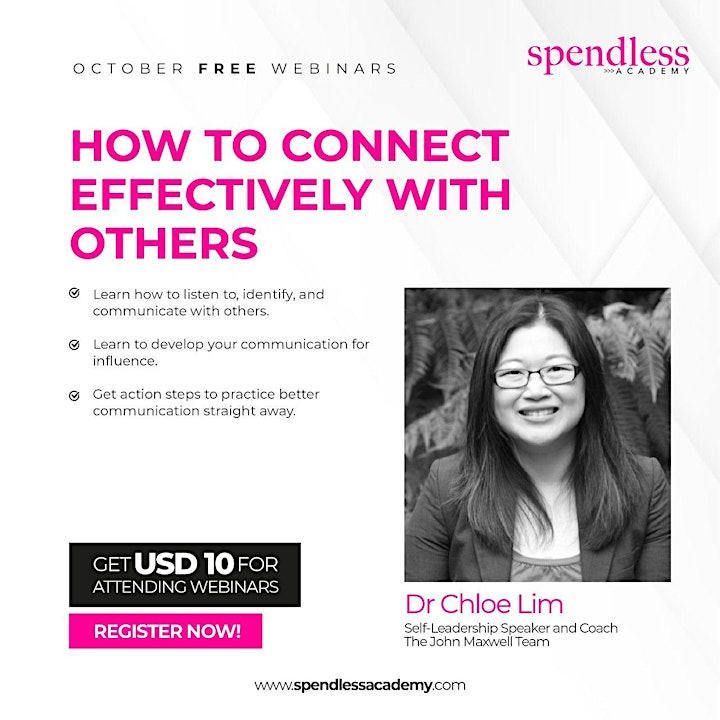 Organiser of How to Connect Effectively with Others So You Increase Your Influence
Dr Chloe Lim is passionate about helping women take responsibility for what they want in life by taking charge and leading themselves to live a life of meaning and significance.
As a John Maxwell Team Certified Speaker and Coach, Chloe has special access to resources by John Maxwell, one of the top leadership experts in the world. His world-class and proven leadership, communication and personal growth strategies and programs are highly sought-after by Fortune 500 companies, presidents of nations, and many of the world's top business leaders.
She shares his expertise and insights through his best-selling books so that you too can learn from one of the top leaders in the world. She speaks and coach on developing self-leadership skills as before you can lead others well, you have to first lead yourself well. She is passionate about helping others grow their self-leadership skills so they can reach their full potential.