Learn how to effectively manage conflict in the workplace. Designed for managers, Human Resources and Executives responsible for employees.
About this event
One of the biggest challenges facing workplaces is the increasing amount of conflict. With greater diversity in our workplaces, we are also experiencing an unprecedented rise in workplace conflict due to differences in communication styles, work practices, behaviours and beliefs. It is well established that conflict in the workplace creates ineffective work teams, lower morale, reduced productivity, staff turnover and high levels of stress. Ignoring workplace conflict can often compound the problem and destabilise even the most harmonious workplace.
Why do I need this Workshop?
As a team manager, leader or supervisor, your ability to skilfully deal with workplace conflict is crucial to your role. If you would like to learn the skills required to conduct effective workplace mediations, then this half-day training workshop is for you. You will learn the essential step-by-step process required to effectively conduct workplace mediations. You will also learn key skills and strategies to effectively manage high conflict behaviours in the workplace.
Many people conduct workplace mediations without having extensive mediation experience, or without regularly refreshing their mediation skills. After doing the workshop you will come away with some basic yet effective skills that you can use to help others in your workplace resolve conflict.
Is this for me?
If you would like to learn how to effectively manage conflict in the workplace, this training program is for you. We will provide you with trusted, established models and methodologies in line with the most up-to-date practices and leading research in the field of workplace conflict. Whether you have had little workplace mediation experience, or whether you simply wish to enhance and refresh your existing mediation skills, this training program is for you.
What you will learn during this training program
Assessing whether it is appropriate to conduct a mediation
Essential techniques for pre-mediation preparation
Simple step-by-step process for conducting mediations
Effective negotiation and communication skills
Powerful strategies for managing high conflict behaviours
Key professional obligations when conducting mediations
Role of support people in mediations
Developing effective mediation agreements
Fundamental post-mediation strategies
Explanation of pathway to becoming an Accredited Mediator
What to bring
Bring along your real-life case examples so that we can help you to apply the framework to your particular circumstances. Also bring along any other material (such as workplace policies and procedures) that you think may be relevant when conducting mediations in your workplace.
Your Facilitators
Venita Dimos is an experienced lawyer, Accredited NMAS Mediator, CINERGY® Conflict Coach and Registered Family Dispute Resolution Practitioner. She is the Director of the Mediation Company and is a recognised specialist in the area of dispute resolution and conflict management. Venita facilitates workplace mediations and conducts in-house and external workplace training to help organisations build their conflict intelligence and learn critical skills to better manage and resolve workplace conflict.
Susie Rayner is considered a leader in the field of conflict resolution. She is an international author and has collaborated with the High Conflict Institute in the USA to develop the "New Ways for Life" program for young people to help them deal with conflict and stress that arises in their lives. Susie is the founder of Mediate Negotiate and is an Accredited NMAS Mediator, Family Conflict Specialist and Registered Family Dispute Resolution Practitioner.
CANCELLATION POLICY
This training workshop is not to be missed and will fill quickly. The event is run with limited numbers and has restrictions on places in order to keep the training personal and relevant to all participants. A 50% cancellation fee applies to cancellations up to 7 days prior, with no refunds for cancellations within 7 days. Registrations will be confirmed immediately upon payment.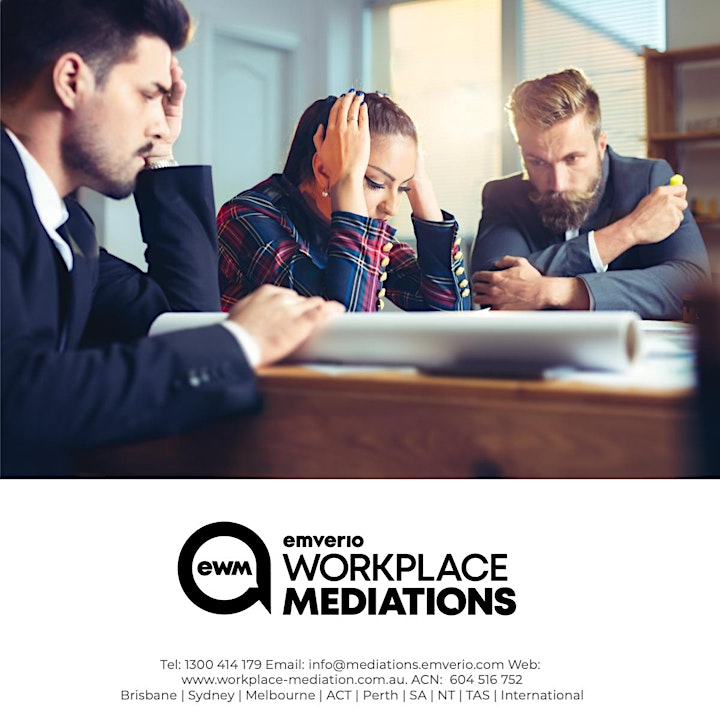 Entrance near the David Jones external entrance, enter via Dandenong Rd
Light refreshments will be provided.