Description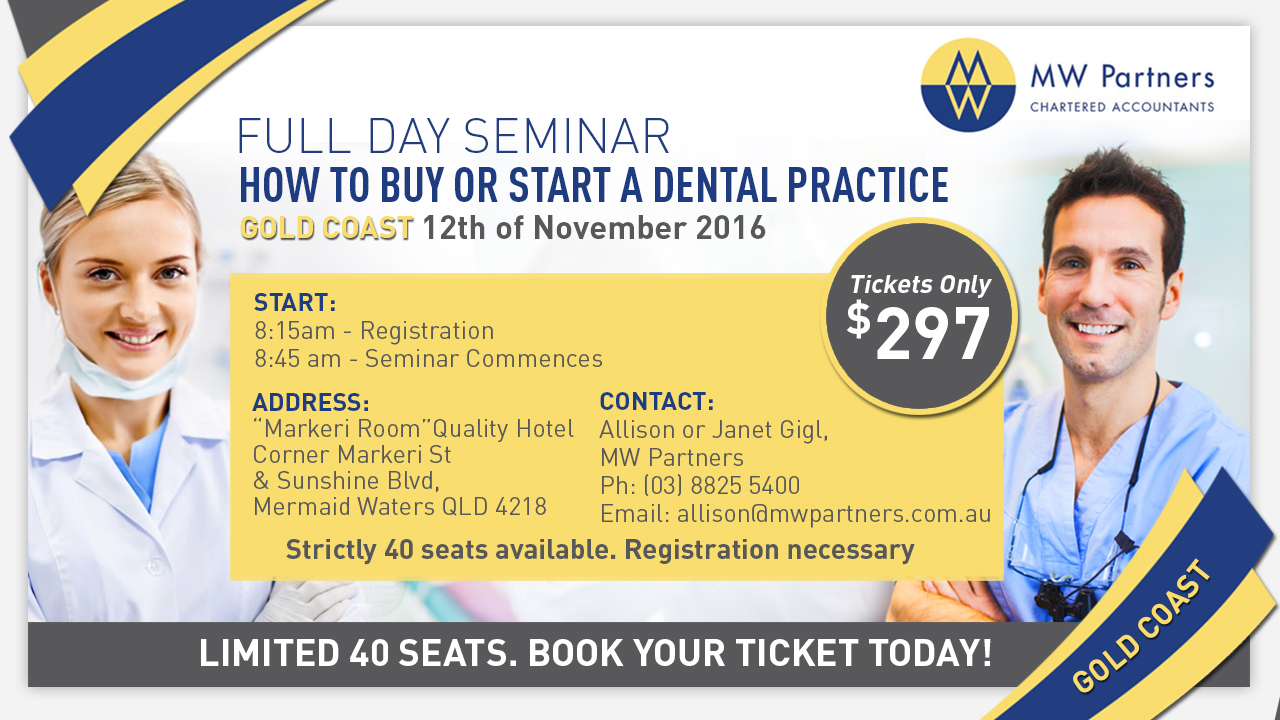 Coming for the first time to the Gold Coast -
Our "How to Buy or Start a Dental Practice" seminar is back in 2016!
Starting your own private practice will be one of the biggest events in your career. There are a number of key decisions you will need to make long before you open the door to your surgery, and this seminar is designed to give you choices and options on the various Specialists out there.
With the changes to the economic landscape, dental regulation and legal red tape, there is a process to buying or starting a practice that you need to know. It is increasingly important to prepare yourself in advance to reduce the stress and strain placed on you at the point of purchase and the first few months of ownership.
Whether you are considering buying your own practice in the immediate or mid-term future, or have recently purchased a practice, this workshop will equip you with the tools to start and run your own practice.
Learning objectives:

• Learn about the tax structures you need to put in place
• Understand the legal process of buying a practice
• Know what your finance options are
• What a Practice Broker can do for you
• The ideals in Fitout and Design
• Be aware of ongoing development possibilities for your new practice, including marketing, SEO opportunities, capital claims
• How important it is to have the right insurances in place
• Plus lots more!
Join us on the Gold Coast on the 12h of November and discover what some of the most passionate & innovative minds as trusted advisors to the dental industry have to share with you.

Your Registration Fee Includes:
• 1 full day of presentations from some of the hottest names in the industry
• Morning tea, lunch & afternoon tea
• Built-in time to interact with the speakers and other like-minded attendees
• Printed workbook – the most impactful take home points personally selected by each speaker

Who Should attend?
This workshop is suitable for all those who are looking to purchase (or have recently purchased) their first practice, and those purchasing a further practice and have not been through the process recently.
For full event details, please go to: http://mwpartners.com.au/upcoming-seminars/