Description
How can we work together to achieve a more sustainable, holistic and integrated approach to healthy living?
Holism is based on the philosophy that the whole is greater than the sum of its parts. All parts of the whole are intimately interconnected, and cannot exist or be understood independently of the whole.
The philosophy of Gross National Happiness (GNH) acknowledges this holistic interdependence of what we need to be well as human beings, and honours the sustainability of the planet and its finite resources. It is holistic, recognising people's spiritual, material, physical and social needs as well as the need for balanced progress and sustainable development. With wellbeing at the forefront, GNH rather than GDP underpins the governance of Bhutan, the only carbon negative country in the world, and sets an interesting benchmark for global consideration in these times of challenge.
And while these considerations can be applied to a global scale, it is also recognised there is much local and regional action which is already taking place in communities across Australia to address some of these issues, with an integrated and holistic approach.
Join Australian ambassadors for Gross National Happiness Samantha Bennett and Megan Rowlatt for an evening celebrating health through connection, storytelling and education. Hear about their experiences in Bhutan, and how they are integrating GNH into their lives and their work in Australia. Guest speakers Morag Gamble and Mariam Issa will also be sharing inspiring information about how they are applying a diversity of practices and holistic philosophies to their own lives and leading the way forward towards a healthier and more connected world.
There will be an opportunity for all to share in this bigger conversation and we look forward to hosting a robust community discussion about what we need to take on, to be the change we need to see in the world.
Guest Speakers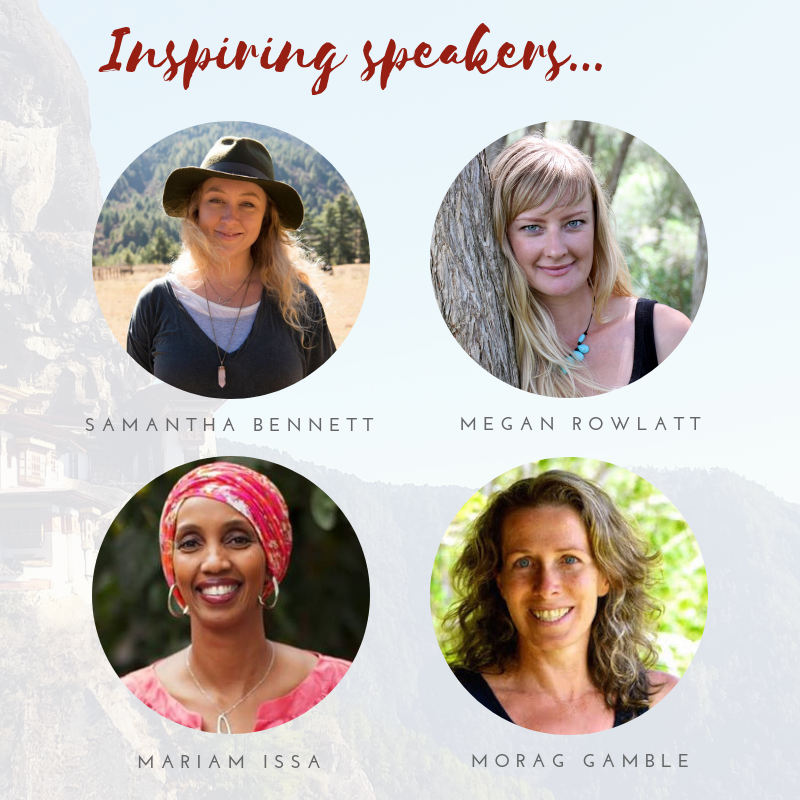 Megan Rowlatt
An experienced facilitator, public speaker, and social entrepreneur, Megan Rowlatt is an environmental leader, nature lover and adventurous soul from Wollongong, NSW. Passionate about wellbeing, community and environmental conservation, Megan co-founded Intrepid Landcare, a national organisation dedicated to supporting young Australians to lead the change they want to see for their local environment and community, through integrated leadership and community development. In 2016 she became an Australian ambassador for Gross National Happiness (GNH) and is now part of a network of ambassadors, businesses, universities and entrepreneurs working on bringing the GNH philosophy into practice.
Samantha Bennett
A holistic health mentor, blogger at Love Today Holistic Living and advocate for the healing power of nature, community and connection, Samantha is an ambassador for Gross National Happiness and completing her final semesters of BHSc Naturopathy and Permaculture design. Samantha is passionate about creating change in the way we experience our health, physically, socially and environmentally.
Mariam Issa
A Speaker, Author, Storyteller, Community Builder, Mariam is the distinguished author of the book, "A Resilient Life," a story of resilience in the face of hardship and the spirit of determination, optimism, and understanding of all that makes us human.
She is the co-founder of RAW (Resilient Aspiring Women), a not-for-profit organisation that supports women's resilience through intercultural dialogue and exchange facilitated by storytelling, cooking and gardening. Mariam aspires to 'Inspiring one million women to connect to their innate potential!'
Morag Gamble
Morag Gamble lives a debt-free permaculture way of life in an ecovillage. She is a speaker, writer and film-maker and an award-winning permaculture teacher and designer who's led programs in 20 countries for the past 25 years. Morag is a co-founder of Northey Street City Farm and the Australian City Farms and Community Gardens Network. To share a practical permaculture way of living, Morag creates the Our Permaculture Life blog and Youtube Chanel accessed by millions. She also recently launched the Permaculture Education Institute to offer a comprehensive online permaculture educator program.
Learn more about Gross National Happiness the message here:
https://www.youtube.com/watch?v=q_D8DoaMX8Y
http://www.grossnationalhappiness.com/
https://ourpermaculturelife.com/
http://lovetodayholisticliving.com.au/
Cost: $60/$45 health care card + booking fee