Multiple Dates
Holding Patterns: Shireen Taweel at 4A Centre for Contemporary Asian Art
Holding Patterns: Crossing Threads® at 4A Centre for Contemporary Asian Art - register to visit
About this event
Sydney
Holding Patterns: Shireen Taweel
Exhibition Period: 3 -25 September
4A HAYMARKET
181-187 Hay St, Haymarket, NSW 2000
In a period of uncertainty and stasis, artists have demonstrated the capacity of human creativity through artistic innovation, lateral thought, and inspired action. In our current period of changes and shifts, 4A is pleased to invite you to engage with Holding Patterns, a series of four solo exhibitions on view from July to October. Curated by Con Gerakaris and Reina Takeuchi, these exhibitions highlight and support the works of Sydney-based artists Kien Situ, Crossing Threads®, Shireen Taweel and Sofiyah Ruqayah, utilising our ground-floor gallery space and windows out onto Haymarket's streets.
Shireen Taweel (b. 1990, Bankstown, lives and works in Sydney, Australia) is a multimedia installation artist whose work broaches issues of the construction of cultural heritage, knowledge and identity through language and the constantly shifting public space of the social, political and religious axiom. Her artistic practice draws from the personal experiences of being Lebanese Australian living between cultures, and how the physical spaces within her community reflect a complex cultural landscape of transformation, expressed through hybridity and plurality. The project development of Shireen's works are often site-specific, weaving local narratives and research with a focus on experimentation in material and sound through site. Shireen's constant acquisition of traditional coppersmith artisan skills is a research vessel for community-focused conceptual development, and through a progressive application of the collected artisan techniques and a manipulation of the traditional acts of making that leads to possibilities of cross-cultural discourse, opening dialogues of shared histories and fluid community identities.
In line with COVIDSafe visitor limits, it is recommended that visitors pre-book preferred gallery viewing times. Click here to read current visitor guidelines for 4A.
Holding Patterns: Crossing Threads® is exhibited at 4A Centre for Contemporary Asian Art from 6 August to 30 August 2020.
Images:
1) Shireen Taweel in her studio in process creating tracing transcendence (2018) photo: Eloise Fuss. Courtesy of the artist.
2) Shireen Taweel, Tracing Transcendence (detail), 2018, detailed pierced copper, dimensions variable, photo: Matthew Stanton, courtesy the artist.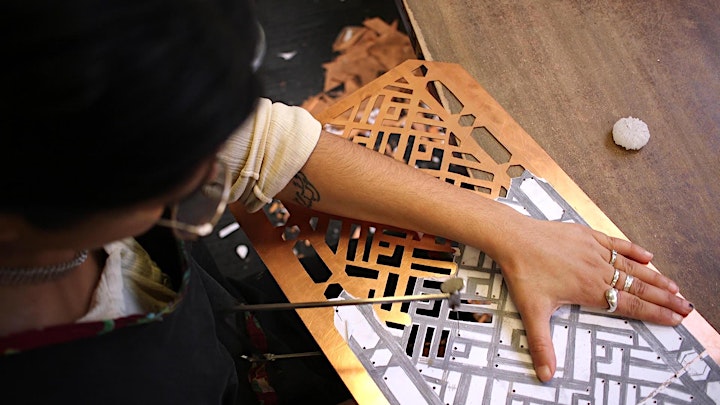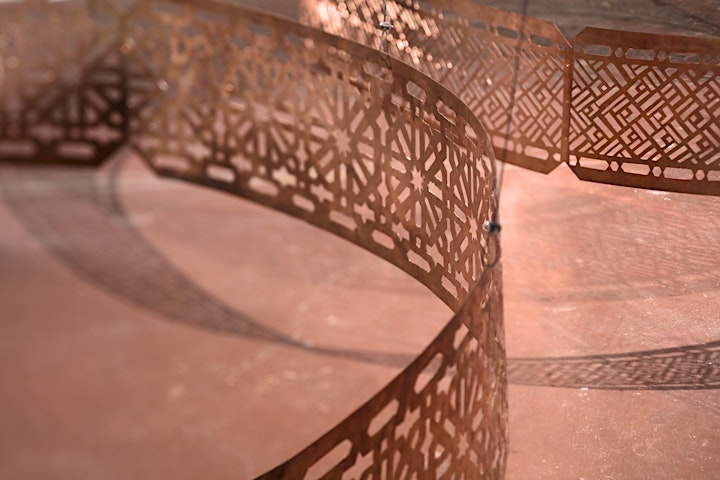 Organiser of Holding Patterns: Shireen Taweel at 4A Centre for Contemporary Asian Art
4A Centre for Contemporary Asian Art fosters excellence and innovation in contemporary Asian and Australian culture through research, documentation, development, discussion and presentation of contemporary visual art.
We believe that Asian cultural thinking will have an important impact on the future. 4A's aim is to ensure contemporary visual art plays a central role in understanding the dynamic relationship between Australia and the Asia-Pacific region.
4A has a distinctive approach to addressing Australia's cultural diversity through a dynamic program including local and international exhibitions, public programs, workshops, seminars, symposiums and community activities. These have been recognised locally and internationally as having raised awareness of Asian-Australian art and culture and Australia's place in the Asia-Pacific region.