Event Information
Location
The Little Bookroom
759 Nicholson St
Carlton North, VIC 3054
Australia
Description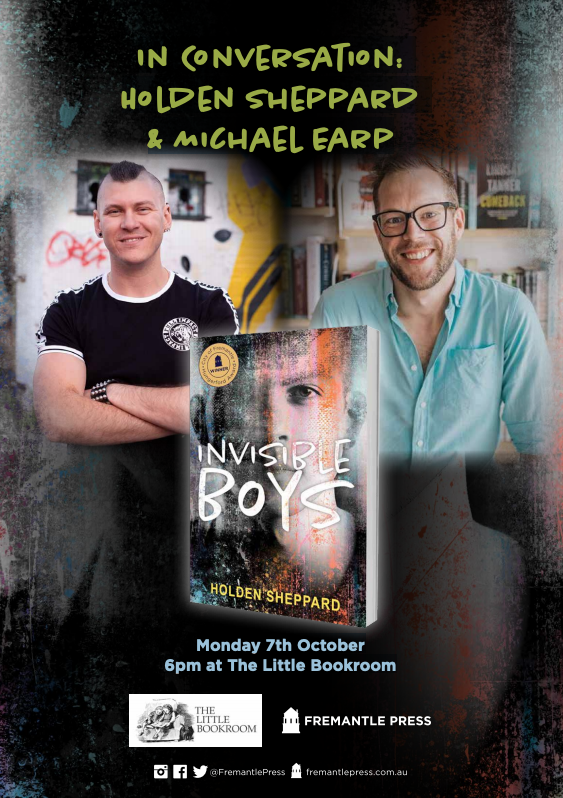 Join Holden Sheppard, award winning debut author of Invisible Boys, in conversation with Little Bookroom's own, Michael Earp as they talk about queer voices in Young Adult literature, their books, writing and influences. Both Holden and Michael are gay men who grew up in small towns, they'll share stories on how this has impacted their approach to writing.
Holden is on tour from Western Australia so this is a fantastic opportunity to hear him speak about his book, and tell his personal story. A must for young adult readers of any age.
Pre-order Invisible Boys with your ticket or available for purchase and signing on the night.
ABOUT INVISIBLE BOYS
In a small town, everyone thinks they know you: Charlie is a hardcore rocker, who's not as tough as he looks. Hammer is a footy jock with big AFL dreams, and an even bigger ego. Zeke is a shy over-achiever, never macho enough for his family. But all three boys hide who they really are. When the truth is revealed, will it set them free or blow them apart?
PRAISE FOR THE BOOK
'This manuscript has tremendous energy and authenticity, as it explores what it is like to grow up gay in an insular regional community. Invisible Boys is a valuable contribution to the growing voices of younger LGBTIQA+ people.'
City of Fremantle T.A.G. Hungerford Award judges' report
ABOUT HOLDEN SHEPPARD
Holden Sheppard is an award-winning Young Adult author born and bred in Geraldton, Western Australia. His debut novel, Invisible Boys, won the 2018 City of Fremantle T.A.G. Hungerford Award and the 2017 Ray Koppe Residency Award, and was Highly Commended in the 2018 ASA Emerging Writers' Mentorship Prize.
Holden's novella 'Poster Boy' won the 2018 Novella Project competition and was published in Griffith Review. His true story 'Fight, Deny, Delete' was published in the 2019 Margaret River Press anthology Bright Lights, No City. Holden's short fiction has been published in page seventeen and Indigo, and he has also written for Ten Daily, Huffington Post, ABC, DNA Magazine and FasterLouder. He graduated with Honours from Edith Cowan University's writing program and won a prestigious Australia Council ArtStart grant in 2015. Holden serves as the Deputy Chair of WritingWA, and as an ambassador for Lifeline WA.
Holden has always been a misfit: a gym junkie who has played Pokemon competitively, a sensitive geek who loves aggressive punk rock, and a bogan who learned to speak French.
ABOUT KINDRED: 12 QUEER #LOVEOZYA STOIRES
What does it mean to be queer? What does it mean to be human? In this powerful #LoveOzYA collection, twelve of Australia's finest writers from the LGBTQ+ community explore the stories of family, friends, lovers and strangers – the connections that form us.
This inclusive and intersectional #OwnVoices anthology for teen readers features work from writers of diverse genders, sexualities and identities, including writers who identify as First Nations, people of colour or disabled. With short stories by bestsellers, award winners and newcomers to young adult fiction including Jax Jacki Brown, Claire G Coleman, Michael Earp, Alison Evans, Erin Gough, Benjamin Law, Omar Sakr, Christos Tsiolkas, Ellen van Neerven, Marlee Jane Ward, Jen Wilde and Nevo Zisin.
ABOUT UNDERDOG: #LOVEOZYA SHORT STORIES
#LoveOzYA celebrates the best of new Australian writing for teenage readers. It has grown from a humble hashtag into a movement, reflecting the important role young-adult fiction plays in shaping our current generation of readers. This anthology collects, for the first time, some of the tremendous work from the #LoveOzYA community.
Featuring a foreword by award-winning Australian novelist Fleur Ferris (Risk, Wreck, Black and Found), Underdog celebrates the diverse, dynamic and ever-changing nature of our nation's culture. From queer teen romance to dystopian comedy, from hard-hitting realism to gritty allegory, this brilliant, engrossing and inspiring collection of short stories will resonate with any teen reader, proving, yet again, why there is just so much to love about #LoveOzYA.
ABOUT MICHAEL EARP
Michael is a children's literature specialist who has worked for a children's publisher and as bookseller for over fifteen years, currently at The Little Bookroom. His writing has appeared in The Victorian Writer and Aurealis. He is editor of Kindred: 12 Queer #LoveOzYA Stories and contributor to Underdog: #LoveOzYA Short Stories.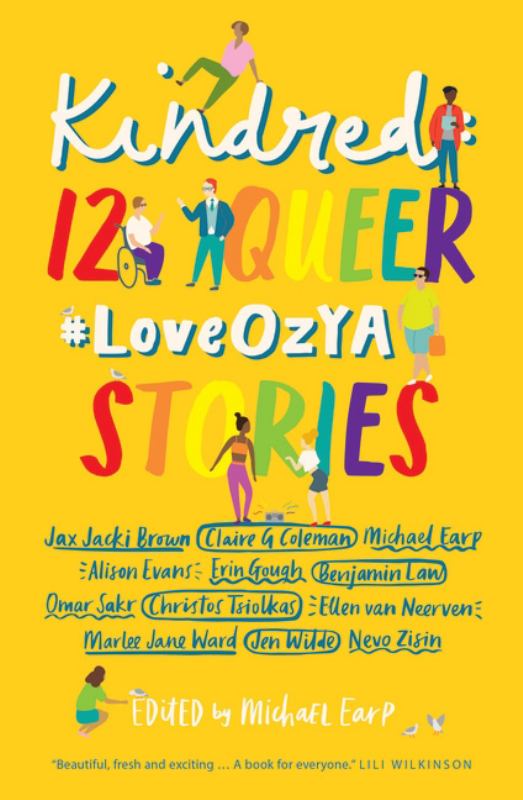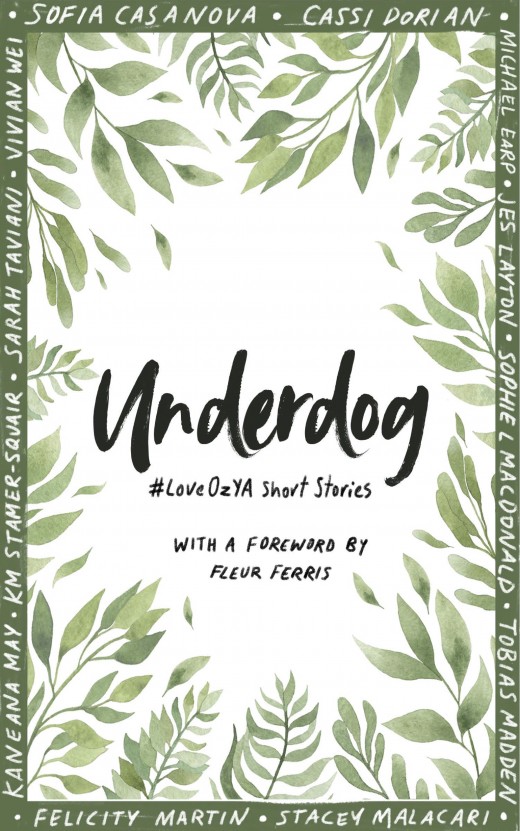 Date and time
Location
The Little Bookroom
759 Nicholson St
Carlton North, VIC 3054
Australia