Description
ABOUT THE EVENT
---
Come and join us at Open Day in Ho Chi Minh City to explore our generous scholarship opportunities and discover what Macquarie University and Macquarie University International College (MUIC) can offer you in the fields of Accounting and Finance, Business and Economics, Science and Engineering, IT, Media, Creative Arts and Communication, TESOL and Linguistics, Psychology and Education.
Professional staff and academics, as well as our Vietnamese alumni, will be available to answer any of your questions about living in Sydney, generous scholarship opportunities, highly regarded degrees, credit transfers, life on campus and accommodation options.
For more information on the program, please download the event agenda.
We are also visiting Hanoi - click here to register for Hanoi!
SPEAKERS
---
Professor Julian Knowles, Associate Dean International, Faculty of Arts
Dr Shawkat Alam, Macquarie Law School, Faculty of Arts
Mr Ian Sebastian, Director (Southeast Asia), Global Engagement and Business Development, Macquarie University
Dr Ian Stephen, Senior Lecturer, Faculty of Human Science
Associate Professor Hume Winzar, Associate Professor in Business, Faculty of Business and Economics
Mr Feargal Caley, International Development Manager, Faculty of Science and Engineering
Click here for more information on the speakers for the day.
TESTIMONIALS
---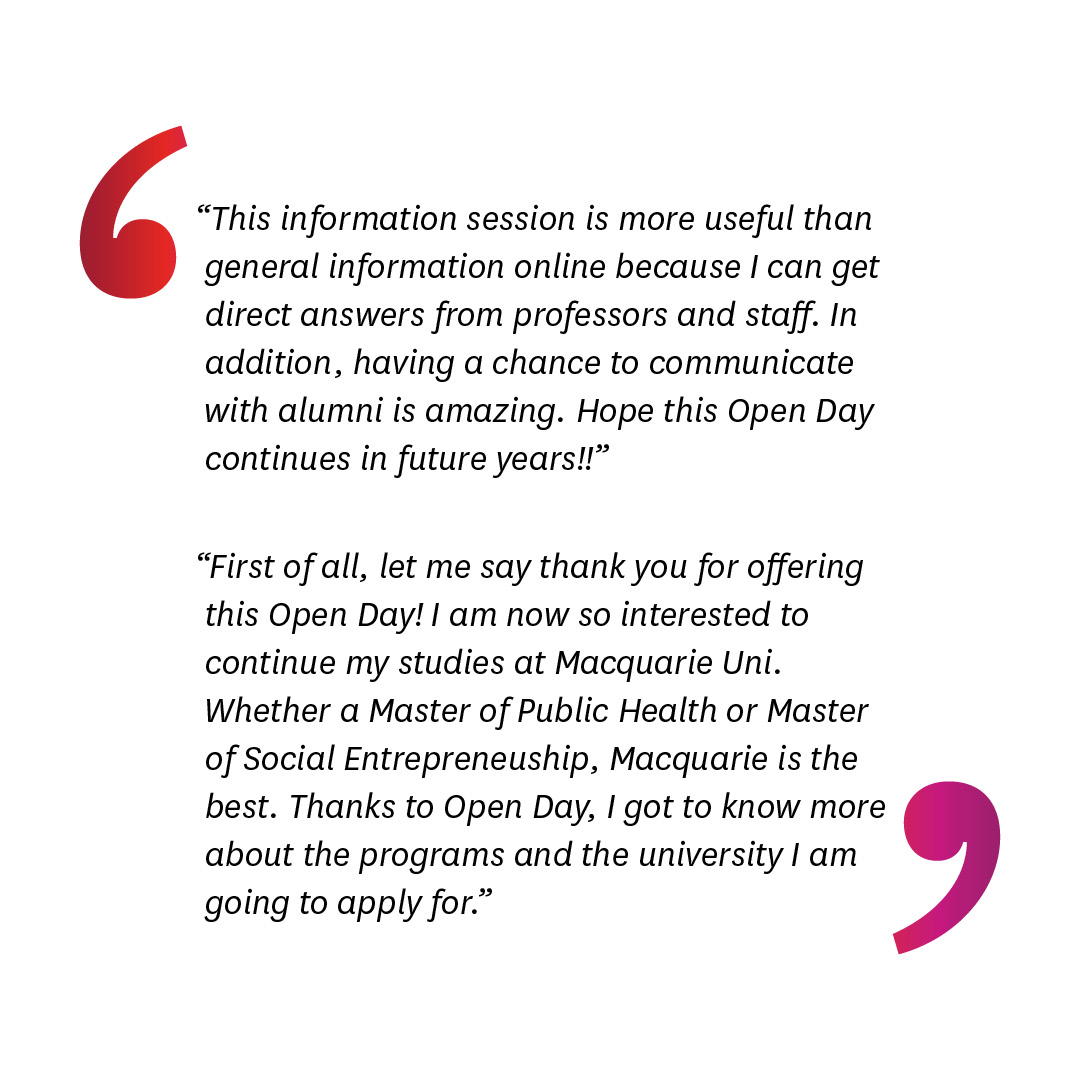 Organiser of Ho Chi Minh City Open Day
Macquarie University is located in Sydney, Australia and is ranked in the top 1% of world universities (QS World University Rankings, 20).
Uniquely located in the heart of Australia's largest high-tech precinct, Macquarie brings together over 44,000 students and 4,000 staff in one thriving hub of discovery. Our campus spans 126 hectares, with open green space that gives our community the freedom to think and grow.
With more than 300 leading companies located on or around the Macquarie campus, our students are able to tap into industry connections that give them an edge in their future careers, while our staff have access to outstanding research and innovation opportunities with some of the world's leading organisations.
CONTACT US
P: +61 2 9850 7346 | E: study@mq.edu.au | W: mq.edu.au