Location
ESL Studios
Auburn, NSW 2144
Australia
Description
The Hi-Rez Oceania Championships 2016 celebrate the finals of both SMITE and Paladins competition in Oceania (Australia and New Zealand).
This will be a major esports broadcast event, featuring both the SMITE Oceania Championships and Paladins Invitational Final.
Tickets to be part of the live studio audience includes entry to the Hi-Rez Community Night party with food and drink provided.
The event takes place on November 26-27 at ESL Studios, Sydney.
Featuring the Top 4 SMITE teams in Semifinals and Grand Finals, and top 2 Paladins teams in Grand Finals, plus special guests from Hi-Rez Studios.
Get Your Tickets: Audience tickets are strictly limited and available here on Eventbrite:
Schedule
Saturday 26th: SMITE SemiFinals 1 and 2, Community Night Party
Sunday 27th: Morning: Paladins Invitational Final, Afternoon: SMITE Oceania Championship Final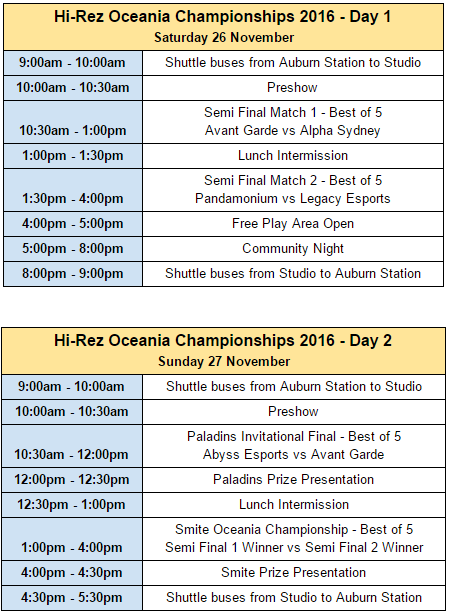 SMITE Oceania Championships: On the line is a $60,000 prize pool, part of an intensely competitive 2016 $100K season. All four teams are aiming for a coveted place in the SMITE World Championships.
Watch the weekly SMITE Oceania Pro League on Saturdays and Sundays from 6pm until October 30 on www.twitch.tv/cgtv_smite
Paladins Invitational Final: Two teams will battle for a place at the Paladins Invitational, also taking place at Hi-Rez Expo in January 2017, for a prize pool of $150,000.
Watch Paladins Invitational League Mondays weekly at 7pm AEDT on www.twitch.tv/PaladinsGame
The SMITE Oceania Pro League and Paladins Invitational Leagues are produced by Double Jump Communications for Hi-Rez Studios, in partnership with Cybergamer.
Tournament Information for SMITE and Paladins can be found at:
http://au.cybergamer.com/SMITE