Health & Wealth Summit - network and learn about money making tips, and fer...
Sales Have Ended
Ticket sales have ended
Thank you for your purchase, looking forward to seeing you at the event.
Sales Have Ended
Ticket sales have ended
Thank you for your purchase, looking forward to seeing you at the event.
Description
Health & Wealth Summit - Strugglign with your finances every month, feel trapped? Saving for a first home? Or getting married soon and thinking of trying for a baby? This short talk can benefit you in many ways. Heard of early stage Bladder leakage? Struggling with your finances planning for a family? Come meet experts all in one room and network with like minded individuals
健康及財富講座, 生育及金錢
---
*Unexpected fertility issues can hit any healthy couple trying for a baby, and financially it can be stressful. What are some of the steps couples have taken to successfully try for a healthy baby, and also plan for the future financiall?
* 不育及生理問題困擾了不少夫婦. 領聽專家建議,取得成功懷孕知識.

*Be your best healthy self - gain better health and wellness for both mother-to-be and baby through combination of exercise and nutrition. Incontinence and pelvic floor issues are the unspoken side effects of child birth. Come listen to Mona Wong speak about her experience on infertility and pelvic floor health.

*Important tips for taking care of yourself before and after pregnancy
*同場提供骨盆底肌肉健康知識預防子宫下垂.

• What are some of the practical steps you can take to stop worrying and improve your financial health? What is your relationship with money? 健康家庭必須懂得如何理財.
• What happens when you don't have the basics of will and other basics in place? case studies. Estate planning for beginners

• Don't miss our popular strategy session that help increase your cashflow.
Session is in both Chinese (Mandarin) & English.
Money has a lot of power, to set us free or to enslave us. It keeps us at our jobs even if we are unhappy, it can cause to deny ourselves the time we need with our children or improve our relationships. What is our relationship with our money?

• You may not need this now, as everything is under control, but what if there is an illness, unexpected crisis in your family or our economy? Equip yourself today, network and learn something new at this information event.
The talk starts at 10.30am.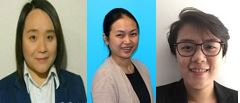 Photo from Left to Right..
Mrs. Mona Wong, Pelvic Muscle Health Advocate
-Member of Australia Nutrition and wellness association

-Grand champion of Search 4 warriors (season 2 fitness program)
-Nutrition health advisor
Dr. Nicole Ng
-Bachelor of Medicine and Bachelor of Surgery (MBBS)
-Medical Researcher
-Member of Nutrition and Wellness Association
-Co-Founder of APPBUBBLy
Miss Christine Ho
- Bachelor of Economics, and Master of Accountancy
- Alumni of PwC, and Public Practising Accountant
- Consultant with leading international banks
- Owner and shareholder of several startup companies
- Author of the book "Secrets of the Rich"
- "Since I saw my friend who lost everything in subprime sank into depression and another with credit card debt, I was determined to reveal the secrets of the rich, on how some who came from nothing accumulate so much wealth. What are the practical steps we can take to stay out of debt?"