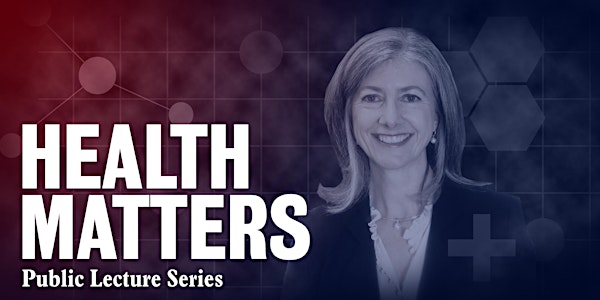 Health Matters lecture: COVID-19 A Public Health Response
Location
Faculty of Health and Medical Sciences - The University of Adelaide
4 North Terrace
Adelaide, SA 5000
Australia
The Faculty of Health and Medical Sciences, Health Matters public lecture series presents: COVID-19: A Public Health Response.
About this event
University of Adelaide public health experts are actively influencing the COVID-19 response with far-reaching national and global impact.
Join our esteemed panel as they reflect on the underpinning role of public health in a pandemic, and their critical contributions to the research, response and recovery efforts protecting our community.
Featuring keynote address by University of Adelaide alumna and South Australia's Chief Public Health Officer, Professor Nicola Spurrier.
We hope you can join us for this exciting launch of the Faculty of Health and Medical Sciences' new-look Health Matters public lecture series.
When: Monday 15 February 2021
Time: 2:00pm - 4:00pm (ACST)
Where: Live stream via the Faculty of Health and Medical Sciences Facebook page
Please Note: Once you have registered here in Eventbrite, you will receive the link to the Facebook livestream page on the morning of the event. The link will take you directly to the livestream page on Facebook. You will not be required to have a Facebook account to access the event online.
KEYNOTE SPEAKER:
Professor Nicola Spurrier
In her keynote address, Professor Nicola Spurrier will reflect on the impacts, effects and solutions of COVID-19 and offer insight into the global public health outlook. Her role in navigating South Australia through these unprecedented times saw our state excel in preventing the progression of the pandemic.
Nicola is the Chief Public Health Officer for South Australia's Department for Health and Wellbeing. In this role, she is responsible for advising the Minister and the Chief Executive of SA Health on public health and communicable disease issues and proposed public health legislative or administrative changes.
PANELLISTS:
Professor Tracy Merlin
COVID-19: How did we develop the first Roadmap to Recovery? 
Professor Tracy Merlin is the Interim Head of School of Public Health. She is also Director of Adelaide Health Technology Assessment (AHTA), a large and experienced team of researchers evaluating health care interventions on behalf of government. Tracy was part of an elite team of Group of Eight (Go8) experts convened to develop a 'Roadmap to Recovery'—a national COVID-19 exit and recovery strategy presented to Federal Government.
Dr Adriana Milazzo
COVID-19 contact tracing: why does it matter
Dr Adriana Milazzo is an infectious disease epidemiologist and senior lecturer in the School of Public Health. Adriana's research interest is in climate change and population health, infectious diseases, including One Health and social networking patterns and characteristics of close contacts of meningococcal cases. Adriana has recently developed training material for contact tracing in response to the COVID-19 effort.
Professor Zoe Jordan
Thinking fast and slow: evidence and judgement during COVID-19
Professor Zoe Jordan is the Executive Director of JBI, an international research organisation focused on developing and delivering unique evidence-based information, software, education and training to improve healthcare practice and health outcomes.  Zoe led the team who developed a special collection of evidence-based resources to guide clinical decision making at the point of care in relation to COVID-19 with a focus on infection prevention and control measures and mental health and wellbeing.
Professor Dino Pisaniello
Occupational hygiene and COVID-19
Professor Dino Pisaniello is the Director of Adelaide Exposure Science and Health (AESH) and the Occupational and Environmental Hygiene Laboratory. Dino is interested in occupational and environmental health, including exposure and risk assessment, and education. Dino recently developed a national short course for managers and supervisors dealing with occupational hygiene, including COVID-19 risk assessment in the workplace.
Professor Caroline Miller
Rapid Evidence Synthesis for COVID-19 Policy
Professor Caroline Miller is the Director of the Health Policy Centre, SAHMRI. Caroline assesses the best evidence in response to a variety of COVID-19 questions, to inform the planning and decision-making of the SA COVID-19 Taskforce and the Chief Public Health Officer, as well as inform national policy and response.