The Great Australian Beer Festival will be held on Saturday 2nd April 2022, across two sessions 11am-4pm & 5pm-10pm
About this event
The Great Australian Beer Festival will be held on Saturday 2nd April 2022, across two sessions;
DAY SESSION: 11 AM - 4 PM featuring The Badloves & The Settlement
EVENING SESSION: 5 PM - 10 PM featuring Art vs Science & Beans
The Great Australian Beer Festival is gearing up to deliver its 9th event at Geelong's picturesque Johnstone Park on January 15th, 2022.
The annual event experienced the all too familiar hiatus from its 2021 event, but Festival Director Kieran Blood and the GABF team are truly inspired to deliver the event in 2022.
"We are working hard behind the scenes to ensure GABF 2022 is the best and brightest yet. With a new partnership with the BeerFest Australia brand, we have a team that have already delivered six successful COVID Safe events. We can't wait to see you all sipping, sampling and socialising again!"
GABF is a celebration of the Geelong regions burgeoning beer industry with a smorgasbord of artisan brews from across the Geelong, Bellarine, Surf Coast and Otway regions. The only opportunity to find all these local brewers in one place. Add to this some of Australia's finest breweries and producers and you have a beer lovers paradise right here at the iconic Johnstone Park in Geelongs CBD.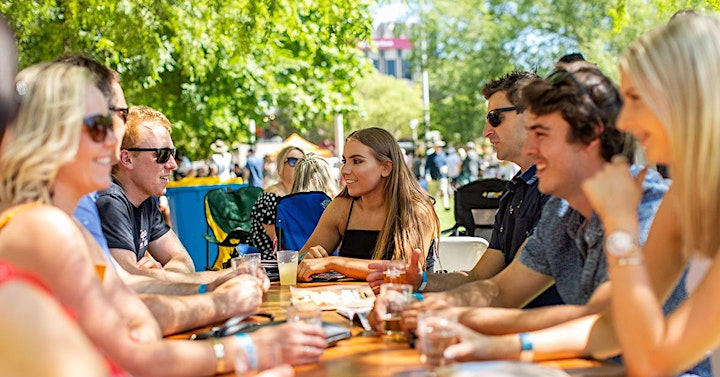 Whilst beer lovers are in for a treat there will also be a selection of wines, seltzers, gins and cocktails from local distilleries along with food trucks serving up BBQ meats, Geelongs best burgers and a whole lot more.
Recognised as Australia's most diverse and colourful beer festival, GABF will take on a new format across 2 sessions. There will be limited tickets available for each session with heaps of space to move, taste and groove.
The day session will run from 11am – 4pm with free masterclasses, activities for the kids and the best opportunity to mingle with the brains behind the brews. Add entertainment from The Badloves, The Settlement and local act the Violas.
The evening session will run from 5pm – 10pm with Geelongs own Piano bar, roving cabaret performers and live music featuring Art vs Science, Beans , Pirateska Rebellion and local act Immy Owusu.
The new central location at Johnstone Park was a huge hit in 2020, just a short walk from Geelong Station, offering easier access for locals and visitors and supporting local CBD businesses pre and post event. GABF will again put the Geelong region on centre stage, showcasing local brewers and promoting the region as a destination for craft beer tourism.
"We can't wait to deliver the GABF experience that everyone knows and loves. We aim to deliver the perfectly crafted beer festival experience!"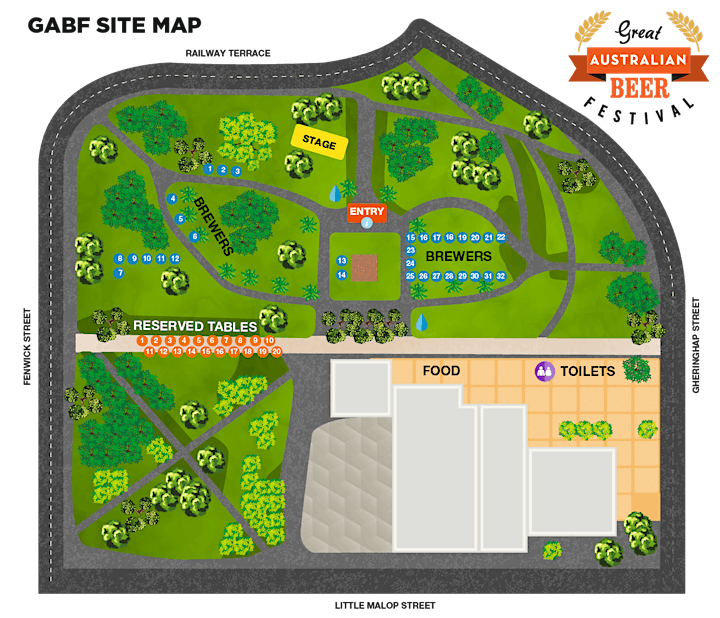 Reserved Table Options
At each session an allocation of 20 tables are available and each includes General Admission for 8 people, access to all features and entertainment, view of the main stage and a Reserved table with seating for 8 people and large shade umbrella at the price of $550. When ordering a table you'll be able to select whichever table is available, please refer to the above map for the table numbering (click here to expand the map).
More Info
If you're after more info, please refer to the GABF Geelong website.
This covers a lot of the details of the festival, including full lineup and FAQ's. It will be regularly updated as we move closer to the festival date.
If the event is postponed/cancelled, what happens?
Ticket holders will be given the option of either holding their ticket for a new date or receiving a ticket refund if GABF cannot go ahead on the scheduled date.