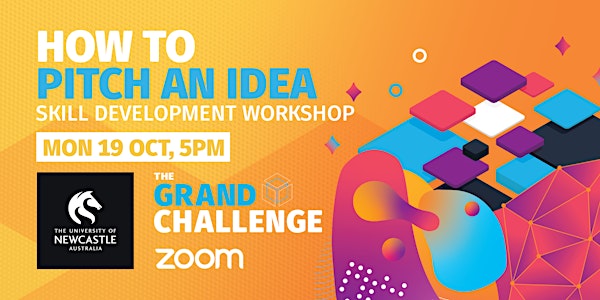 Grand Challenge Workshop: How to Pitch an Idea
Are you up for the Challenge? Help us solve the local and global problem of mosquitoes.
About this event
By joining this workshop you are under no obligation to submit a proposal to the Grand Challenge. Those that intend to, however, will find this workshop will help you to develop a great submission. This is a skill development workshop for anybody to join, regardless of your affiliation to the University.
The University of Newcastle's Grand Challenge is an annual initiative with the aim of encouraging multi-disciplinary teams to propose and develop potential solutions to a complex challenge. The most compelling submissions will share in over $50,000 in funds to advance their idea.
This year the Grand Challenge has focussed on a complex problem that has both local and global significance – controlling mosquitoes. Mosquitoes can be a major annoyance, but also present an increasing threat of disease.
Communicating a new idea or solution in a tight timeframe requires a good understanding of how to tell a story that will compel people listening to want to know more. This skill applies to a range of different circumstances, from job interviews, client meetings, management committees, and even pitch competitions! Take advantage of this professional development opportunity where you will learn new skills, meet new people, and get a competitive edge - not just for the Grand Challenge but for your employability prospects too!
At this interactive How to Pitch an Idea Workshop you will learn:
The three elements of communications - word, tone and body language - and how to apply them in an online environment
Each step of building a compelling pitch, including how to finish strong
How to overcome nerves
Skill up and get informed to help drive a strong submission to the Grand Challenge. Grand Challenge submissions open Sep 21 – Oct 25
The Grand Challenge is open to all University of Newcastle students, staff, academics and alumni across the globe, as well as the wider community. It is a great way to meet new people, be exposed to fresh ideas, learn new skills, and build creative, original work while having real-world impact. Great ideas come from everywhere, so no matter your background or experience you've got everything to gain by participating.