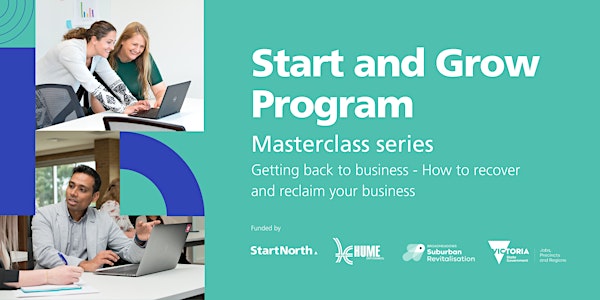 Getting back to business - How to recover and reclaim your business
Location
Town Hall Broadmeadows
10 Dimboola Rd
Broadmeadows, VIC 3047
Australia
Learn how to recover and grow your business in 2022. Masterclass one of the Start and Grow Program by StartNorth.
About this event
It's time to get back to business!
The last two years have been difficult for most business owners.
Many had concerns about how to keep:
the business operating with little or no revenue
staff employed, engaged and ready to work
your business operating
Hume is now in a very different position, these series of masterclasses were designed to help business owners overcome their entrepreneurial challenges and succeed in 2022!
How to recover and reclaim your business
Even if your business is now operating you may not be able to clearly see the steps to recovery and growth.
This free, 3 hour Masterclass, will help you to look at the elements needed to recover and grow your business.
Help you to reflect and remember why you got into business, your entrepreneurial mindset and your passion for your product or service
Where is your 'dream team?' Where are your best team members and what may you need to do to get them back or to keep them?
Where are your customers? What relationship have you had with them over the past two years? What will you need to do to win them back?
What are the opportunities for your business that have come out of the last two years? New products or services that you can introduce?
What difference could operating online make to your business?
What to bring
A notebook or tablet or laptop to take notes. Food is provided but you are welcome to bring your own.


About your presenter
For more than 30 years, Enterprising Partnerships has assisted thousands of small, medium and large businesses to start and grow. With offices in Australia, Colombia, Mexico, Thailand and Botswana, we are committed to assisting people around the world to achieve their dream of independence and business ownership.