Description
The Geelong Youth Innovation Summit is a three-day event delivered in partnership with the State Government of Victoria, City of Greater Geelong and Runway HQ Geelong.
Attendees may choose to attend one day, two days or more - it's up to you!
When booking please select the date you wish to book tickets for on the right hand site of the Eventbrite page.

Friday May 10, 2019 5.00pm-8.30pm
Community Clever & Creative Forum
A curated youth-led Next Gen Geelong Community Clever & Creative City Forum bringing together the city-region's brightest future decision makers (high school/tertiary students), local industry leaders (STEM), subject matter experts and government to celebrate, innovate and collaborate on solution design for Geelong's 2047 vision. The program will focus on education innovation (21st Century skills), workforce of the future, employability, economic prosperity, social, economic and digital equity, culture and art, smart cities, and the future of local industry leadership.
Location: Geelong Football Club, Kardinia Park
Format: Structure forum with facilitated Q&A
Target Audience: Select high school + tertiary students (all genders), local government, community stakeholders and industry leaders
Please note this Community Forum is a SELECT AUDIENCE BY INVITATION ONLY. If you would like to register your interest in this event, please submit your details on the Girledworld website here.
---

Saturday May 11, 2019 12.00pm-5.30pm
World Shaping, Future Facing, Work Ready
The World of Work STEM Expo brings global industry, startup and STEM (Science, Technology, Engineering and Maths) leaders together with female students to teach them about 21st Century new ways of working, future STEM pathways, emerging digital technologies and employability skills to help them build awesome future pathways.
This event isn't your average career expo.
Location: Geelong Football Club, Kardinia Park
Format: Plenary and activation/immersion space
Audience: Targeted at female high school and tertiary (undergrad) students/educators, parents and local/global industry, STEM and business mentors.
The girledworld WOW STEM Expo will see hundreds of high school girls and undergraduate tertiary students exposed to a powerful network of inspiring female industry leaders, STEM champions, media superstars and career role models across a massive day of World Shaping, Future Facing and Work Ready career education keynotes, interactive presentations and skill-building teamwork sessions.

This is an event especially designed to engage girls at their level, so they can better shape their future pathways. Through our work with universities, best practice education research and our engagement with thousands of secondary school girls across Australia we know that career decision making and school subject choices can be highly confusing in the senior years of high school.

The girledworld WOW STEM Expo Summit 2019 program has been curated and designed just for Australian high school girls and early tertiary women, empowering, educating and equipping them to make informed decisions about their individual career pathways with the new World Of Work front of mind.
The WOW STEM Expo will feature global speakers (keynotes and virtual) from some of the world's biggest companies and social mission organisations (Twitter, Airbnb, Atlassian, Microsoft, Virgin Australia, 1 Million Women, Foundation for Young Australians, PwC, UniSuper, Women For Election Australia, Telstra muru-d, Fishburners + more) plus Australian industry experts and outstanding career mentors to help girls explore the new world of work and how to plan their future career pathways in the leadership, entrepreneurship, emerging technology and STEM sectors.
Critically, speakers will unpack the real ways of working and 21st Century skills they use every day so girls can start to understand foundational future of work toolkits and begin to build them now to ensure future tertiary pathways, internship opportunities and career employability.
This is a great way for girls to meet and learn from inspiring female role models who "tell it like it is", open the door to emerging industries, uncover the job opportunities of tomorrow, and start girls goal setting and planning for their future career pathways now!
All attendees will receive a copy of a Certificate of Critical Thinking to add to their resume.

NOTE: Spaces are limited for this highly immersive day. Please book early to avoid disappointment
Group bookings are available for schools or community groups (10 pax).

---

Sunday 12 May, 2019 - 10.00am - 3.00pm
A Day of Design Thinking, Entrepreneurship and Real World Problem Solving.
We've taken everything you loved from the sell-out 2017 girledworld Big Ideas Leadership Summit (University of Melbourne), the girledworld WOW (World of Work) Summit 2018 at RMIT and the girledworld WOW Summit 2019 at the University of Sydney and gone to the next level.
girledworld invites future young change makers (high school and undergraduate students) who want to gain skills in entrepreneurship, Design Thinking and real-world problem solving to join us for a hands on day of business building!

Location: Runway HQ - Federal Mills Park, North Geelong
Format: Facilitated educational Design Thinking workshops
Audience: Selected regional high school and early tertiary students (all genders), local government, communityand industry leaders
Led by a dynamic, hand-picked squad of industry specialists, innovation coaches, entrepreneurs and expert facilitators who will work together across a day of Design Thinking modules to unpack complex problems and work to solutions on three real-world pain points.
During the Startup Sprint student participants will have the opportunity to work with entrepreneurs and public speaking coaches to refine their Summit pitches, then stand up and pitch their bold new ideas and business models to a panel of incredible judges. (Many of our previous WOW Summit attendees have gone on to continue with their businesses afterwards!)
This is a day of hands-on, intensive learning not to be missed!

All attendees for Startup Sprint will receive a Micro-Credential in Design Thinking to add to their resume.

NOTE: Spaces are limited for this highly immersive day, so please book now to avoid disappointment.
Group bookings are available for schools or community groups (10 pax).

For inquiries or if you require further information please visit our website at www.girledworld.com or contact us at hello@girledworld.com.
---

Where can I contact the organiser with any questions?
For general enquiries please contact team@girledworld.com

Is my registration transferrable?
Yes, your registration can be transferred by contacting team@girledworld.com.

How can I volunteer to be part of the girledworld Geelong Youth Innovation Summit 2019 team?
Time and time again, we are blown away by the energy, passion, and dedication of our extraordinary girledworld volunteers. Thank you to all those who have been part of our growing community so far on the journey! We couldn't do it without you!

We invite all interested volunteers who would like to be part of bringing this incredible event to life to submit an application via our website with girledworld Geelong Youth Innovation Summit - Volunteer in the subject line. You will find all Summit information under the WOW Summit 2019 tab on the landing page.

Once you've submitted your application we will be in touch with next steps and event details, and can't wait to have you on board!

Thank you to our amazing sponsors and supporters!
It takes a village to raise a child, an ecosystem to raise an entrepreneur and the support of awesome sponsors to get an event of this scope off the ground!

We can't do this work without our amazing sponsors, who help keep our organization's engine pumping, send staff to our events and contribute to the conversation.

Please contact us at hello@girledworld.com for further details about available sponsorships and benefits.

---
Accessibility
We work to make our events as inclusive as possible. If you have additional accessibility requests, please contact us at team@girledworld.com so we can accommodate your requests.

Filming on Premises
girledworld are an edtech startup building the next generation of leaders, founders and STEM champions, one girl at a time. We do this through our Summit event series, workshops, online content delivery and advocacy work with industry, startups, educators and media.

As part of this ongoing work, we photograph, video and audio record our events to share important discussions and experiences on our online platform, and via our presentation content, so we can scale our reach to people who are unable to attend our events in person.

By entering our event location during the girledworld Geelong Youth Innovation Summit 2019, you agree that girledworld has the right to use your likeness, image, voice, etc. in photos, videos and in any educational, marketing, advertising or related endeavours relevant to our girledworld enterprise. You will not be compensated in any way for the use of your likeness, image, voice, etc. Being on event premises means that you release and hold harmless girledworld from any claims or actions that arise as a result of this production.

Thank you so much for your support and cooperation.
We look forward to seeing you at the girledworld Geelong for a weekend of life-changing learning!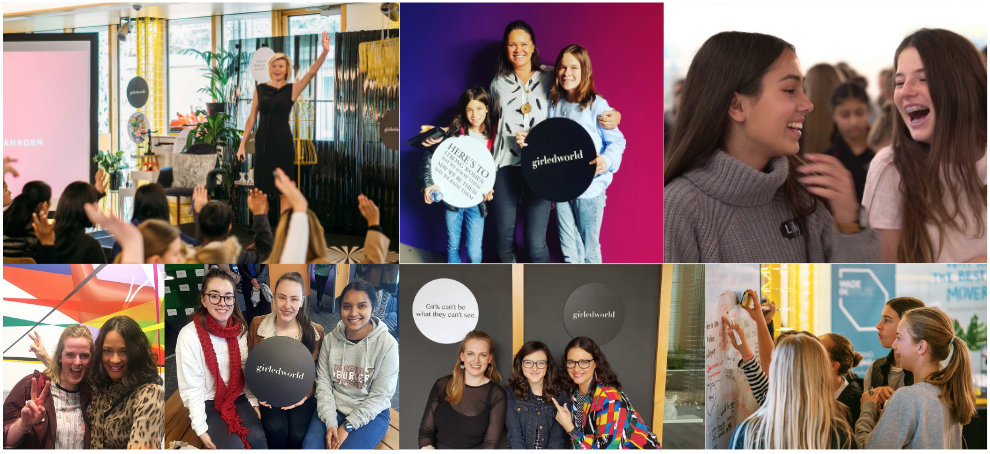 Australian Curriculum
In the Australian Curriculum, capability encompasses knowledge, skills, behaviours and dispositions. Students develop capability when they apply knowledge and skills confidently, effectively and appropriately in complex and changing circumstances, in their learning at school and in their lives outside school.

The Australian Curriculum is designed to help all young Australians to become successful learners, confident and creative individuals, and active and informed citizens. Presented as a developmental sequence of learning from Foundation - Year 10, the Australian Curriculum describes to teachers, parents, students and others in the wider community what is to be taught and the quality of learning expected of young people as they progress through school, and into their tertiary pathways and future careers beyond.

The three-dimensional design of the Foundation – Year 10 Australian Curriculum recognises the importance of disciplinary knowledge, skills and understanding alongside general capabilities and cross-curriculum priorities, and the Summit is aligned to key learning areas across these three dimensions to ensure all attendees:

1. Develop transferrable Enterprise Skillsets and Capabilities to gain employability value
2. Work with traditional, contemporary and emerging technologies that shape the world in which we live, and will increasingly define the future World of Work

3. Develop understandings and capabilties in creating solutions through complex problem solving

4. Explore sustainable patterns of living for themselves and others

5. Engage with and respond to the designed world, and understand how to goal set and design for impact

6. Educate, explore and equip themselves with understandings of the STEM workforce, career pathways and critical skills needed to enage in this sector

In particular, the Summit will align to the Australian Curriculum: Technologies (as adopted by each state) which draws together the distinct but related subjects of Design and Technologies and Digital Technologies.

In the Australian Curriculum, capability encompasses knowledge, skills, behaviours and dispositions. Students develop capability when they apply knowledge and skills confidently, effectively and appropriately in complex and changing circumstances, in their learning at school and in their lives outside school.

Still got questions? Please contact us at hello@girledworld.com