Future of our Reef and Region: Cairns & Barron River Candidates Forum
In just over a month Queenslanders go to the polls. Do you know where your local candidates stand on protecting our Reef and regional jobs?
About this event
Cairns and Barron River Candidates Forum
Hosted by Fight For Our Reef
Join at 6pm tonight, Thursday 1st using this Zoom link:
https://us02web.zoom.us/j/82988909882
The Great Barrier Reef is our region's greatest asset, the backbone of our Far North Queensland economy. Right now, its very future and our local livelihoods, are under dire threat.
This election, candidates have the chance to make a big difference. If they will back investment in renewable energy and cleaning up Reef waterways, we can generate thousands of regional jobs and protect the Reef at the same time! It's win win.
But which local candidates will actually fight for our Reef? How do the major parties stack up on their Reef and climate policies?
Don't miss this significant online event! Have your voice heard and questions answered.
EVENT: The Future of our Reef and Region: Political Debate.
When: Thursday, October 1, 6:00-7:00 pm.
Where: Online via Zoom- you will receive a link when you RSVP.
Hear directly from local candidates about their stance on critical issues like Climate Change, Renewable Energy, Water Quality and Fisheries.
With the October 31st state election fast approaching, don't miss this opportunity to have your say.
You'll hear from:
Barron River MP Craig Crawford
Cairns MP Michael Healy
LNP Barron River candidate Linda Cooper
LNP Cairns candidate Sam Marino
Greens Barron River candidate Aaron McDonald
Coral Reef Expert - Professor Morgan Pratchett
A chance to have you say:
You will have the opportunity to submit a question for the candidates when you register for the event. RSVP today to submit your question.
You and I know how vital the Reef is to our region and local livelihoods. Climate change is threatening it's very future and our way of life here in Far North Queensland, it's time for our politicians to step up and protect our greatest treasure.
Let's show our local candidates that our community cares about the future of our Reef and want clean, sustainable stimulus to build back better after COVID-19.
On Thursday evening, serve up your dinner, invite your friends and zoom in, because together we can show our politicians that local voters love the Reef and want to see our region and livelihoods protected.
Join the conversation and Fight For Our Reef!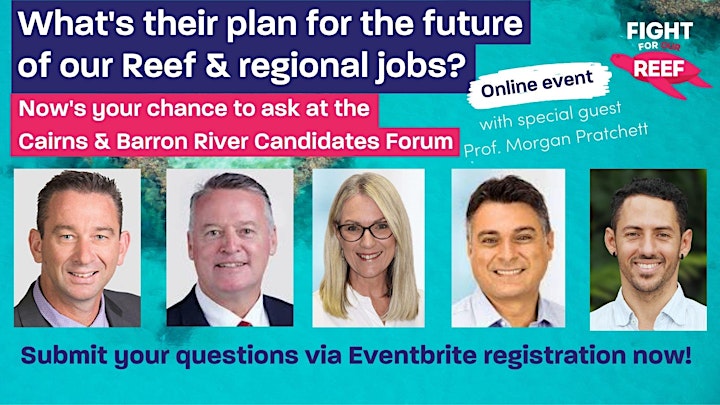 Organiser of Future of our Reef and Region: Cairns & Barron River Candidates Forum
The Australian Marine Conservation Society (AMCS) is the voice for Australia's ocean wildlife. We are an independent charity, staffed by a committed group of professional and passionate scientists, educators and advocates who have defended Australia's oceans for 50 years. Our paid and volunteer staff work every day on behalf of the community to protect our ocean wildlife.
AMCS works on the big issues concerning the sea - the Great Barrier Reef, sharks, whales, marine plastics, sustainable seafood and Marine Parks. Our biggest campaign this year is the Fight for our Reef campaign. The Reef is at a crossroads and under pressure like never before. Our campaign seeks to protect the Reef from industrialisation, shipping, global warming, and Adani's dirty coal mine, which will fuel more coral bleaching.