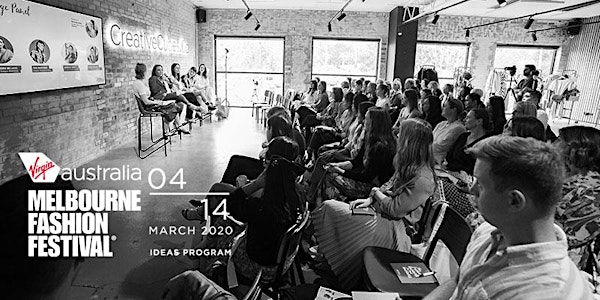 FUTURE OF FASHION - VAMFF IDEAS PROGRAM 2020 - Hosted by Fashion Equipped
Location
MicDrop
Level 5, 111 Cecil St
South Melbourne, Vic 3205
Australia
Description
Presented as part of the Virgin Australia Melbourne Fashion Festival's ideas Program, join Melbourne based Consultancy Agency Fashion Equipped for a creative, collaborative forum as we collectively discuss the Future of Fashion 2020 with industry thought leaders, emerging designers, and brands
The line-up includes two panel discussions featuring dynamic speakers, a 'How I Built This' Q&A, networking, grazing, drinks, brand showcase, and guaranteed inspiration!
INDUSTRY PANEL
Yianni Giovanoglou, Trend Specialist at WGSN, the world's leading trend authority, will lead the panel discussion with key industry thought leaders, established brands and business owners.
Join the conversation with key industry thought leaders on hot topics, including:
- The roadmap to fashion business success
- How to become a purpose-driven brand
- Sustainability, transparency & circularity
- The role of key people of influence in fashion
Speakers include:
- Lana Wilkinson - Fashion & Celebrity Stylist + By Lana Wilkinson
- Cathryn Wills - Founder, Sans Beast
- James Bartle - Founding CEO, Outland Denim
- Jess + Stef Dadon - Twoobs + How Two Live
HOW I BUILT THIS Q&A
A Q&A with Katie Pratt, Founder & Director of ELLIATT
Discussion facilitated by Elizabeth Formosa, Fashion Equipped Founder.
Gain unique insights from startup to going global from this Australian brand success story.
After working for a number of Australian fashion brands, Katie Pratt saw a gap in the Australian market for unique, beautiful designer womenswear that encapsulated modern femininity. She launched the first Elliatt collection in Australia in January 2011.

ELLIATT collections are the vision of Pratt, who specialises in fine detailing such as embroidery, laces and specialty fabrications - all of which are intrinsic to the brands signature high quality, innovative product. Strong feminine shapes paired with innovative embellishment and clever use of colour have since become key to the recognisable handwriting of the ELLIATT brand.

Initially focused on occasion wear for the Sydney and Melbourne social scenes, ELLIATT has since grown globally, and is now stocked across 5 continents, in more than 1200 boutiques globally, including majors such as Neiman Marcus, Nordstrom, Revolve, Anthropology and Urban Outfitters, Shopbop, The Iconic and Myer to name a few. Today, ELLIATT is recognised internationally as a favourite go-to label, offering fashion forward yet effortlessly classic occasion and ready-to-wear product.

In 2017, ELLIATT launched their flagship store in a luxury mall in China. ELLIATT has also showcased at prestigious fashion weeks across the globe, including Sydney Mercedez Benz Fashion Week, Shanghai Fashion Week, New York Fashion Week, Melbourne Spring Fashion Week and VAMFF.
EMERGE PANEL
Katie Pratt, Founder & Director of ELLIATT will lead this discussion with emerging fashion brands and designers.
Join the conversation and gain insights into the journey of a startup, including:
- What it's really like to be a fashion startup
- How to bring your vision to life
- Life after launch
- How and where to find help
Speakers include:
- Lisa Leverington - Founder & Designer, HAJA
- Tess Whitfort - Designer, Pendulum Studios
- Beverley Johnson - Consequence of Change
- Ilana & Marika - Founders, Lanamara


SYFB SHOWCASE
We are very excited to be SHOWCASING a selection of our 'Start Your Fashion Business' Programme Members labels.
This will be a great opportunity to connect with the designers and brand owners and hear their stories.
Brands Include:
NETWORK
Join us after the panel discussions for Networking, an impressive Grazing Table and 6Ft6 Wines & Prosecco.
Lets Connect, Share and Collaborate.


EVENT SCHEDULE
2.30 pm - Guest Arrival & Registration

3.00 pm -Welcome

3.10 pm -Industry Panel Discussion

4.15 pm - 4.35 pm Break–Enjoy an Impressive Grazing Table

4.40 pm - 5 pm - Katie Pratt, Founder & Director ELLIATT - 'How I Built This' Q&A

5 pm- Emerge panel discussion

6 pm - Networking+Drinks

7 pm -Event ends
Please note:
Fashion Equipped will proudly be donating $5 from each ticket sold for this event to two amazing organisations, Red Cross Australia & Wildlife Victoria, in support of those affected by our countries devastating bushfires.
TICKET BOOKINGS FOR THIS EVENT ARE ESSENTIAL
LOCATION
MicDrop Events VenueLevel 5, 111 Cecil St, South Melbourne, 3205
Guests will be greeted on the ground floor.
PHOTOGRAPHY / VIDEOGRAPHY RELEASE
Like any great Fashion Event, we will have a professional photographer and videographer present on the day.
You will be asked to sign a release form prior to our event or on the day. Photos and footage may be used post-event on Social Media, Fashion Equipped Website and other channels to showcase our participation in the Virgin Australia Melbourne Fashion Festival's Ideas Program and the amazing content shared by the industry on the day.
If you have any concerns, please contact Fashion Equipped at info@fashionequipped.com.au
VIEW OUR LAST EVENT HIGHLIGHTS AND FULL PANEL DISCUSSION VIDEOS HERE:
Event Highlights - Highlights of a creative day of collaboration at SYFB LIVE.
Industry Panel - Dynamic Conversation - Facilitated by Graeme Lewsey, CEO Melbourne Fashion Festival - Featuring Effie Kats, Melbourne Designer, Courtney Holm, Founder & Designer, A.B.C.H, Yianni Giovangolou, Trend Specialist WGSN, Dave Giles-Kaye, Australian Fashion Council.
Emerge Panel - Startup Journey Insights - Featuring Tess Whitfort, Pendulum Studios, Danielle Sady, Everday Lingerie Co., Alexandra McLeod, Marianne and Naomi Swalwell House of Lacuna.
Let's make the Fashion Business, YOUR Business.