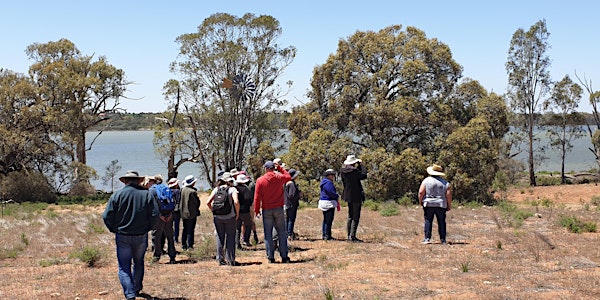 Future of Community Landscape Management in the Murraylands and Riverland
Location
Karoonda Football Club
11049 Karoonda Highway
Karoonda, SA 5307
Australia
A partnership between the Murraylands and Riverland Landscape Board, DEW and Goolwa to Wellington LAP
About this event
Please join us at a workshop being held by the Murraylands and Riverland Landscape Board in partnership with DEW and Goolwa to Wellington Local Action Planning Association.
With a focus on reinvigorating community-led local landscape management over the medium to long term, the objectives of the workshop are to:
· Strengthen regional collaborative land management outcomes
· Increase the collective understanding of the region's needs and capacity
· Explore opportunities to kick start and or continue landscape management across the region
Through understanding the region's needs and building capacity we intend to develop a conceptual Action Plan at the session, co-designed with attendees.
The process, facilitated by Leanne Muffet of Strategic Matters and Jacqui Wilson of Goolwa to Wellington Local Action Planning Association will build on recent successful collaborative community processes and outcomes undertaken in the eastern Mt Lofty Ranges. It will include exploration of possibilities beyond initial funding injections to build and sustain momentum.
Our target audience is local and regional community groups, Landcare groups, Friends of Parks groups, and other volunteer groups with an interest in caring for the environment.
Details are as follows:
· Tuesday 31 May 2022
· Karoonda Football Club (11049 Karoonda Hwy, Karoonda SA 5307)
· 10am – 2:30pm (including a light working lunch)
For more information, please contact Jacqui jacqui.wilson@gwlap.org.au | 0400 036 843
Please join us for what is bound to be a valuable and informative day.