Futur> Tr>nds Forum: Nathanael Miller, "disruptive ninja of NASA" as descri...
Description
Futur> Tr>nds Forum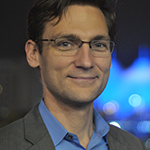 Nathanael Miller, "disruptive ninja of NASA" as described by WiRED Magazine
Nathanael will explain how a new generation of aerospace engineers have created a technology accelerator network that puts their ideas into orbit in less than 28 days.
About Nathanael
For 12 years Nathanael has applied his background in mechatronics to developing platforms for scientific inquiry. As a platform engineer, Miller has worked with wings, wheels and orbits to support of a diverse range of scientific applications including nano-materials, atmospheric science, aviation safety, planetary entry, and in space assembly.
For the last four and a half years he has lead the development of the small satellite portfolio at NASA Langley Research Center. Pursuing a "learning by doing" approach to initiating and executing missions, he, and Lab77 team the tram he developed, have been effective at re-engineering the social framework surrounding the Science Value Chain with a process called Mission Natural Selection. As this process has been developed, Lab77 has been successful leveraging novel technologies and create value in science and research communities at Langley Research Center.
He will be joined by Philip Vafiadis, Chairman Titomic (ASX TTT), Executive Chairman Innovyz Institute, Foundation Member and Board Director, Australian Transformation & Turnaround Association, who will pose a structure for magnifying the impact of research.
Who should attend?
Innovators and disruptors
Contributors to the innovation community from academia, industry and government
Those passionate about aerospace, machine learning, artificial intelligence and other technologies that will change the world as we know it now and in the future
Hosted by the University of Adelaide's ThincLab, in conjunction with the Innovyz Institute.