Learn how to deal with data. If you are interpreting, visualising or writing about data and statistics, our course can help.
About this event
Biotext's Fundamentals of data literacy and visualisation training course provides the tools you need to get started working with data, including finding, evaluating, interpreting, writing about and presenting data. Data are increasingly used in making decisions and guiding change. Whether explaining the jargon, introducing statistics, or exploring writing about data and presenting it visually, this interactive course will help you work with data. You'll get expert instruction and learn easy-to-apply tips and tricks.
The course runs as 4 2-hour sessions 15 and 16 June 2020, 10:00 to 12:00 and 13:00 to 15:00.
Sign up and receive a complementary 12-month subscription to the Australian manual of style!
Please contact us directly if you have any questions. Would you like to book a custom course for your organisation? Are you interested in other Biotext training? Do you want to know more about this course? Please click here.
How to make a payment through this Eventbrite listing
Whether paying by credit card or PayPal, click 'Tickets' and choose your number.
Click 'Checkout' and add your details (name and email).
PayPal will be the only payment method listed; that's OK, they handle credit card transactions too.
Click 'Place Order'; you will be redirected to a PayPal payment processing page.
Log in to PayPal or click 'Pay with a Card', then complete the forms provided.
If you'd like a customised invoice, prefer to pay another way, or experience any difficulties, please get in touch.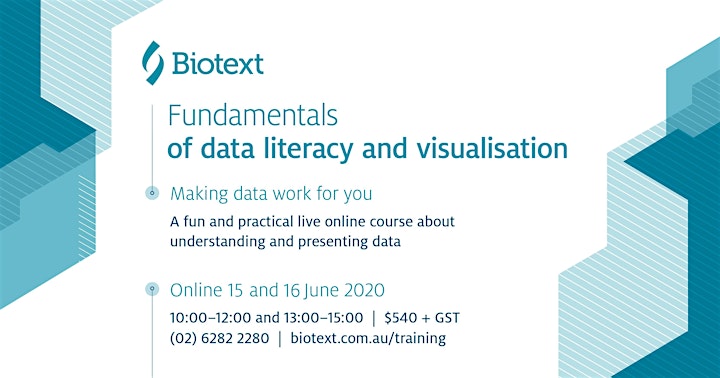 Organiser of Fundamentals of data literacy and visualisation
Biotext turns information into communication so that your audiences can understand and act. We're passionate about science and content design, and excel at presenting complex ideas clearly, accurately and consistently. We work with government, academic and private partners in diverse fields, bringing important projects to life. Since 1999, Biotext has grown into a leader in science information, and provides expert training in scientific writing, editing and data visualisation.