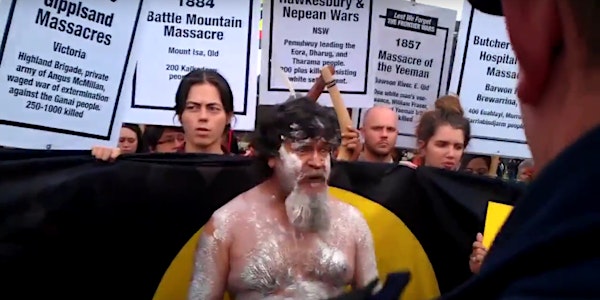 Frontier Massacres Enquiry National Summit venue change to REDFERN, SYDNEY
Location
REDFERN
REDFERN
Sydney, NSW
Australia
Description
** Please Note that the VENUE OF THE CONFERENCE HAS BEEN CHANGED TO REDFERN IN SYDNEY ** please email sovereigntyparliament@gmail.com for full details
The Aboriginal Tent Embassy is demanding the honour, respect and dignity be afforded to those slaughtered during the colonisation of Australia to be acknowledged in a National Day of Remembrance for the Frontier Massacres and that a monument be erected on ANZAC Parade infront of the War Memorial in Canberra.
We ask that the Australian Government initiate an official enquiry into the exact nature and details of the Frontier Massacres of Aboriginal People from 1788 until the present day and produce a proper report into the matter.
We also ask for an Official National Day of Remembrance to occur every year for the Frontier Massacre of Aboriginal people in Australia from 1788 onwards.
We also ask that a proper memorial be constructed on ANZAC Parade infront of the Australian War Memorial in Canberra to honour our Ancestors whom were slaughtered during the colonisation of Australia.
Sincerely
Patrick Norman Lock,
Son Of A Ngunnawal Woman
Custodian of the land of Canberra
Aboriginal Tent Embassy
Connect with the Aboriginal Tent Embassy on facebook
contact ; sovereignty.parliament@gmail.com
Massacre Details ;
The 'Frontier Wars' were undeclared yet resulted in the destruction of entire tribes and nations, We will never know for certain the exact figure.
The documentation needed to determine an exact figure is scarce - be it 100,000 or more ? A proper enquiry has never been comissioned, but absolutely must occur to determine the true nature of the colonisation of Australia.
Two historians, Raymond Evans and Robert Ørsted-Jensen, have concluded that in Queensland alone - the epicentre of frontier war in the mid-19th century Australia - at least 65,180 Aboriginal Australians were killed from the 1820s until the early 1900s.
Considering that their research focuses on Queensland alone, their findings are freighted with a disturbing implication about the number of Indigenous Australians killed continent-wide. Australian deaths in world war one would pale in comparison.
"Certainly the stories of massacres of Indigenous Australians are everywhere in the archives of the major cultural institutions of Australia and Great Britain. The diaries, letters, journals and memoirs of colonial and postcolonial officials, troops, police, farmers, frontiersmen and women are replete with accounts of fights against - and massacres of - the "marauding blacks". - Sovereign Union