FRONT COVER - 封面有男天 - 2017 Golden Koala Chinese Film Festival
Description
Title:《封面有男天》(FRONT COVER) 87mins
導演:杨曜恺 DIRECTOR:Ray Yeung
CAST:CHOI Jake, CHEN James, PAGE Jennifer Neala, SUNG Elizabeth, VILLANI Sonia, LEE Li Jun
Film Synopsis:
FRONT COVER is about handsome, openly gay New York City fashion stylist Ryan, who rejects his traditional Asian upbringing. Ryan is given an assignment to style Ning, a famous Chinese actor, for an important photo shoot. After a rocky start, an unlikely friendship develops between them, leading Ryan to examine his identity and consider an enticing new path for his life and career. A tender, funny look at clashing cultures and love, FRONT COVER is a delight for the urban fashionista in us all.
故事梗概:
莱恩是力争上游的造型师,他身为美国华裔,却极力摆脱自己黑头髮黄皮肤的身 分及一切与华人的连结,并梦想为时尚名流设计造型,某天上司却指派他为来自 北京的中国大明星宁打理门面,宁排斥莱恩的西方设计,要求他表现出新中国的 力量,他们天南地北的理念差异,令这份合作关係难上加难,但他们逐渐发现彼 此的共通点,互相吸引的感觉也开始在他们之间发酵。 《我爱断背衫》编导杨曜恺的第二部长片,将背景从伦敦搬到另一座世界之 都纽约,同样从西方华裔年轻同志的观点出发,讲述一段关于除了认同自己与自 我根源的爱情故事,也呈现上一代对下一代身为同志的关怀与包容,两位主角在 彼此身上找到面对真实自我的勇气,令本片多了一份浪漫之外的感动。
Click image below to watch the movie trailer 预告片: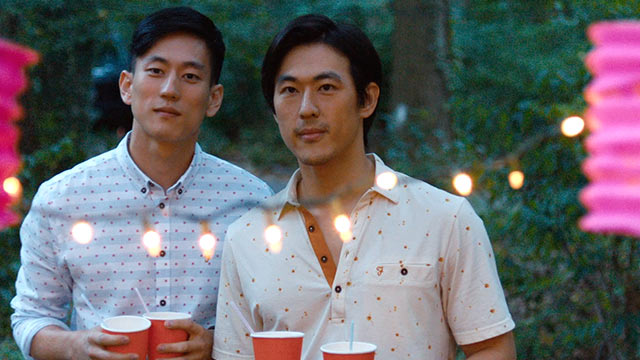 ---
About Golden Koala Chinese Film Festival
The Festival is the only international Chinese film festival of its kind with participants from the world over to exhibit the most outstanding Chinese films from the last 2 years. The Golden Koala Film Festival aims to promoting Chinese film and culture, increase understanding of Chinese film culture and provide opportunities for communication and cooperation among people who are passionate about discovering more about China.
关于金考拉国际华语电影节
金考拉国际华语电影节作为目前海外规模最大,影响力最深的国际华语电影节,将邀请来自世界各地的近两年最杰出的华语影片参加展映。此活动以推广华语电影,促进华语电影文化交流为宗旨,为世界各国热爱华语电影的人士搭建一个交流与合作的平台。
Organiser of FRONT COVER - 封面有男天 - 2017 Golden Koala Chinese Film Festival
Golden Koala Chinese Film Festival (GKCFF) is back again for its 7th edition, after an extremely successful screening last year! The festival aims to promote Chinese films and boost Australia's understanding of Chinese culture. It brings to Australia the best Chinese language films this season, showcasing new, up-and-coming directors.
For the first time ever, ACYA@ANU is proud to announce that we will be hosting the 2017 GKCFF in Canberra! This year, the festival screenings will take place from Friday, February 24th to Monday, February 27th.
THERE WILL BE 8 INCREDIBLE FILM SCREENINGS ACROSS 4 NIGHTS! ALL FREE WITH ENGLISH SUBTITLES!
IMPORTANT: PLEASE ALSO NOTE THAT ALL FILMS ARE ONLY FOR PERSONS AGED 18 YEARS AND ABOVE.
---
第七届金考拉国际华语电影节既去年成功的放映之后再次回归!此次活动旨在宣传中国电影的同时增进澳洲对中国文化的理解。这给澳洲带来了这一季最佳的中文电影,及新一代有想法有抱负的导演亮相的机会。
今年,中澳青年联合会很荣幸地告知大家,我们将第一次在堪培拉举办2017年的金考拉国际华语电影节!今年,放映活动将在2月24日周五至2月27日周一进行。届时,将有8部绝佳的电影陆续在4晚放映,并附有中文字幕!