Description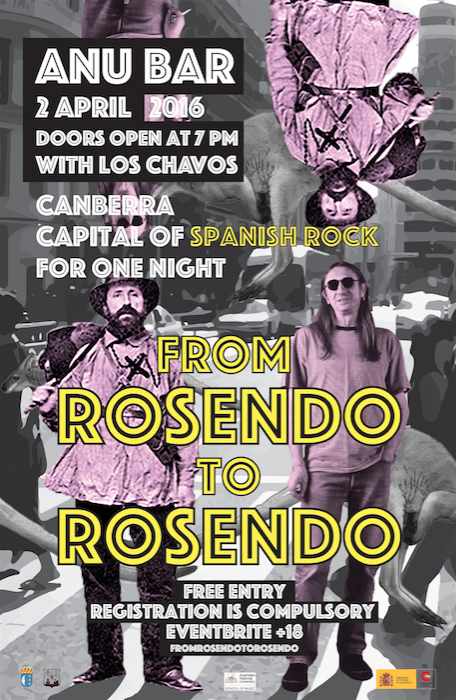 Rosendo Mercado (Madrid, 1954) known to his fans only by his first name, is a Spanish legendary rock singer and songwriter and the most prominent exponent of the so-called urban rock in Spain.
Artistically active since the 1970s, he was a member of the bands Ñu and Leño before embarking on his solo career. His music influences include Rory Gallagher, Jethro Tull, Canned Heat, Cream, Deep Purple and Black Sabbath. Considered an 'urban poet' for his politically and socially engaged lyrics, he has been quoted as the main influence by most rock artists in Spain.
The Embassy of Spain in Canberra in collaboration with the ANU School of Music has organized Rosendo's visit to Canberra, which is by no means an accidental choice: he will give a historic concert on the occasion of the bicentenary of Rosendo Salvado, XIX century Spanish missionary and musician, founder of New Norcia in Western Australia and an aboriginal rights advocate.
Concert date:
Saturday 2 April, 7pm, at the ANU Bar in Canberra
University Ave, Acton ACT 2601 (The huge concert space can certainly support a crowd!)
Doors open at 7pm with LOS CHAVOS, a Canberra based 8 piece band playing Latin rock, cumbia, ska, reggae, and samba. Lead singer Andy Jauregui spices up the music with his never-ending energy and verve. A Latin rock singer from Cochabamba in Bolivia, he brings an infectious blast of Latino exuberance to every performance. (https://loschavos.bandcamp.com/)
FREE ENTRY / 18+ Event
REGISTRATION THROUGH EVENTBRITE IS COMPULSORY. You will have to present your printed registration at the entrance.