[FREE WORKSHOP] Active Bystander Community Workshop
About this Event
Brought to you by Whitehorse City Council, this free two-hour educational session will show you how to help change attitudes and behaviours that support inequality and disrespect at work, in the home or the community.
The session will be led by Katie McKee and Rachel Soh of Women's Health East. Women's Health East is an Our Watch endorsed training provider. An afternoon tea will be provided.
DATE : Tuesday 3 December 2019
TIME : 2.00 – 3.30pm
VENUE : Louise Multicultural Community Centre
(Suite 8, Town Hall Hub, 27 Bank Street, Box Hill 3128)
REGISTRATION ESSENTIAL
Send email with your name, phone number and any food or access needs to: info@louise.org.au by 29 November 2019. Places are limited.
ENQUIRIES
Contact Whitehorse City Council Community Development Department ( 9262 7527 or CDEnquiries@whitehorse.vic.gov.au)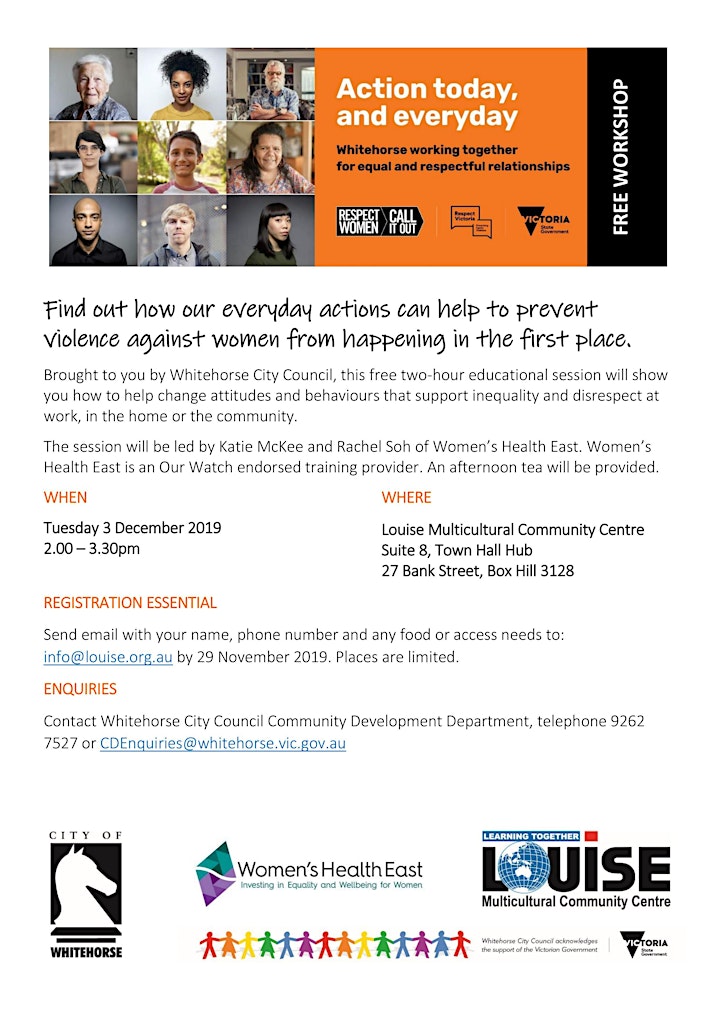 Find out more about 'Respect women: Call it out' campaign launched by Respect Victoria.