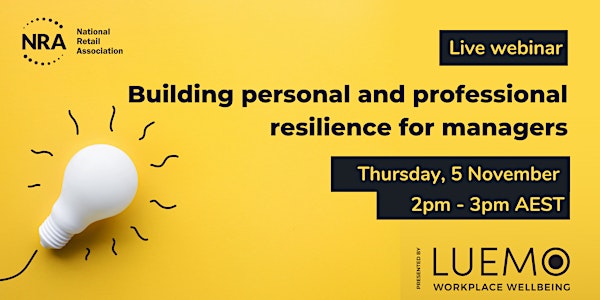 FREE WEBINAR | Building personal and professional resilience for managers
COVID-19 has affected us all and never before has workplace mental health and building resilience been more important.
About this event
The resilience of you and your workforce will be the key to business continuity and commercial success now and in the future. This webinar will encourage you to cultivate and support your, and your employees, self-care and wellbeing. Staying well and building resilience is a form of protection and will help prevent mental health and wellbeing challenges.
Join Margaret Aboody from Luemo Workplace Wellbeing as for an insightful masterclass aimed at business owners, human resources staff, and managers. The topics covered will include:
• What is resilience
• Why personal and team resilience is important
• How to build personal resilience
• What is psychological safety and why this is important to support a resilient workplace
• The components of a resilient workplace
Attendees will also be given a Luemo Wellbeing Scorecard to gauge your own mental wellness, and a Resilient Workplace Checklist.
Attendance at this webinar is free.

The National Retail Association is proud to call Luemo Workplace Wellness our mental wellness partner. Members of the National Retail Association can look forward to tapping into Luemo expertise via webinars, forums and resources to help support awareness and education around workplace wellbeing. NRA members can also engage with Luemo directly and share valuable Luemo resources with their whole workforce.
The support Luemo provides for its subscribers is expansive, and can be accessed via an online business portal packed with articles, resources, and tools. It's a central 'go to' for everyone in the workplace. Individuals can learn about caring for their own wellbeing, and managers and leaders can tap into resources to support building and maintaining workplace wellbeing.
https://luemo.com.au/subscribe-now/