The FRANC Conference is a leading Australian forum for senior executives and directors in the church finance sector
About this event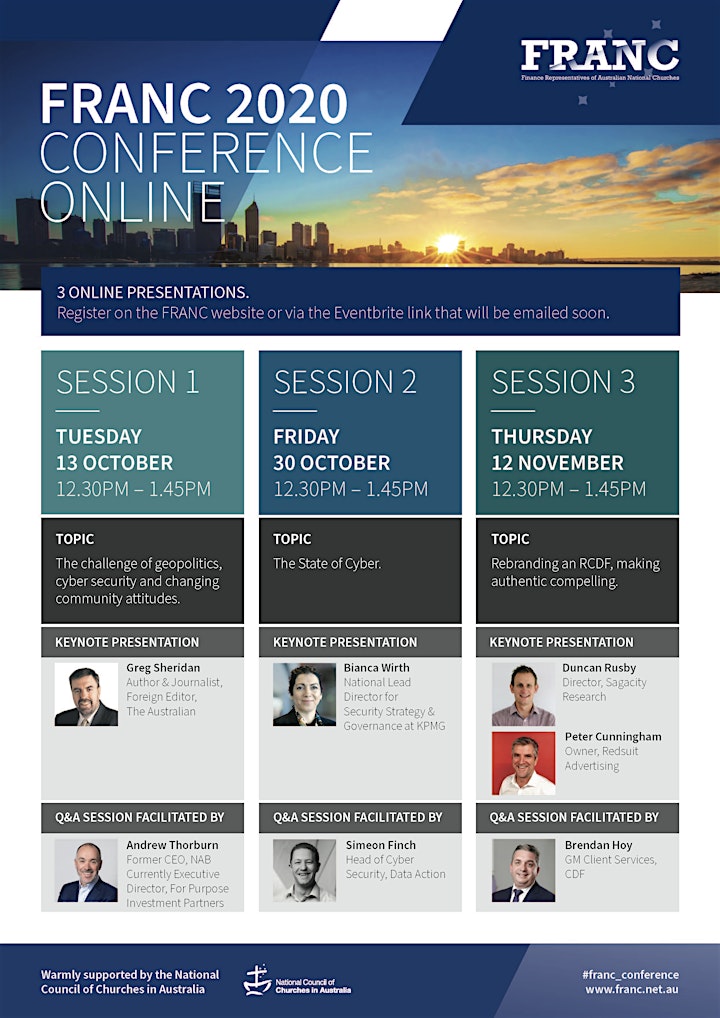 The FRANC Conference is a leading Australian forum for senior executives and directors in the church finance sector. From geopolitics to cyber-security and consumer insights to church finance, these three sessions are designed to challenge, inform and inspire.
Session 1: Tuesday 13 October 2020 – 12.30pm-1.45pm (AEDT)
The challenge of geopolitics, cyber security and changing community attitudes
Speakers: Greg Sheridan and Andrew Thorburn
Greg Sheridan: Author & journalist, Foreign Editor, The Australian. Greg is one of the nation's most influential national security commentators, who is active across television and radio and also writes extensively on culture. He has written seven books. His latest, God is Good for You: A Defence of Christianity in Troubled Times, is a passionate defence of religious belief in a secular age. Before that, When We Were Young and Foolish was an entertaining memoir of culture, politics and journalism. As foreign editor, he specialises in Asia. He has interviewed Presidents and Prime Ministers across the world.
Andrew Thorburn: Former CEO & Managing Director, NAB. Currently Executive Director, For Purpose Investment Partners, a leading not-for-profit social impact investor in Australia. Andrew is a believer in business, and how capital can change the world, including helping address the biggest issues facing people and the planet. He is involved in a number of ventures, including large scale impact investing, venture capital and enabling purpose driven companies with growth ambitions.
Session 2: Friday 30 October 2020 – 12.30pm-1.45pm (AEDT)
The State of Cyber
Speakers: Bianca Wirth and Simeon Finch
Bianca Wirth: National Lead Director for Security Strategy and Governance at KPMG. Bianca brings more than 20 years of experience in information technology, information and cyber security, and project management. She has consulted to over 100 companies from a diverse range of industries and government. She has worked for a global software vendor, developed her own successful consulting business and guest lectures on security at universities. Most recently she developed and implemented an innovative, leading edge, multi-country security education and awareness program then led a Security Strategy & Governance team at a large global insurance company. Bianca joined KPMG in 2020 and leads projects on security strategy development, assessing security risks, maturity assessments and security advisory across a broad spectrum of security issues and threats.
Simeon Finch: Head of CyberSecurity, Data Action. Simeon oversees the Cyber Security operations with end to end accountability of security analysts/architects to the stack of security tools, compliance procedures and Cyber Security strategy with both internal and client facing collaborations. He has a wealth of knowledge around Cyber Security practices, continuous improvement activities, Incident prevention and management, regulatory compliance and strategy formulation, with expert capabilities across the Energy and IT industries. Simeon is a driven individual who challenges himself both mentally and physically, he is an Ironman triathlete and has completed both world heritage pilgrimages - the Kumano Kodo in Japan and the Camino de Santiago through France and Spain.
Session 3: Thursday 12 November 2020 – 12.30pm-1.45pm (AEDT)
Rebranding an RCDF, making authentic compelling
Speakers: Duncan Rusby, Peter Cunningham and Brendan Hoy
Duncan Rusby: Director, Sagacity Research. Duncan is customer and market research specialist engaged by the Catholic Development Fund to research what's important to the CDF customer base.
Peter Cunningham: Owner, Redsuit Advertising. Redsuit worked in partnership with Sagacity to rebrand the Catholic Development Fund in an engaging and compelling way.
Brendan Hoy: General Manager Client Services, Catholic Development Fund Melbourne. Brendan engages with clients to explore new ways the CDF can support the financial needs of the Catholic community. He leads a newly formed Client Services team committed to creating a great experience for customers and continuing CDF's personalised service to parishes, schools, health and aged care organisations.
Organiser of FRANC 2020 Conference - Online
FRANC was established with three major aims:
1) to facilitate collaboration and innovation amongst church business leaders,
2) to facilitate the sharing of best practice, and
3) provide an avenue for networking and mutual support.
The FRANC committee would like to explore close collaboration in financial services to achieve greater efficiencies and release financial resources for mission. This may lead to a more formal framework of collaboration between as an expression ecumenical solidarity.
FRANC is warmly supported by the National Council of Churches