About this Event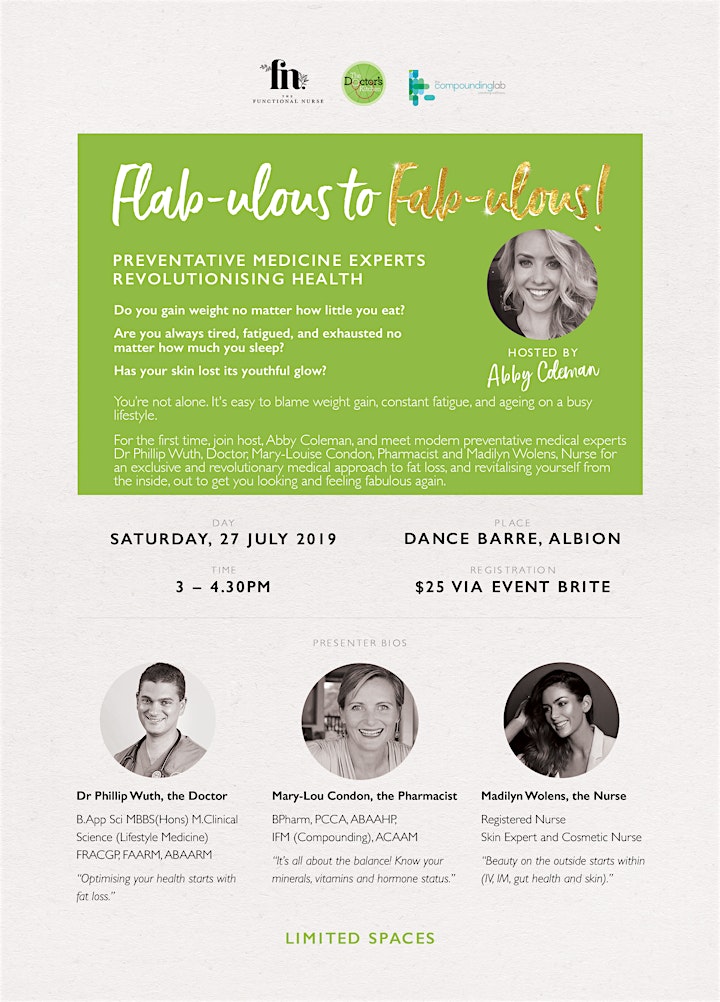 YOU'RE INVITED BY THE DOC
Join The Doctor's Kitchen Australia's first official event in collaboration with The Compounding Lab, and The Functional Nurse in Brisbane for the latest medical tips and insights from a carefully curated team of preventative medical industry experts on the Doctor's approach to fat loss, optimising inner health, and re-boosting skin health and beauty for a holistic feeling of fabulous!
EVENT DESCRIPTION
Located at Dance Barre, Albion, guests will draw inspiration from our medical expert panelists, Dr Phillip Wuth, on how optimising their health starts with fat loss, Mary-Lou Condon, Pharmacist, on the best ways to revitalise their inner health and Madilyn Wolens, Nurse, on refreshing their beauty regime from the inside, out, all while enjoying a lavish afternoon tea.
In addition to the wealth of knowledge set to be provided, there will also be over $1,000 worth of door prizes to be won and a gift bag valued at over $350 each to be presented to each guest.
Book your tickets now and let your inner health and skin thank the Doc later.
DOC APPROVED GIFT BAGS - VALUED AT OVER $350 EACH
With Doctor approved gift bags valued at over $350 each, there's never been a better time to invest in the new you and embrace a holistic medical approach to beauty, health and wellbeing.
DOC APPROVED LUCKY DOOR PRIZE SPONSORS
Harper Lane Jewellery: Gifting an exquisite and distinctive piece of jewellery!
Charlie's Giveaway: $100 In Store Voucher (Charlie's Fruit Online, Charlie's Raw Squeeze Juice Bar, Charlie's Moofree Truck) - valued at $100
Fearlss Fitness: 1 week FREE personalised Personal Training sessions valued at $400
DOC APPROVED GIFT BAG SPONSORS
Fearlss Fitness
The Doctor's Kitchen Australia