Description
Meet ASX listed companies, learn what makes their business compelling, ask their CEOs and executives the questions you want, to get the leading edge, make better-informed decisions and learn about market opportunities.
The Finance News Network and its event partner, preeminent investment house Shaw and Partners, run regular Investor Events that unite companies, investors and stockbrokers.
To keep your finger on the pulse and stay abreast of opportunities, secure your seat at our next event. Register below, bookings are essential.
---
Market Update
A short update on the current state of equity markets will also be provided at the event by our event partner, preeminent investment house Shaw and Partners.
---
Presenters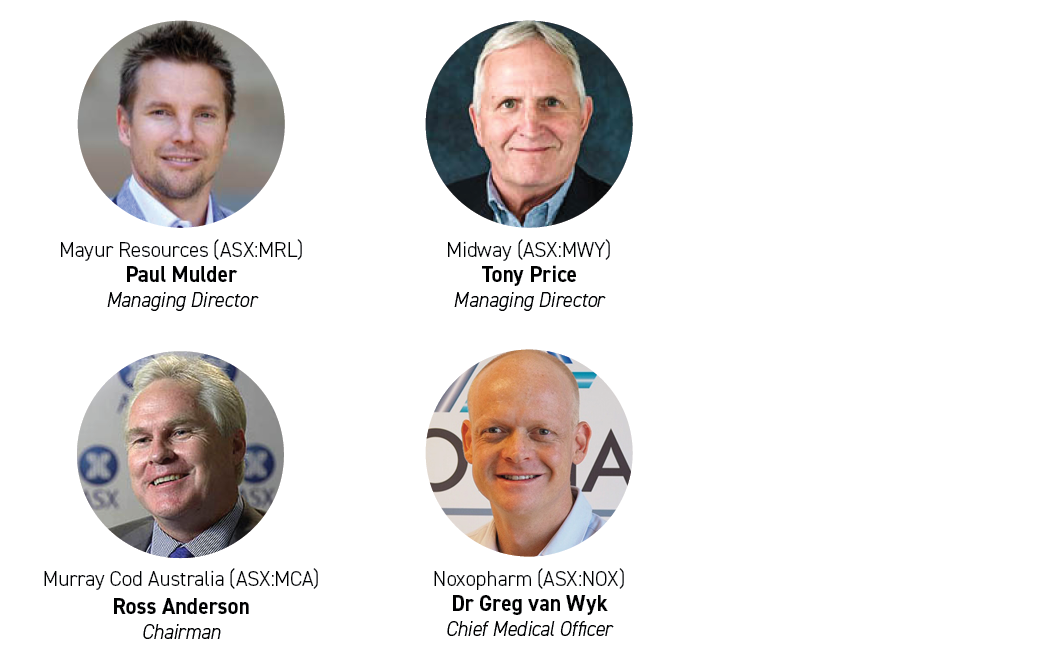 ---
Company Profiles


Mayur Resources (ASX:MRL)
Industry group: Metals & Mining
Mayur Resources is developing an industrial minerals, copper gold and power generation platform in Papua New Guinea (PNG) that will contribute to nation-building and job creation for PNG and its people. Mayur is structured into four asset divisions as follows:
Industrial Minerals Sands

Lime and Cement

Copper and Gold

Power Generation
---
Midway Limited (ASX:MWY)
Industry group:

Materials
Midway is Australia's largest high-quality woodfibre processor and exporter. Midway has operations in Victoria, Queensland and the Northern Territory covering all stages of the woodchipping process - from plantation to export.
Midway manages plantations on freehold and leased land held predominantly in the Otways, Upper Goulburn and Ballarat regions of Victoria.
Through its subsidiary Plantation Management Partners, Midway manages plantations in northern Australia, Cambodia and Laos. Combined the group manages over 90,000 ha of plantation estate.
The company owns significant areas of freehold land and manages plantation projects under a range of ownership arrangements.
We bring over 20 years experience in softwood and hardwood plantation management covering all stages from land selection, establishment, maintenance through to harvesting.
---
Murray Cod Australia Limited (ASX:MCA)
Industry group: Food, Beverage & Tobacco
Based in the Riverina, New South Wales, we produce premium, pond-grown Murray cod. Our pioneering people have crafted a luxurious farmed cod by improving on nature. We have shaped a future for Australia's native fish, which has an extraordinary history.
Our name, Aquna Sustainable Murray Cod, is derived from the word "Akuna" – an Australian aboriginal word meaning "the way forward" and "flowing water".We have used the letter 'q', as it provides synergy with aquaculture and represents our dedication to innovation.
We grow high-quality Murray cod in open ponds (or dams) on the Murray-Darling Basin river system – the fish's native environment. We believe these ideal conditions make our cod the best-tasting on the market; better than fish farmed in indoor, tank-based systems.
---
Noxopharm Limited (ASX:NOX)
Industry group: Pharmaceuticals, Biotechnology & Life Sciences
Noxopharm is a Group comprising Noxopharm Ltd, Nyrada Inc, and NoxAsia Ltd with offices in Sydney, New York and Hong Kong. The Group's drug pipeline contains 4 drug candidates: Veyonda®, NYX-104, NYX-205, NYX-330. Veyonda® is being developed as an enhancer of radiotherapy across a range of cancers being treated with both standard external beam radiotherapy and intravenous radionuclide (177lutetium-PSMA-617) therapy; NYX-104 is a neuroprotectant being developed to limit secondary brain damage (glutamate-induced excitotoxicity) following ischaemic stroke and concussion; NYX-205 is an anti-inflammatory being developed for the treatment of peripheral neuropathy associated with diabetes and chemotherapy; NYX-330 is a PCSK9 inhibitor being developed for the treatment of high blood LDL cholesterol levels that fail to respond adequately to statin therapy alone.
Veyonda® is the first pipeline product, previously known as NOX66. It is currently in clinical trials.
more to come...