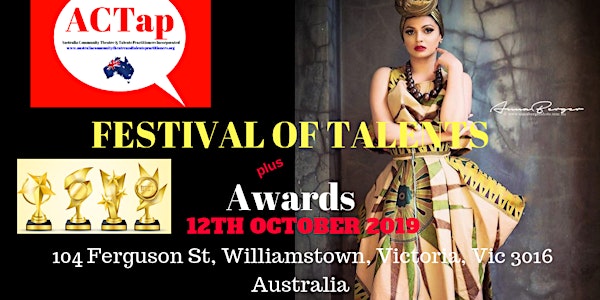 FESTIVAL OF TALENTS & ACTap AWARDS 2019
Location
Williamstown Town Hall
104 Ferguson Street, Williamstown
Melbourne, Victoria 3016
Australia
Description
FESTIVAL OF TALENTS & ACTap AWARDS 2019
The Australia Community Theatre & Talents Practitioners Incorporation (ACTap) in partnership with
the Universal Peace Federation (UPF) and Melbourne International Peace Concert (MELBPEACE) invites the general public to the "FESTIVAL OF TALENTS & ACTap AWARDS 2019" (AUSTRALIAN
MULTICULTURAL COMMUNITY TALENTS SHOWCASE FREE FAMILY FRIENDLY EVENT).
"FESTIVAL OF TALENTS & ACTap AWARDS 2019" is a family friendly day of diverse
entertainment, multicultural communities talents showcase, awards presentations, foods, beverages, wines and lots more by creating a proper environment for upcoming and famous talents in Victoria State and Australia wide to be harnessed in order to empower them, unite them, showcase their talents and support their wellbeing and mental health involving priority groups in our community such as people living with disabilities, Indigenous Aboriginals, Australians, new arrivals from continents of Africa, Europe, Asia,North America, South America, Oceania, migrants, refugees, asylum seekers, visitors, women, young people, regional and rural Victorians, socially isolated and disadvantaged people in our community.
DATE: Saturday 12th October, 2019
VENUE: Williamstown Town Hall, 104 Ferguson Street, Williamstown, Victoria State (VIC) 3016, Australia.
(Please note, children under 10 must be accompanied/supervised by an adult. If they are not accompanied by an adult, they will be refused entry).
NOMINATE YOURSELF, SOMEONE OR A GROUP/BAND FOR ACTap AWARDS 2019.