Description
Workshop Testimonials
"Fantastic workshop on fermenting foods, the Science behind it and the health benefits. Fun, informative and yummy! Thank you for your time and energy Tom. I highly recommend the experience." – Claudia Brown (Head of Science, John Paul College, Coffs Harbour)
"I am deeply grateful for all the incredible KNOWING that Tom shared & empowered me with to help me on my healing journey over the past 2 years. I would consider Tom to be the greatest, most passionate, exceptionally gifted fermenting artisan/alchemical fermenting masters I ever, ever met. He is the REAL deal & I consider myself to be extremely privileged to be able to have met, attended his workshops & be continually inspired & empowered through his website/Facebook page where he shares his wealth of information. You can feel his heart as he shares his WISDOM so genuinely & freely. He is helping so many people to balance & heal themselves; myself being one of them. He is a rare gem in the fermenting world & I invite others to be captivated, inspired & showered with wisdom on their/loved ones' healing journeys. Thank you Tom... Australia & the world needs to hear about you/your work." – Jo Heart (Tuning Fork Vibrational Healing, Glen Innes)
"The opportunity to just be in the presence of Tom Rothsey inspires me to feel healthy and create amazing food for my family. His experience and passion for fermented products is virtually unmatched. He is the Sandor Katz of the North Coast!!!" – Joshua Allen (permaculture farmer, educator, and social entrepreneur, Synchronicity Farm, Nana Glen)
"I was fortunate to meet a truly inspirational man last week, Tom Rothsey...WOW! I completed his Celestial Roots fermenting workshop, it was exceedingly informative, very friendly and productive. We made many ferments to bring home and tasted some delicious healing foods and beverages. Tom is a wealth of knowledge and walks his talk. I would recommend Toms' workshop to any and all interested in nutrition and health." – Cathy K., Bonville
Workshop description
Modern life results in imbalance in the gut, and most doctors agree that the resulting inflammation is the root cause of well over 90% of the illnesses and conditions their patients present with. We can take care of our health by taking care of our guts, and so work together with our chosen medical professional to restore balance and optimal personal well-being.
In this workshop, and the two ebooks included, you will find all the information and skills you will need to take charge of your health. In the workshop itself, you will ferment a variety of vegetables in the traditional manner depending on what is available at the organic markets on the day, you will taste ferments I have made, taste second fermented kombucha, learn how to make kombucha, and get your very own kombucha scoby to take home. We will discuss troubleshooting, food safety, histamine, glutamate, mould, and anything the participants feel like discussing on the day. All of these are included in the workshop cost.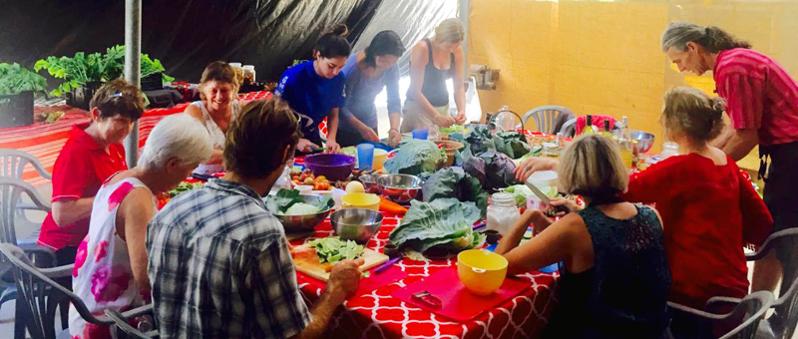 2 Ebooks included!
Book one contains my own experience-based gut calming and repopulation protocol based on the natural acquisition of probiotic bacteria by the new-born gut.
Book two is a chunky 108 pages full of information, recipes, and photos that will set you on the road to fermenting functional foods successfully first time, and every time. Much of the information in both books can be found nowhere else, being the fruit of thousands of hours of my own personal research, and based on my own families healing journey.
All you need bring are basic kitchen utensils, jars to ferment in, any special ingredients from your own garden you might wish to include, and a desire to improve the health and well-being of you and your family and/or friends.
My co-facilitator for the afternoon is local fermentation and diet educator Judy Williams, whose years working in the medical industry and personal expereince using diet and fermented foods to turn her own chronic illness around will provide valuable insights for us all.
All course materials, and detailed instructions on what you need to bring will be emailed upon receipt of payment, please email me at tom@celestialroots.com with your preferred contact address.
Get tickets
Find the Eventbrite ticket link at the top right of your screen on a PC, or at the bottom of the screen on your phone.
Alternate payment details
Tickets may also be obtained direct from me so the Eventbrite fee can be avoided (for me, I absorb it for you here). Early Bird $100 before midnight 10th March 2017, $120 dollars after that. Deposit to:

T.M. Rothsey
Bananacoast Credit Union
533000
201389

Or ... via paypal, please utilise my donation button at this link
https://www.paypal.com/au/cgi-bin/webscr?cmd=_flow&SESSION=rEzZrdWgUUKpKXBTY8jIzoHdmqQcmpV5upKxIoQKruY752Q1gUSwSpzGM00&dispatch=5885d80a13c0db1f8e263663d3faee8d94717bd303200c3af9aadd01a5f55080

Members of Brisbane fermenting group "Demented Fermenters" should contact the group organiser for your extra special discount and NOT book through either of the above options.

Please email me, no matter which payment method you choose.

All the best,
Tom Rothsey
Celestial Roots
tom@celestialroots.com
0403578244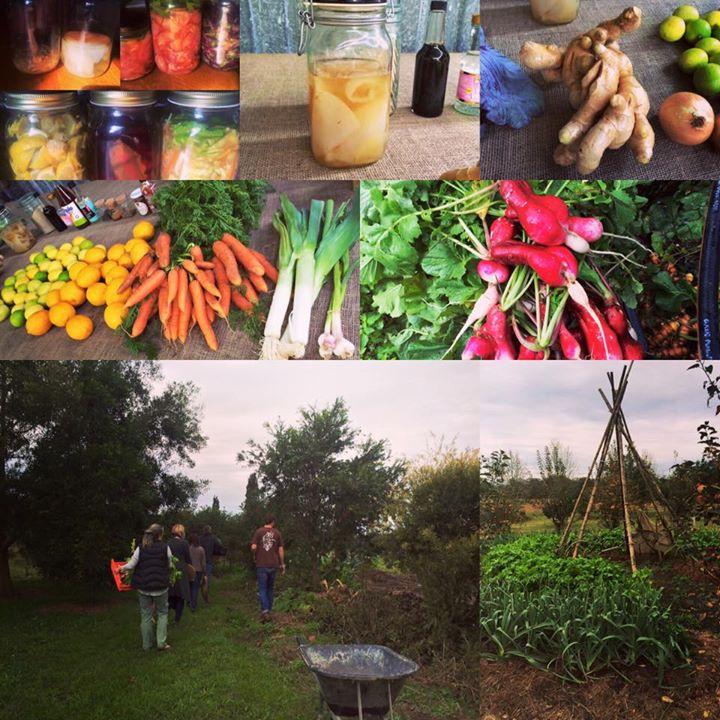 Celestial Roots workshop montage. To find out more about Tom and Celestial Roots, please visit the Celestial Roots facebook page and website, links below.
https://www.facebook.com/celestialroots/
http://www.celestialroots.com/