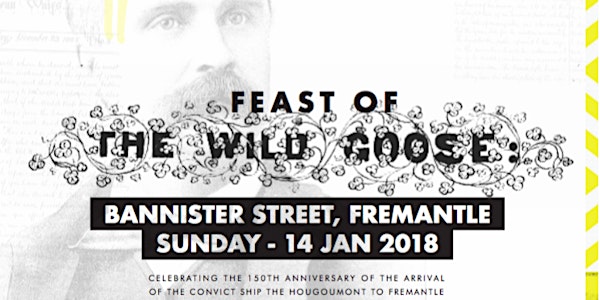 Feast of the Wild Goose - Festival closing party and long table dinner
Location
Fremantle Town Hall
8 William
Street
Fremantle, WA 6160
Australia
Description
FEAST OF THE WILD GOOSE
Dance & Feast - Fenians, Fremantle & Freedom Festival - Closing Party
Come along to the 'Feast of the Wild Goose' - a long table dinner located along Bannister Street, Fremantle. The street will be closed so that everyone can dance and feast and celebrate the closing of the Festival.
Bring your friends and family, book a table and enjoy a sumptuous banquet of primal cooking complemented by fine wines or if your prefer Guinness, Gage Road beer or Magners Irish cider. Irish music by the Rogies will have you singing and dancing and being thoroughly entertained.
Sponsored by Guinness, 19 Crimes Wines, Gage Roads Beer and Magners Irish Cider and roudly presented by Fremantle BID.
Tickets: $140 each - includes food, wines, beers, cider, Guinness and soft drinks.
Tickets also available at The Hougoumont Hotel, Attic Café, Stable Hands & Kidogo Arthouse.
WHEN: Sunday 14 Jan 2018 | 6pm-10pm
WHERE: Fremantle Town Hall
MUSIC: The ROGUES
The Rogues are a Pogues 'tribute band'. They play a gut-withering hard-driving brand of folk-rock, drawing upon the timeless Pogues repertoire of traditional, rebel and contemporary music and song. There's relentless rhythm - sublime, yet coarse verse - vocal gymnastics and - instrumental prowess.