Description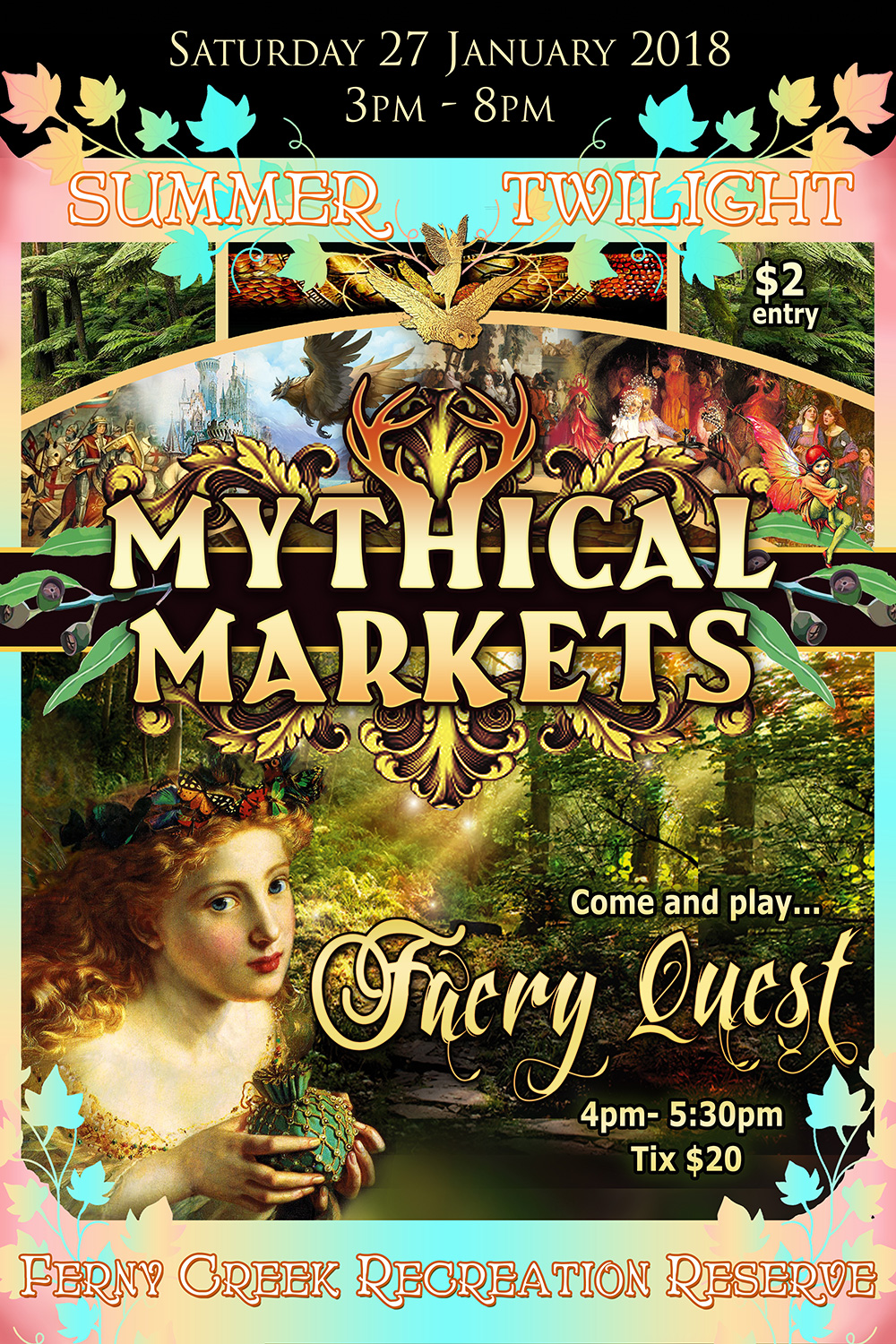 Welcome to FAERY QUEST - A scavenger-hunt style team adventure game at THE MYTHICAL MARKETS!

Follow Clues ...
Meet Strange Creatures and Fae Folk ...
Solve Puzzles and Hunt for Things ...
Find the Key to Faerieland!

HOW TO PLAY

It's an easy game designed for those with a sense of whimsical adventure who are young at heart!

All teams will gather at the start of the game to learn the rules and be given the first clue.

Teams then wander the nearby parklands and paths, hunting for various costumed Fae Folk and completing tasks they give you.

This game can be played at an easy walking pace and can be completed in any order.

Teams can help each other and share clues if they get stuck.

Faery Quest will be played in and around the Ferny Creek Recreation Reserve.

The format is similar to other Quest games we have run in the past, such as Pirate Quest, Where In Melbourne Is Carmen Sandiego, and The Great Wizard Post Quest.

TICKETS

$50 Per Team
$15 Single Player
$25 Pair

ON THE DAY TICKETS
$20 Per Player - cash only

Tickets include free entry to the Mythical Markets!
Kids aged 5 and under are free.

TEAMS

You can play solo, in pairs, or in a Team.

Teams can have up to 4 adult players, or 2 adults with up to 3 kids over the age of 5.

The puzzles and tasks vary in complexity in order to be easy, fun and inclusive. The game is created for adults to enjoy, but kids can play too. Children under 12 may find some tasks difficult to do.


REGISTER YOUR TEAM
After you book your tickets on Eventbrite, choose a Team Captain amongst your team.

Your Team Captain is someone responsible who can organise your players and make sure everyone gets to marshalling area in time to Sign In on the day.


SIGNING-IN ON THE DAY

All players on your team must be signed in and paid before the Faery Quest begins.
Your team will not be officially Signed In until all your team members are present and accounted for.

Sign-Up will be open from 3 - 3:55pm at the Marshalling Area outside the Heritage Hall entrance.


COSTUMES ENCOURAGED!
For more info and upcoming events by Golden Owl Events...
Website: www.GoldenOwlEvents.com
Meet Up: www.meetup.com/goldenowlevents
Instagram: www.instagram.com/goldenowlevents
Facebook: www.facebook.com/goldenowlevents