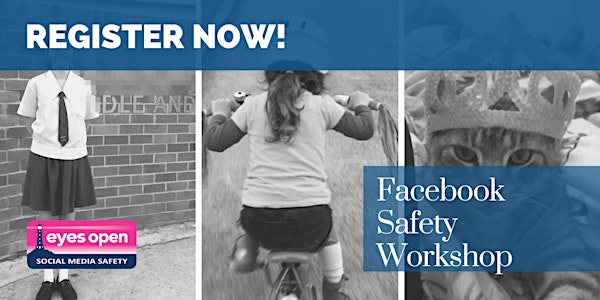 Facebook Workshop for Parents of School Aged Children - Tues 6th Sept 2022
Refund policy
Refunds up to 7 days before event
THIS WORKSHOP IS FOR: Adults Have ALL THE FUN without all the risk! Reduce your risk significantly in just 2 hours.
About this event
THIS WORKSHOP IS FOR: Adults 
Have ALL THE FUN without all the risk!  Reduce your risk significantly in just 2 hours.
During this workshop we will help you to feel confident in sharing and using Facebook the way you would like to...
...whether it is simply to share photos with friends or even if you would like it to promote a business, event or creative idea you have!
Attendees will learn the pitfalls that they could face on Facebook and the steps that they can take to reduce their online risk.  
We start with an awareness presentation about the risks associated with using Facebook, then give a quick walk-around the site before we show attendees both how to set up and effectively add privacy & security to their Facebook accounts. 
The focus of the session is to put your best foot forward and ensure a safe and enjoyable Facebook experience.  
Note - please bring a phone or device so you can access your Facebook account
YOU WILL BE EXPECTED TO HAVE YOUR CAMERA TURNED ON DURING THIS WORKSHOP.
DATE: Tuesday 6th September 2022
TIME: 7pm - 9pm
VENUE: Online Event
People wishing to cause harm online are looking for the easiest target.  Ensuring you have adequate privacy and security on your social media accounts and a digital footprint that you are aware of and choose to allow others to see, is the quickest and most effective way to protect yourself in the online world.  
Eyes Open Social Media Safety are specialists in the field of safer social media and we have taken all the hard work out of setting up your devices and accounts for safety and mental wellbeing. We will navigate you through options and empower you to better protect yourself.
If you find devices, social media and online games overwhelming, you will understand why we created Brisbane's only comprehensive, hands-on workshops for adults, parents and children and a huge range of themed workshops.
All of our workshops offer practical solutions to assist with protect you and your family from the risks, including online predators, cyber bullying, identity theft, inappropriate content, (intimate images etc) and the creation of a digital footprint that reaches further than expected and can sometimes have damaging consequences.
Click here to find out more information about Eyes Open Social Media Safety 
COST: $45 adults 
To see details and book individual subjects, go directly to our website Eyes Open Social Media Safety