Sales Have Ended
Ticket sales have ended
Registration for the Expressive Conducting Workshop has closed. If you would like to register, please email us to discuss: contact@conductingartistry.com
Event Information
Refund Policy
Contact the organiser to request a refund.
Eventbrite's fee is nonrefundable.
Sales Have Ended
Ticket sales have ended
Registration for the Expressive Conducting Workshop has closed. If you would like to register, please email us to discuss: contact@conductingartistry.com
Expand and deepen your insight, interpretation, gesture and leadership in this two-day interactive workshop.
About this Event
What is it?
The Expressive Conducting Workshop is a 2-day interactive online event for conductors.
Together, over Zoom we will challenge and extend your ability to communicate with your ensemble.
During the event you will actively participate in individual, small and large group activities in score analysis, interpretation, physical movement, rehearsal techniques and career planning. Throughout the workshop you will reflect on your own conducting strengths, challenges and goals to frame and guide your participation.
When is it?
The even runs 9am-12pm AEST on both Saturday 4 July and Sunday 5 July 2020.
New Zealand: 11am - 2pm | Hong Kong/Singapore: 7am-10am
Japan: 8am-11am
In the USA? Join us Friday 3 July and Saturday 4 July 2020.
PDT: 4pm-7pm | CDT: 6pm-9pm | EDT: 7pm-10pm
Your time zone not listed? Check your time zone.
Who is it for?
This event is for conductors of professional, university, school and community ensembles who are seeking more expression in their music-making.
This workshop is for you, if you want:
to create more honest, engaging, emotive performances in front of ensembles and audiences
to take responsibility for your development as a conductor
to discover and address what is holding you back from being more expressive
to learn in a creative, playful, non-judgemental environment
to learn how to make ongoing, achievable improvements in your conducting
to meaningfully contribute to discussions and activities
The workshop is not for people who want:
a passive way to fill PD hours
superficial quick fixes
to avoid responsibility for your own development
Who is leading the workshop?
Conductors Ben Northey (Christchurch Symphony Orchestra / Melbourne Symphony Orchestra) and Ingrid Martin (Conducting Artistry) & music careers expert Susan Eldridge (Notable Values) lead 2 days of sessions to connect you to the music, your musicians and your audience. Read more about Ben, Susan & Ingrid below.
How much does it cost?
The course costs $99 AUD.
In this time of crisis, particularly within the arts, we have sought to make this workshop as financially accessible as possible.
Remember that this workshop should count as a Self Education expense - a fully claimable as tax deduction in the 19/20 tax year. Read the ATO guidelines.
Workshop Schedule*
Saturday 4 July
8.30 - Virtual Registration / Coffee & Chat (optional)
9.00 - Introductions, Insight I Setting your personal purpose for the workshop
9.15 - Ben Northey: Honesty & Self-Belief on the Podium
9.55 - Q&A with Ben Northey
10.15 - Break & Stretches
10.30 - Interpretation I Unearthing & mapping the emotional landscape of the music
11.00 - Expression I Broadening your expressive palette
11.30 - Leadership I Unlocking others' expressive potential
12.00 - End
Sunday 5 July
8.30 - Virtual Coffee & Chat (optional)
9.00 - Insight II Identifying your membrane
9.15 - Susan Eldridge: The Entrepreneurial Conductor
9.55 - Q&A with Susan Eldridge
10.15 - Break & Stretches
10.30 - Interpretation II Comics, Emojis and Interpretive Dance
11.00 - Expression II Freeing your gesture
11.30 - Insight III/ Wrap Up Applying your learning
12.00 - End
*Please note: All presentations, activity introductions and discussions will be recorded and made available to participants after the workshop via Teachable. The small group exercises will not be recorded.
By registering for the event you consent to audio and video recording of the sessions.
The Sessions & Presenters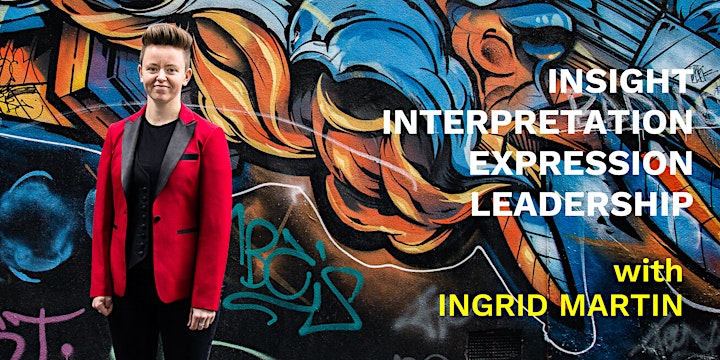 How do we get to the heart of the music?
How do we communicate this with our performers and audiences?
What do we need to keep expanding and developing our artistry - both on and off the podium?
We'll explore these questions and more, through sessions on:
Interpretation - Learn and experience creative approaches to analysis and score study to help you get to the expressive core of the music
Insight - Explore what is holding you back from creating more expressive performances. Reflect on what will move you forward.
Expression - Unlock your most expressive self and communicate openly with clarity and artistry
Leadership - Learn how to lead rehearsals that get beyond technique, to the heart of the music
Ingrid Martin's work as a conductor, clinician and curator is united by her vision to transform lives through the emotive power of music. In demand internationally as a clinician, guest conductor and lecturer, she is renowned for her ability to lead ensembles to deeper, meaningful musical performances. Ingrid is the founder of ConductingArtistry.com, an online learning platform for conductors featuring online courses, resources and a podcast.
As conductors we need self-belief and courage to communicate our musical vision to our ensembles and audiences.
How do we develop this elusive and seldom-discussed quality?
What does it mean to show up honestly on the podium?
Benjamin Northey is Chief Conductor of the Christchurch Symphony Orchestra and Principal Conductor in Residence of the Melbourne Symphony Orchestra. A graduate of the University of Melbourne Conservatorium of Music and Finland's Sibelius Academy, he is a regular guest conductor with orchestras and opera companies in Australia and the Asia Pacific region.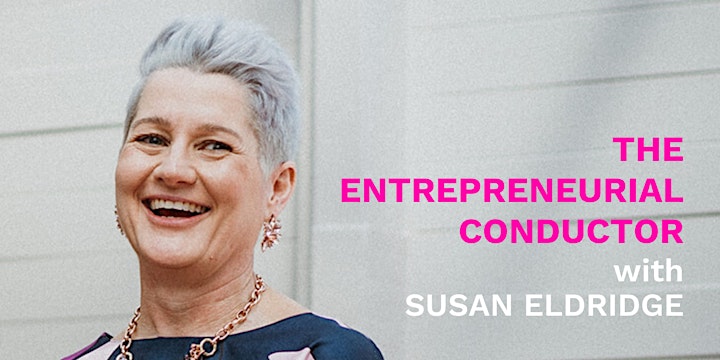 What does it mean to create a sustainable conducting career?
What are the realities of professional conducting pathways?
How can you best position yourself to succeed when applying for school, community or professional conducting and teaching positions?
In demand as a career coach, Susan Eldridge has mentored over 1,000 performing artists across music, theatre and visual arts including at the Australian National Academy of Music (ANAM), Melbourne Recital Centre, Melbourne Conservatorium of Music (MCM), the National Institute of Dramatic Arts (NIDA) and privately.
Prior to her work in the arts Susan founded a multi-million dollar technology consulting firm delivering solutions to Fortune 500 clients throughout Europe.
Frequently Asked Questions
What do I need to participate?
Zoom: You'll need a computer or device capable of running Zoom either in a browser or in the Zoom app. You'll need both video and audio on to participate.
Google Docs: During the workshop you'll need to access Google Docs via your web browser. You do NOT need a Google account. The relevant links will be provided during the workshop.
Printer or PDF Viewer: Scores (short) will be provided as PDFs before the start of the workshop. It will be easiest to participate in the activities if you print hard copies, but digital will work too.
How do I get the Zoom link?
Once you've purchased tickets, you'll get an email 2 days before the event with the Zoom link.
Will this be recorded?
Yes, the presentations, activity introductions and discussions will be recorded and uploaded as a Teachable course later in July 2020. The small group exercises will not be recorded.
All participants will receive free lifetime access to the recordings via Teachable.
I can't attend, can I access the recordings?
If you can't attend live you will be able to purchase access to the recordings once they are uploaded. Want to be notified of when the recordings are released, email us: contact@conductingartistry.com
I can't attend both days. Is there a single day option?
Nope. This is a sequential, two-day participatory event. If you can't attend, find a fellow conductor who can and badger them to register asap ;)
You can always buy the recordings after the event (see above).
Is there an auditor or observer option?
Nope! We want everyone to get the full experience by participating in the discussions and activities. We value your voice and contribution to be a part of the workshop.
Will I get a PD Certificate?
We know you're really in it for the learning, but we know that sometimes you need the piece of paper too! PD Certificates for 5.5 hours of Professional Development will be issued on request after the workshop.
Can I pay with a school purchase order?
Unfortunately no. If your school is paying for your ticket you could:
Send this URL to your school and get them to purchase tickets using a school card/account,
Purchase yourself and get reimbursed by the school
Check with your school to see what will work best for them.
I REALLY want to attend and know that this will develop my capacity... BUT finances are a challenge.
We get it, we really do. Email contact@conductingartistry.com and tell Ingrid you are keen and we can figure it out.
Got another question?
We'd love to answer it! Email us at contact@conductingartistry.com
Got this far? What are you waiting for? Sign up!
Date and Time
Location
Refund Policy
Contact the organiser to request a refund.
Eventbrite's fee is nonrefundable.