Sales Have Ended
Registrations are closed
Sorry! This event is over. Please follow Cicada Innovations socials to keep up to date on our news and exclusive events! LinkedIn: https://www.linkedin.com/company/cicada-incubator Twitter: https://twitter.com/CicadaInnov
Sales Have Ended
Registrations are closed
Sorry! This event is over. Please follow Cicada Innovations socials to keep up to date on our news and exclusive events! LinkedIn: https://www.linkedin.com/company/cicada-incubator Twitter: https://twitter.com/CicadaInnov
REMEMBER: You can use this Eventbrite page to register for any number of these 9 events, so grab tickets for as many as you can!!!
About this Event
COMPANY SPOTLIGHT & "ASK ME ANYTHING" SESSIONS
(Register for as many as you like!)
For the open positions & internships discussed in these sessions, visit our Job Board.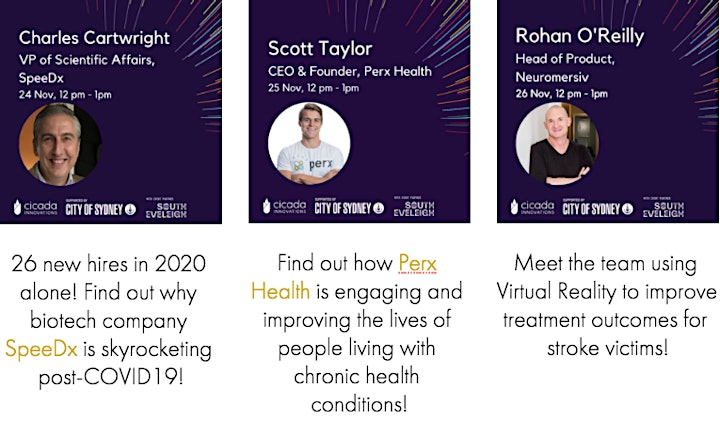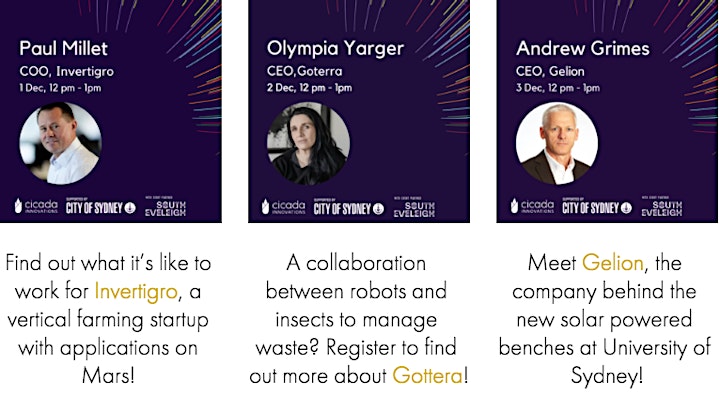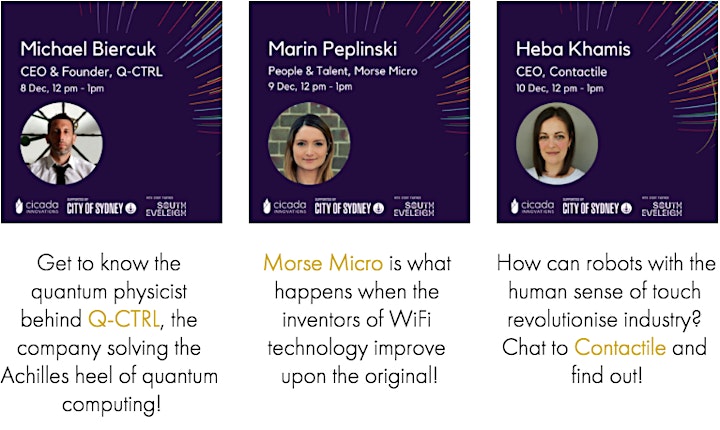 About the sessions:
Great ideas can come from anywhere — from a research lab, a farm, or anyone living with a challenge they passionately want to solve. At the heart of it, deep tech is powered by the extraordinary minds of people who refuse to accept the status quo and go out in search of their own solution to a pressing problem.
We're dedicating three weeks to spotlight some of these incredible people and to give you the opportunity to hear their stories and ask them your questions.
Each of these events will consist of a 10 minute talk followed by a 30-40 minute "Ask Me Anything" session which is your chance to ask these organisations about their technology, what they look for when hiring talent & what it's like to work for small companies with the audacity to take on global problems.