Description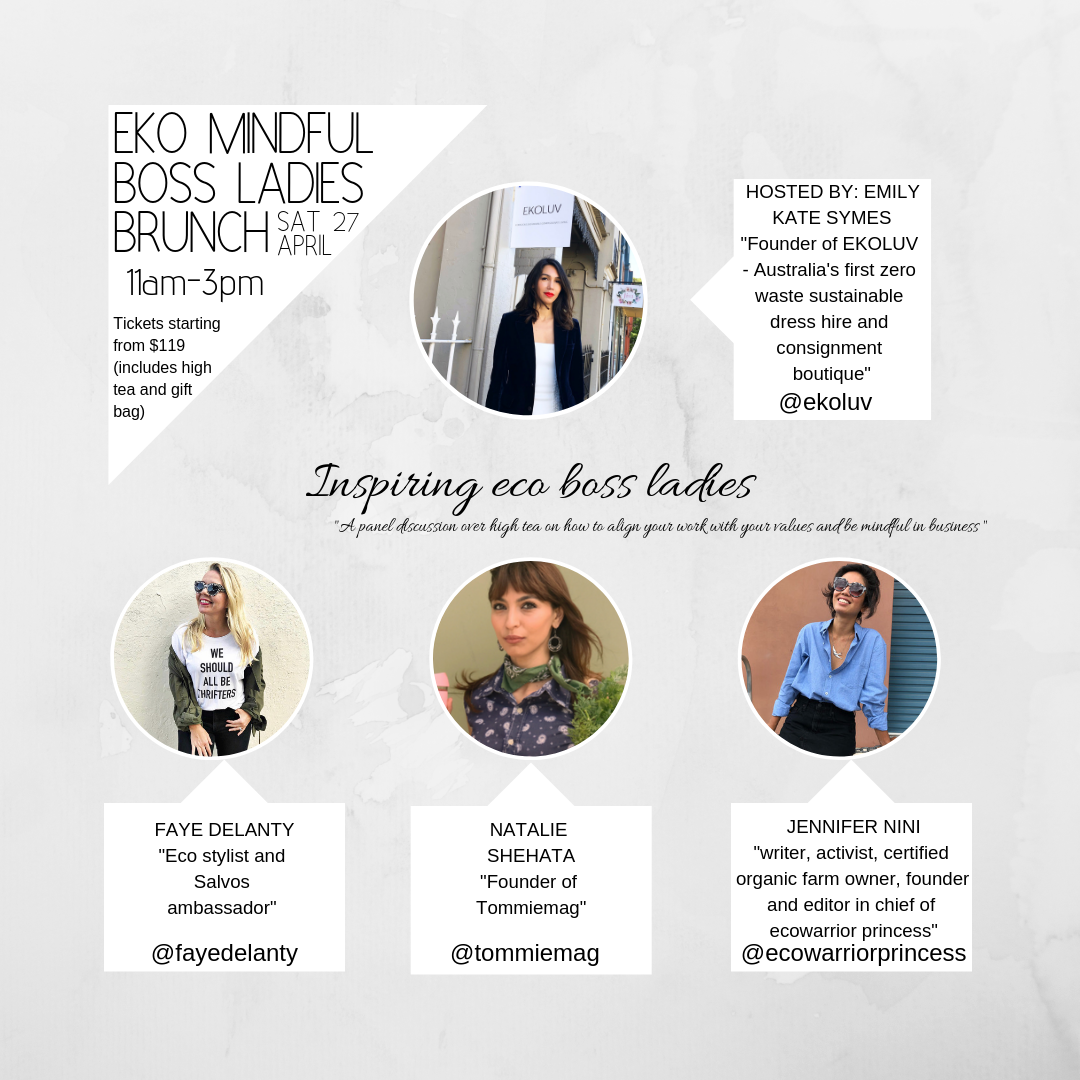 EKO MINDFUL BOSS LADIES BRUNCH
As part of Fashion Revolution Week coming up on 22nd April until 28th April, come and enjoy a beautiful high tea in an intimate chic sustainable garden setting at Australia's First Zero Waste Sustainable, Dress Hire & Consignment Boutique.
See some of Australia's most prominent inspirational entrepreneurial women speak from fashion to media, these women embody what the EKOLUV girl is all about. This high tea celebrates women in business particularly within the sustainability space and how it is possible to do business mindfully and with heart with respect to people and the planet.
At EKOLUV, we want to promote and empower women by providing a safe space for discussion on important issues surrounding:
Finding your purpose
How to align your work with your values
Mastering your mean girl
How to do business mindfully and with heart
Starting a business on a budget
How set backs can also set you up
The power of authentic storytelling
How to build your tribe
Implementing sustainability practices within your business
WHY?
To bring together a community of people passionate about living sustainably and want to be mindful in business. By attending this event we hope that you will leave inspired with tools, tips and some great advice on how you can find your purpose, make your passion your profession, back yourself and start that business or achieve that new goal you've been dreaming about.
SPEAKERS:
Host/Moderator - Emily Kate Symes - Founder of Australia's First Zero Waste Sustainable, Dress Hire & Consignment Boutique www.ekoandlux.com And www.ekoluv.com
Faye Delanty - Presenter, Eco Stylist, Salvos Stores Ambassador - @fayedelanty www.fashionhound.tv
Natalie Shehata - Founder of Tommie Magazine - @tommiemag www.tommiemagazine.com
Jennifer Nini – Founder & Editor In Chief - Eco Warrior Princess - @ecowarriorprincess www.ecowarriorprincess.net
Plant based High Tea
Styling session and tour of the boutique
Q&A with the speakers
Meet & Greet/Networking drinks
EXCLUSIVELY LIMITED EVENT - ONLY 20 SEATS AVAILABLE!
All guests will receive a Luxury Sustainable Goodie Bag with a selection of items from some of the best eco brands and businesses.
50% of proceeds from all sales made at EKOLUV on the day go towards our charity partner Opportunity International Australia. Opportunity Australia provides people living in poverty a hand up through microfinancing. Microfinancing is a sustainable solution to poverty, giving families the tools they need to transform their lives and creating a ripple effect that will continue for generations to come. At EKOLUV we are all for women empowerment and Opportunity International helps to empower women by way of education, tools and resources that aid them in starting their own business. Because when you empower a woman you empower her community. https://opportunity.org.au/
JOIN THE REVOLUTION
Fashion Revolution Week 2019
Together we campaign for a fashion industry that conserves and restores our environment and gives people, especially women, a voice. An industry where dignity in work is the standard and not an exception. Take action this Fashion Revolution Week by asking brands #WhoMadeMyClothes. Www.fashionrevolution.org
ABOUT EKOLUV
EKOLUV is Australia's First Zero Waste, Sustainable Fashion Boutique and was created so consumers can be empowered to make eco-friendly and socially responsible purchases.
The store showcases top sustainable fashion, beauty and lifestyle brands as well as offering dress hire and consignment of your luxury fashion goods.
Australian's produce about 6,000kgs of textile waste every 10 minutes, and about 95% of that amount could be recycled or upcycled. EKOLUV aims to close the loop and prolong the lifespan of fashion already in existence rather than buying new.
The fashion industry is one of the biggest polluting industries in the world, and EKOLUV is creating options for Australians to shop sustainably.
"Each purchase we choose to make or not make, is a statement which shapes the way our world operates and what we want our future to look like", Ms Symes said.
WHO SHOULD ATTEND
Anyone interested in sustainability and business particularly in fashion, emerging designers, buying and fabric teams, academia, industry and fashion graduates.
When: Saturday 27th April 11am – 3pm
Where: EKOLUV, 14 William Street in Paddington, NSW, 2021
Tickets: https://m.facebook.com/events/339159216805367/?ti=ia
Media Enquires: Please contact: Michelle Su (Media, PR and Communications Manager)
Michelle.Su@ekoluv.com / www.ekoluv.com
Tickets:
Tea and coffee high tea: $119
Tea and coffee high tea + champagne: $149
An amazing assortment of delicious plant based savoury and sweet delights will be served along with a collection of the finest teas and champagne for those who want something a bit extra (Have to purchase ticket with champagne option)
All guests will receive a Luxury Sustainable Goodie Bag with a selection of items from some of the best eco brands and businesses.
Organiser of EKO MINDFUL BOSS LADIES BRUNCH