Educator's Symposium - Leading Behaviour Change in Education and Care - Gol...
Description
The Educator's Symposium is having a sea change. We're heading to the Gold Coast with the popular programme from 2016 -
Behaviour

Management

; Leading behaviour change in education and care
Dr. Louise Porter, Lil' Fi and Sandi Phoenix can't wait to bring this popular programme to the Gold Coast to support educators to rethink "behaviour management".
Come solo while the Early Bird rate is still available... OR bring your team and make the 22nd July a mid year Staff Party with our "Christmas in July" themed event. Enter the promo code "staffparty" to see a special team package including post event staff party with bubbles and nibbles.
Don't miss this incredible opportunity to be a part of Leading Behaviour Change in Education and Care.
Saturday July 22nd 2017
QT Gold Coast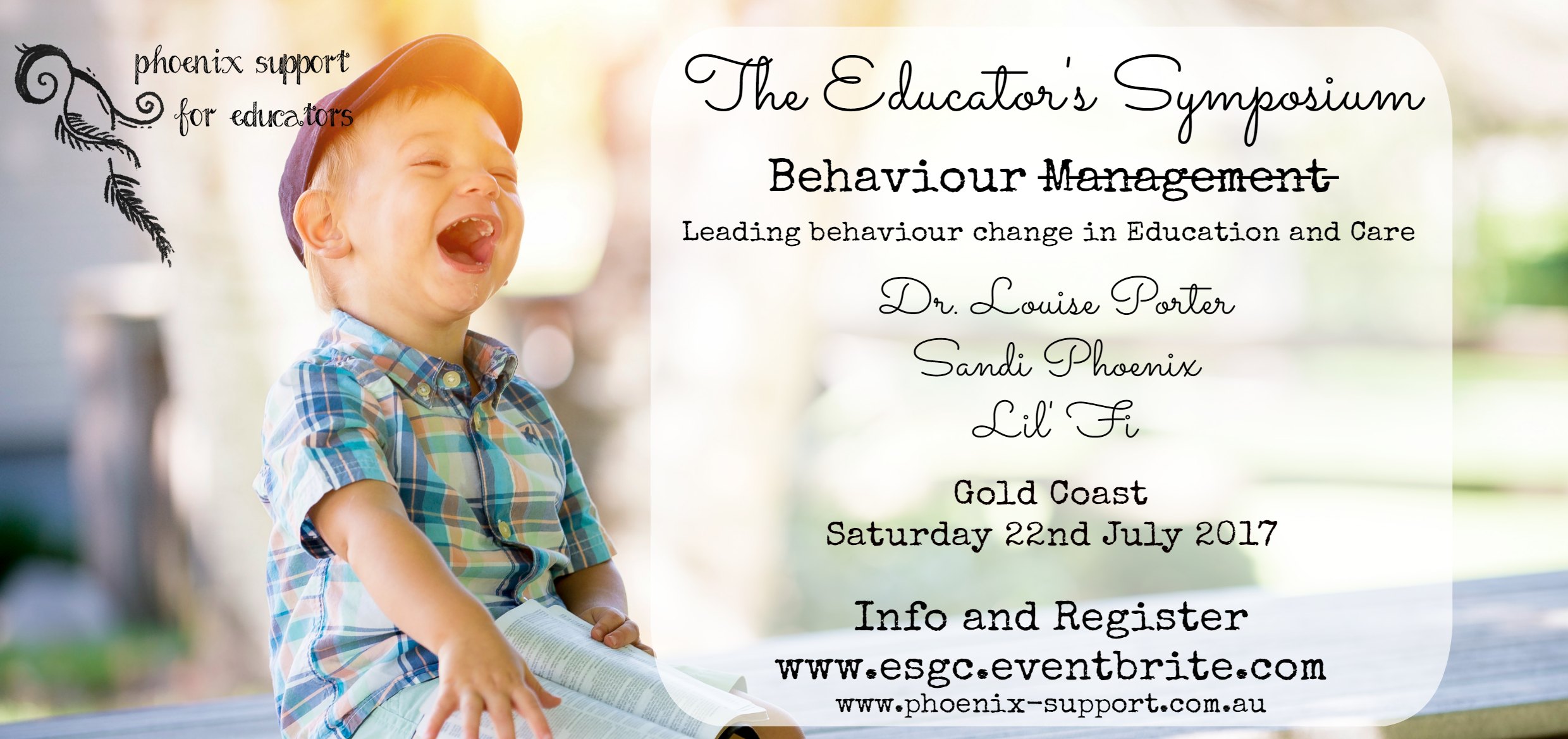 Here's a bit about our presenters:
Dr. Louise Porter is passionate about safeguarding children's self-esteem, promoting their social skills, and supporting their resilience in the face of the challenges that life often raises. Dr. Porter works to teach children to behave considerately, being mindful of how their behaviour affects others, rather than what consequences it may earn them. Dr. Porter is an author and has spoken extensively throughout Australia and internationally.
Sandi Phoenix is the founding company director and Principal Facilitator at Phoenix Support for Educators. Sandi takes a positive approach to guiding expected behavioural choices within inclusive learning environments, following vast experience working with children with disabilities and children who display complex behaviours. Sandi is highly regarded nationwide as a speaker, coach, mentor and Professional Development facilitator for the education and care sector.
Lil' Fi
Lil' Fi is a legendary, multi award-winning Australian Gospel/blues singer who has performed regularly with the very best of the best in the music industry for over 25 years. After a near death experience that left her unable to speak and write, Lil' Fi found music and cross meridian stimulation of the brain was a major part of her recovery – literally re-wiring her brain. Lil' Fi takes it to the next level. Giving you a PD that is immediately applicable in the education setting. A practical hands on interactive workshop. Often proclaimed as "the best PD we've ever had"
Testimonials - What have educator's who attended the Melbourne Programme said?
It was an amazing day. I learnt so much about not only children but myself also. I will be checking out all the great recourses on the Phoenix education support website for sure, especially about the cups what a simple but genius idea and concept to share with fellow educators and children. - D
It.was.just.awesome!!!! - V

Thank you! For your Inspiring and interesting presentations! Helpful information and heaps to think about, wonderful company, yummy food, lots of fun and laughs! - L