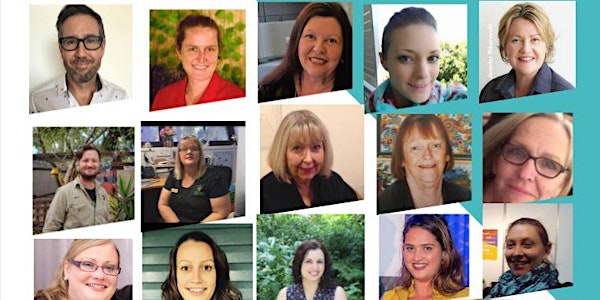 ECW Valuing Educators Conference - 100 Professional Perspectives
Sales Have Ended
Ticket sales have ended
Registration for this event has officially closed. Please contact our office through email or phone as there may be some last minute tickets still available. If you have any questions at all we can be reached by emailing admin@aecwpb.com  or calling 1300 232 972  We are here to help ECW Team
Event Information
Location
Novotel Twin Waters Resort Sunshine Coast
270 Ocean Drive
Twin Waters, QLD 4564
Australia
Sales Have Ended
Ticket sales have ended
Registration for this event has officially closed. Please contact our office through email or phone as there may be some last minute tickets still available. If you have any questions at all we can be reached by emailing admin@aecwpb.com  or calling 1300 232 972  We are here to help ECW Team
Description
ECW Valuing Educators Conference - 100 Professional Perspectives
The ECW Valuing Educators conference is like no other. It showcases the work of Educators, their challenges and successes. Sharing good practices that you can relate to learn from and be inspired by. Because we believe good practices that come from Educators like yourself are real, the learnings are authentic, meaningful and transferable.

Why attend our conference... because it's exhausting reinventing the wheel, researching and attending endless professional development. There is a wealth of information out there, research articles, academic papers, reports, case studies and so much to learn. At times it can all be a bit overwhelming. It may even seem totally unachievable and difficult to know where to begin. The problem then, is in that moment we dismiss the possibility and keep doing what we know, what is familiar, what has always been done. Because it is just easier

We're here to tell you it is achievable, you can achieve so much more, for the children, for yourself and for the profession…. We all begin our journey somewhere, the academics, those delivering the keynote addresses and workshops began their careers somewhere. ECW aims to walk alongside you, sharing good practice stories that you can relate to, contextualise and use as a base to build on your own current practices.

We know you want to make a real difference, we know how rewarding working with children can be and we want you to be able to achieve great things. Most of all we want you to enjoy the work you do, we want to reduce the stress and bring back the enjoyment of being with and learning alongside the children in your care.

At the ECW Valuing Educators Conference, you are an active participant in your learning, you will relate to the challenges and successes of your peers and discover ways to overcome the very challenges you face in your own every day practices. You will grow professionally through the professional discussions and the ability to engage face to face with content specialists and more knowledgeable others. You will gain insight and find solutions to the real questions that are coming from the sector on a range of grass roots topics relevant to you.

The ECW Valuing Educators conference will not only be the most meaningful and authentic choice for you and your team to grow in skills and confidence. It will be the most affordable conference on the Professional Development calendar. Your participation will also support ECW's work to connect, inform and elevate Educators and the Education and Care Workforce.
For full conference program go to https://www.aecwpb.com/valuing-educators-conference-2019/


Service Visits – March 1st

ECW Members $120.00 / Non Member $240.00 / Register before December 31st and save ECW Member $100/Non Member $200
We have three incredible services for you to visit. Each service's philosophy, practices and ways of being are unique to them, their environments and their communities.
Pelicans Nest Early Learning Centre
Pelican Waters, Golden Beach Kindergarten
Milford Lodge
Sat Conference - March 2nd
Sharing Practices from the Field
Advocacy in Action – Small changes for big benefits; Leadership opportunities for Educators and Teachers through Advocacy roles with Loretta Davis
Changing perspectives Challenging Practices; How has having an outdoor classroom changed me as a Teacher with Vanessa Wainwright
Loose Parts the How and Why with Angus Gorrie
Valuing the Village with Narelle Dawson and Molly Stewart
Exploring the Pedagogy of Respectful Inclusion with April Cunningham
Date and time
Location
Novotel Twin Waters Resort Sunshine Coast
270 Ocean Drive
Twin Waters, QLD 4564
Australia
Refund policy