A virtual public seminar with Ronak K. Kapadia (University of Illinois at Chicago), chaired by Michael Richardson (UNSW).
About this event
Seminar 1: On the Skin: Drone Warfare, Collateral Damage, and the Human Terrain with Ronak K. Kapadia
This seminar will explore Kapadia's research into the contemporary multimedia art works by Iraqi American artist Wafaa Bilal and American artist elin o'Hara slavick, as a meditation on how the violence of US imperial and aerial warfare across the long twentieth century has devastated humans, animals, and social ecologies in the Greater Middle East.
Bilal is best known for a performance in which he lived in a gallery for a month and was shot with paintballs by remote internet users watching through a webcam. His other works include a twenty-four-hour endurance performance in which the artist tattooed a borderless map of Iraq onto his back and another in which he surgically implanted a surveillance camera onto his skull for a year. My reading of Bilal's performances highlights the critical role of touch, embodiment, and the senses in forging what I term a "queer calculus" to analyze the effects of US counterterrorism and their toxic afterlives. elin o'Hara slavick's drawing and painting series Protesting Cartography or Places the United States Has Bombed offers an important intertext to Bilal's corporeal mappings by confronting our collective failure of imagination about what bombs do to populations, bodies, and topographies. Working from an eclectic archive of military surveillance imagery, aerial photographs, battle plans, and maps, slavick reimagines these landscapes in watercolor paintings to compose a shadow atlas of largely uninterrupted US aerial bombing campaigns since the 1940s.
Together, these artists powerfully attest to the violent expanse of postwar US geopolitical power around the globe and make palpable the "sensorial life of empire." Through close readings of their insurgent aesthetic projects, Kapadia traces an alternative affective map of the social worlds and populations disappeared by contemporary US drone strikes in Iraq and by extension in "Af-Pak," Yemen, Somalia, Niger, and related sites of US forever warfare.
Ronak K. Kapadia is Associate Professor and Director of Graduate Studies in the Gender and Women's Studies Program at the University of Illinois at Chicago. His first book, Insurgent Aesthetics: Security and the Queer Life of the Forever War (Duke University Press, 2019), theorizes the queer world-making power of contemporary art responses to US militarism in the Greater Middle East. His new project, "Breathing in the Brown Queer Commons," examines race-radical queer and trans migrant futurisms to develop a critical theory of healing justice and pleasure across transnational sites of security, terror, and war in the wilds of ecological chaos and US imperial decline.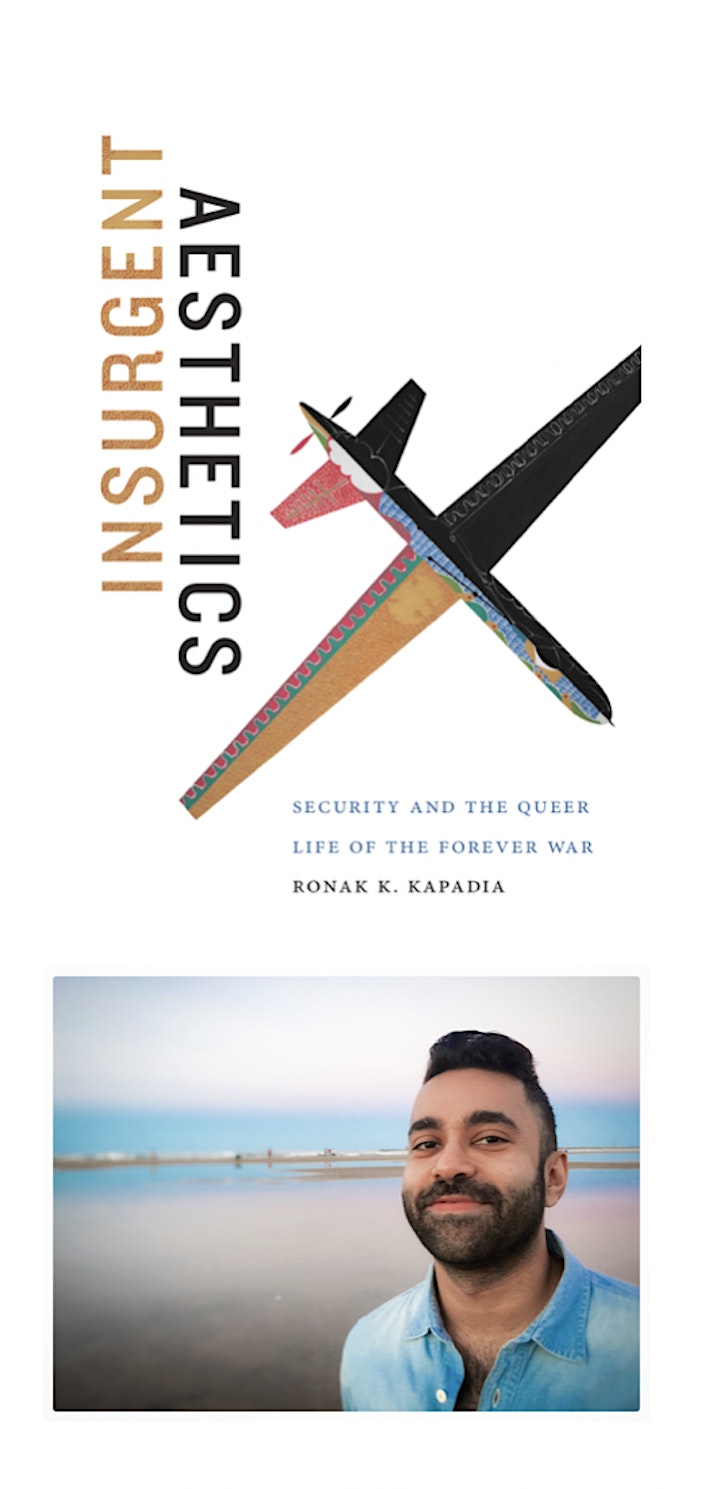 About the Drone Futures series:
Drone Futures brings together leading artists, humanities and social science scholars whose research intersects with the emerging field of drone studies. From the neo-colonial violence of contemporary wars in the Middle East and Africa to the strange histories of unmanned aerial vehicles to activist uses in struggles for justice, this seminar series looks to the past and present to think into the future. By showcasing inter-disciplinary scholarship, it aims to spark new connections and inspire debate about how to build more just drone futures.
Taking place from August through to November 2020, the Drone Futures seminars will be streamed live to YouTube, where participants can converse and post questions through the comments function. Please register your interest in attending this virtual event.
The Drone Futures Seminar Series will culminate in the Drone Cultures Symposium, hosted virtually on the 8-10 of December by the UNSW Media Futures Hub. For a link to a recorded podcast of Drone Futures seminars, as well as information about the other presentations in the seminar series and the upcoming Drone Cultures Symposium, visit the project's website: www.dronewitnessing.com.
The Drone Cultures Symposium is funded by an Australian Research Council Discovery Early Career Researcher Award.
Drone Cultures acknowledge and pays respect to the Traditional Custodians of the land on which we work and live, particularly the Bedegal, Bidjigal and Gadigal Peoples, and their elders past and present. Sovereignty was never ceded, and the struggle for justice continues.