Description
"Double Click", the 2019 mid-year Media Arts festival will showcase all of the best student work from the Bachelor of Media Arts, Graduate Certificate in Compositing and Tracking, and Graduate Certificate in Dynamic Effects and Lighting programs in the School of Creative Industries at the University of South Australia. The festival will open at 5.30pm on Thursday June 20th in the Magill Auditorium (D1-20), Magill Campus. Student work will include projects exploring film, visual effects, animation, illustration, digital media and graphic design. The festival will include an exhibition of print media, and a screening of film and digital media. Students, staff, family and friends are all welcome to come along and enjoy the work on display. Food and drinks will also be provided on the night. The event is free and ticketed.
5.30pm - arrive, food & drinks
6.00pm - film and media screening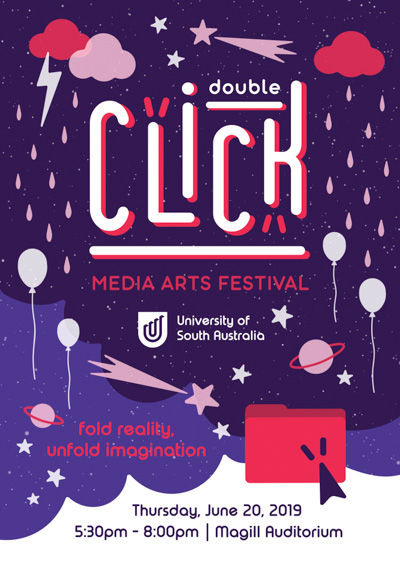 Poster designed by Lan Chi Dang in the course Design Language in Media Arts.