| | |
| --- | --- |
| Dog First Aid Course - Brisbane | |
Event Details
This course will teach you how to prepare, prevent and respond to an emergency involving your dog, and how to have a happy healthy dog.
This course is based off real-world examples with up to date information coming from across the globe, from various Veterinary and Working dog communities. This is not your average sub-standard pet/dog first aid course.  
---
WARNING - This course is NOT designed to replace professional veterinary care. 
This course IS designed to help get your dog to professional veterinary care ASAP. 
---
The course size is limited to: 12 handlers  
What to bring: Enclosed footwear, Lunch, Everything else is supplied.  
What you receive: Certificate of Attendance and our published book "Dog First Aid" to take home.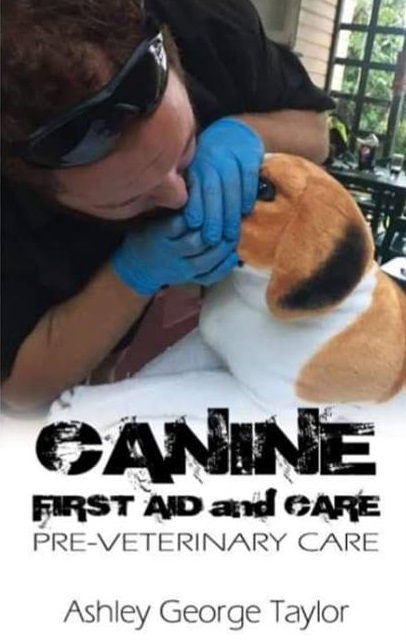 Class Times: 9 AM to 4 PM (7 Hours) (maybe shorter pending numbers) 
Location: 252 St Vincents Rd, Banyo 4014, QLD 

Cost: Vary 

---
Subjects Include, but are not limited too: 
Prevention and Risk Management 
Common Household Hazards and Risks 
K9PE – dog protective equipment 
Identifying the Risk to: The Environment, People, Property, and Other Animals 
Muzzles / Kennels / Secure Dog Environments 
Preventing Illness 
Preparing for an Emergency 
Basic Dog Anatomy 
Dog Basic Survival Needs
My Dog Has Been Hurt – What Do I Do? (DRsABCDE) 
Danger 
Response 
Send for Help 
Severe Bleeding - Tourniquet (TQ), Wound Packing, Partial / Full Amputations
Severe Burns (including fire, chemical, bitumen etc.) 
Airway 
Breathing 
If Your Dog is Choking 
Foreign Object in Mouth/Throat (Trachea) 
Foreign Object in Oesophagus 
Penetrating Chest Wound 
Circulation 
CPR – Cardio Pulmonary Resuscitation 
Disabilities / Deformities 
Embedded Objects – With or Without Exit Wound 
Abdominal Injury 
Crush Injuries 
Broken Bones/Dislocations 
Eye Injuries 
Environmental 
Hyperthermia / Hypothermia / Frost Bite 
Shock 
Extraction / Handling an Ill or Injured Dog 
Stabilising a Dog Before Transport 
Transporting Your Dog
Everything Else 
Drowning/Near Drowning 
Internal Bleeding 
Minor Bleeding 
Nose Bleeds 
Seizures 
Land and Sea Snakes, Funnel Web Spiders, Blue Ringed Octopus and Cone Shell 
Pressure Immobilization Bandaging Technique 
Other Bites/Stings (e.g. Bees, Wasps, Spiders, Ants, Jelly Fish, Ticks) 
Cane Toads 
Allergic Reaction / Anaphylactic Shock 
Dental Problems 
Poisoning (Baiting, ingested chemicals etc.)
Abscess 
Gastric Dilatation-Volvulus (GDV)
Strains and Sprains 
Smoke Inhalation / Carbon Monoxide 
Electrocution
---
Testimonials
 "An absolutely amazing course provided by Ashley. He is incredibly knowledgable and was able to provide a comprehensive unit as well as answering all of our questions. Kudos also to your effort in helping us, as students, learn and retain the information taught.
I highly recommend the Dog First Aid course to all dog owners, handlers and workers in the industry. 
 - Emma 
" Ashley makes learning and understanding the basic dog first aid training very simple, fun and interactive. I myself appreciate the time you've taken and put into giving back in helping others help care for our K9s." - Vicky 
 "I went to the Dog First Aid class before heading off on our Xmas beach camping trip and I'm SO SO glad I did. I knew what to look out for with heat exhaustion (needed with our endless beach days!!) etc and I'm pretty sure this training kept my puppy safe. It certainly gave me confidence in knowing I could react quickly and calmly in an event. I would absolutely highly recommend this course to anyone with a dog. Ash is awesome and clearly know his stuff!! " - Bella 
---
FAQs
What are my transport/parking options for getting to and from the event?
Plenty of Public transport (Bus, Train and close to the airport), and plenty of on-street parking nearby.  
 What's our refund policy?
7 Days prior to the event. 
On the day, Please bring/wear:
Enclosed shoes and comfortable clothing, Lunch, Notebook and Pen, Everything else is supplied.
Can I bring my dog?
No, as much as we would love to see your fur babes, due to human and canine health and safety, we use canine manikins for all training.
Will there be a written test?
No, we use practical assessments for this course.
Is this course for anyone that has a dog or just for vets etc?
 This course is for EVERYONE who loves dogs! 
Why is the course is expensive? 
We have compared our prices to other pet/dog first aid course and ours is still value for money. When you look at how long other courses go for, and the cost, ours is still cheaper per hour! Not only that, our knowledge is constantly evolving, constantly being updated, reviewed and USED in the real world! Numerous companies take human first aid courses and change the name human to dog or buy into franchises….. not us! 
We may be the smallest provider out of them all, but we don't sacrifice the quality of our training and services. As the saying goes, "You get what you paid for"
Save This Event
When & Where

Dog First Aid Australia
252 St Vincents Rd
Banyo, QLD 4014
Australia

Organiser
Dog First Aid Australia is a quality based Australian business providing Emergency Solutions, Training and Products for Canines and Handlers.
DFAA was formed in 2016 to separate the services offered by Blue Dog K9 Services. We saw a need for a specific market to deal with the increasing risks and injuries to dogs.
We are all handlers ourselves, and strive to deliver our motto: "For the Love of Your Dog". We work with and love our dogs. So if you love your dog(s) as much as we do, then we are here to help.
We currently serve the working and private dog communities by providing quality services, products and training that are tested and work in the real world. No gimmicks, no BS, just pure real-world training.