This webinar is the perfect place for you to ask the experts how to overcome your digital challenges and grow your business online.
About this Event
Digital Expert Panel Q&A Session
Are you finding it hard to get found online? Feeling like your business is struggling? You are not alone! Perhaps you just need some questions answered? Or some simple tools to help you accomplish your tasks? Keep your business growing with the unique and experienced insight of the Digital Toolkit Panel of Experts.
Put us to the challenge! Ask us anything digital. This panel is a discussion focussed on helping small to medium business owners, and to provide tools and tips to help you manage your brand online and to build your digital strategy. In this very difficult time, it is essential that we are all here to support one another. We will have a range of experts on hand every session, to help you resolve your digital challenges. Who are all ready to help you if you would like to contact them directly Looking forward to seeing you all online, every Wednesday.
Events & Dates
5 August - How to Standout with Instagram
12 August - Digital Initiatives & Funding for Small Business
19 August - To Niche, or Not to Niche?
26 August - The Science of SEO: Keywords, Landing Pages & Backlinks.
2 September - Digital Success Stories Part 1
9 September - How to Beat Digital Overwhelm
16 September - Reputation Management - Building Your Online Credibility
23 September - What's the Best Lead Generator?
30 September - How Much Should I Be Paying for Digital Marketing?
7 October - Digital Success Stories Part 2
14 October - How Do I Brief a Digital Marketer?
21 October - How to Use Facebook Groups to Grow Your Business?
28 October - Making Digital Partnerships Work
4 November - Running a Successful Webinar
11 November - Growing Online: Business Ideas, Planning & Development
18 November - Measuring Business Success Using Technology & Data
25 November - Digital Trends Tools & Tips for 2021
2 December - How to Make Affiliate Marketing Work
9 December - Turning your blog into a digital magazine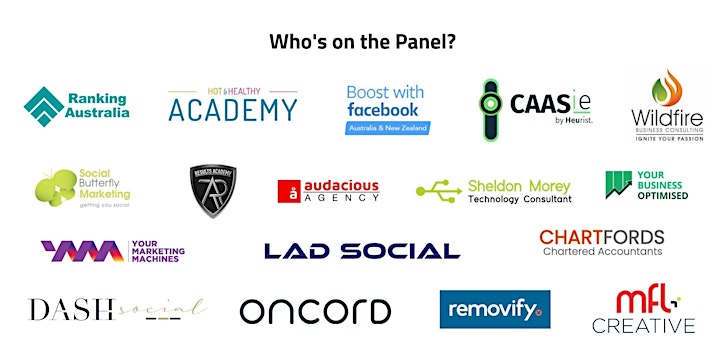 When: 1:30pm - 2:30pm - Every Wednesday
Where: Online Webinar - Panel Discussion
Who is on the Panel? (Experts vary each session)
and more to come!