The Centre for Early Modern Studies, ANU, Seminar 2: 15 June, 2022.
About this event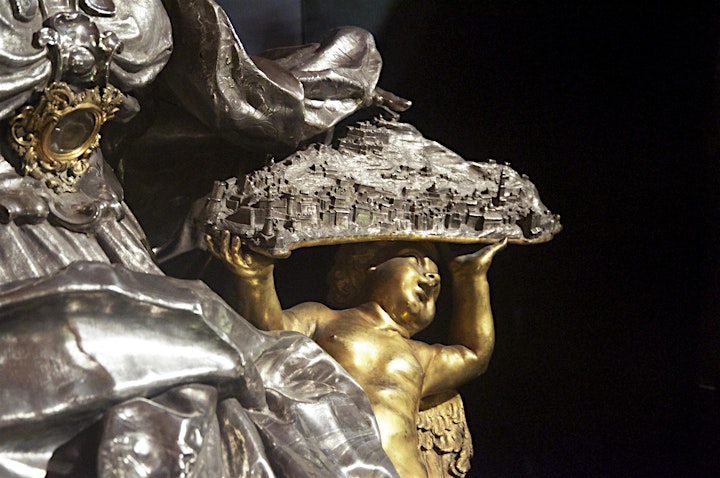 Centre for Early Modern Studies, Australian National University, Seminar 2, 2022.
Please join us on the Zoom platform where Helen Hills, Professor Emerita of History of Art at the University of York, will speak on "Desiring Silver: Saving Souls, Travelling Light, and the Other Side of the Coin," followed by a Q&A discussion. The program will run for 75 minutes.
Time: Wednesday 15 June, 9:00 am (BST); 6.00 pm (AEST); 4:00 am (EDT).
Register to receive your link to the Zoom webinar in the confirmation email.
Abstract: Silver is a strange and paradoxical material, endowed with peculiarly transformative capacities in the early modern world. Brutally extracted from the earth in the so-called 'New World', it fed Spain's imperial war machine, fired the engine of capitalism with coins, currency and chance of profit, redefined commodity frontiers and fuelled global trade. But at the same time, in Europe it was associated with purity and refinement of all kinds: religious, political and social. Silver bestowed and conveyed polish, purity, and refinement. Its sheen promised elevation and was guarantor of success. Yet silver also marked the ruthless plunder of European colonialism, the genocidal degradation of native workers, and ecological ruination. Brutal conquest; remorseless exploitation; social, political and religious refinement. Was one somehow necessary for the other, threaded through the dark machinations of European power?
This is part of a project to critically address two significant bifurcations in current scholarship. While scholarship on the historical extraction and working of silver in the New World is anthropologically informed, politically attuned, and attentive to historical and ecological issues, when it comes to silver artifacts in Europe, scholarship and gallery displays are overwhelming connoisseurial, often drily technical, narrowly specialist, and drained of political engagement. In a parallel and related bifurcation, while scholars have engaged energetically with the politics of colonialism in Andean silver production, they have all but ignored the politics of colonialism in Europe, especially in the Italian peninsula, whose way was paved in silver.
Silver is a particularly fraught, agile and transformative material. Embedded in power relations, coloniality, and matters of refinement, early modern silver was a particularly generative site. Might its peculiar paradoxes be usefully thought in terms of a materiality of trauma? I will consider this through the lens of silver in Naples, capital of the Spanish empire in Europe.
Speaker: Helen Hills is Professor Emerita of History of Art at the University of York. Her principal research interests include baroque and the inter-relationships amongst architecture, art, religious devotion, gender, politics and materiality, with particular interest in the marginalized and the marginalizing processes of art history. Books include The Matter of Miracles: Neapolitan Baroque Architecture and Sanctity (Manchester University Press, 2016); Invisible City: The Architecture of Devotion in Seventeenth-Century Neapolitan Convents (Oxford University Press, 2004) Best Book Prize USA Society for the Study of Early Modern Women; Rethinking the Baroque (Ashgate, 2011); New Approaches to Naples (2013); and Representing Emotions (2005). Her current project is on silver for a monograph with MIT and an edited volume for the British Academy.